Marina Tabassum discusses her Khudi Bari house
With her Khudi Bari house represented at Desert X 2023 with an online film & having been exhibited in photographs, drawings & model at the 2023 Dhaka Art Summit, Marina Tabassum is welcoming community-focused, relevant architecture given space in the artistic realm. Here, she discusses the project.
Bangladeshi architect Marina Tabassum is an architect rooted in community, affordavility, context, and material. Her work is underpinned by a longtimer persuit of "architecture of relevance" - a time appropriate design methodology towards a given context.
One of these projects is the Khudi Bari house, designed for communities living on the flootplains of Bangladesh. A simple geometric structure formed of affordable materials and mountable by an unskilled, local workforce, it is a design dealing with fundamentals of architecture and community.
It is currently featured in Desert X, a California biennial of sculpture and art across the Coachella Valley, represented not in built form but as a short film. The Khudi Bari were also exhibited in this year's Dhaka Art Summit, an important regional art biennial held in Bangladesh's capital city. In response to inclusion in both these contexts, in places both impacted by climate change and issues related to water, recessed.space spoke to Marina about the project and how it is represented in exhibition.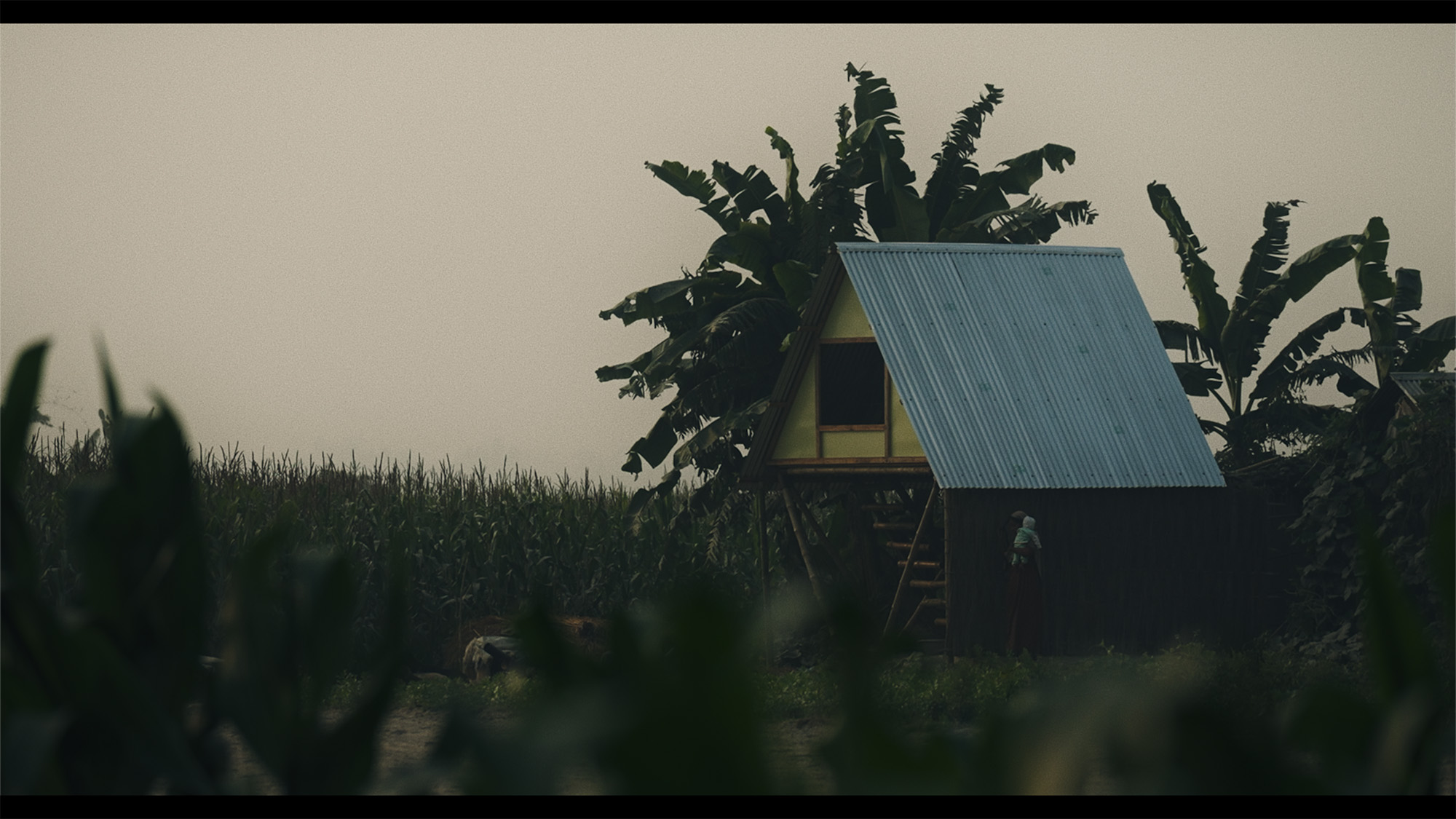 recessed.space:
Your film follows the construction of a Khudi Bari in Bangladesh, which seems an almost collaborative-meditative process. Is there something that California could learn from this family/community approach to making and home?
Marina Tabassum:
Our process includes people. It is a community based approach to address one of humans' basic needs: shelter. The locations where we build are remote and takes our team of architects, engineers and builders several hours of walk daily to reach the communities. The question is why are we taking upon ourselves these difficult tasks? The answer is, 'Someone has to do it. Why not us?' Being there on location, breathing the same air, eating the same food connects people, make them one. This is all I want California and the world to take from us. Half of the World's problems can be solved when we listen to people and understand what they really need.
The landscape of the Coachella Valley and Bangladeshi landscape of chars share some similarities. Your work is rooted in local knowledge of place and working with, not against, the environment. Both places experience climate extremes, what transferable advice can you offer to the communities of Coachella from your experiences in Bangladesh about water, landscape or living with place?
The sand-beds that emerges in the middle of the rivers in Bangladesh are transitory deserts created by the dynamic hydrological system of the Ganges and Bramhaputra. For landless people these tread-able grounds provide temporary spaces to occupy for living. We have learnt to negotiate and appropriate ways of co-existence that allows a symbiotic relationship instead of defiance and negation, which has been our common human impulse to try to map, alter and control the forces of nature.
Architecture is a response to the local natural and physical context.
Your film closes with the quote: "Resilience unites us. We must believe in practical solutions and rely on our context-based imaginations. How can we build and live with climate extremes?" I am particularly struck by the opening three words - a simple but powerful message. Can you speak to this idea of finding solidarity and empathy across vast distances? And how can architecture or art feed into this?

I believe in the power of our human imaginations to seek appropriate solutions. In Bangladesh, communities have always been resilient in the face of changing landscapes, it is part of life here. This is also true of communities throughout the world, especially those who accept uncertainty and adapt instead of resisting and insisting on fixed ideas of the built environment. This is one of the most important roles of artists, architects and designers – to collaborate and assist in devising solutions that are community-based, and empathetic to the environment.
Would it be possible to build a Khudi Bari in California? It is a design of simplicity and affordability, but such a project in the USA would possibly disrupt a highly financed construction industry and contravene long building regulations... Could such a house even exist in the Californian context?
Khudi Bari is not a product. It was created as a model for climate adaptation and preparedness. The philosophy of Khudi Bari is an act of building communally, involving the beneficiaries in the process. To source locally; to seek out solutions from local knowledge; to create responsibly to reduce the imbalance in our living environment. Additionally, to keep the cost low to make it affordable for people.
Initially we considered constructing a Khudi Bari for Desert X. We sought collaboration with local universities and examined potential local materials for construction. We did not want to ship anything from Bangladesh to California. Even if local alternative materials could be sourced, meeting local building regulations added to the cost inflating the cost that we could not agree upon.
We have built a Khudi Bari at the Royal Academy's Summer Exhibition at UK in collaboration with AKTII. All materials were sourced locally from UK. In our exhibition in Munich, Germany we shipped all materials from Bangladesh as part of our monographic exhibition, where it needed to be in its original form. But none of the experiences are without challenges. So, for Desert X, with the curators, we decided that it would go against the principles of Khudi Bari to spend a large sum on otherwise an affordable home for vulnerable people. So, the solution was to bring a Khudi Bari to California via a film in order to share the philosophy relevant of our time. It shows architects taking agency in the forefront of climate crisis.
I would like to think that based on the philosophy of Khudi Bari, an affordable, adaptable way could be designed and built in the Californian context. We recognise there are challenges, but I would also like to think these challenges can be overcome. This is what we refer to as using our 'context-based imaginations'.
---
Marina Tabassum is a Bangladeshi architect and educator who has received numerous international recognitions in the field of architecture. Her process of work that includes research, teaching and practice is widely recognised as the twenty first century model of practice of architecture. Her pursuit for the 'Architecture of Relevance' has won her various international accolades such as the Soane Medal from United Kingdom, the Gold Medal of the French Academy of Architecture, France, Arnold Brunner Prize from American Academy of Arts and Letters. She is a member of the Royal Society of Arts (RSA) and is an honorary Royal Designer of the Industry (RDI).
Born in Dhaka, Bangladesh in 1969, Tabassum's formative years were in Holy Cross High School and College. Her father Professor Mohammad Abdul Hai is one of Bangladesh's prominent oncologists who has dedicated his services to the nation. Tabassum attributes her successes to her mother Tahamina Hai, a home maker, for her relentless pursuit for education. Tabassum received her Bachelor in Architecture from BUET in 1995 with First Class. She received Habibur Rahman scholarship from BUET for her excellent academic achievements. She was awarded with Honorary Doctorate from Technical University in Munich (TUM) in 2020.
www,marinatabassumarchitects.com