Hollaway Studios' musical buildings for Benenden School
A new complex of spaces designed for learning, rehearsing & performing music has been completed by HollAway Studio for Benenden School in Kent. With the 750 seat Centenary Hall central to the scheme & its architectural presence in the landscape, the importance of acoustics have been considered throughout.
Hollaway Studio, an architecture and interiors studio between London and Kent, recently received a lot of attention for recently opened F51 Skate Park in Folkestone, winner of this year's RIBA Southeast Building of the Year Award. There is a trace of aesthetic familiarity to the external shell between F51 and the central architectural moment of their newly completed campus of buildings at Benenden School. Both buildings lean outwards, as if struggling to contain the programme and contents within, rising upwards and outwards within their contrasting settings as a calling-card to what's happening inside.
Fig.i

The interiors, however, are vastly different spaces. While F51 reverberates to the constant sound of skaters rolling, grinding, landing – and sometimes falling – the central space at Benenden, Centenary Hall, is a timber-framed concert venue with impeccable acoustics. Seating 750 people, it is primarily led as a space for musical performance, it also acts as a school hall for a variety of other uses. As such, it required an intelligent approach to acoustics, led by acoustician Matthew Harrison, a partner at engineer consultants Buro Happold, who explains that
"the Centenary Hall has been designed so that a person can address the entire 750-seat audience at once without using a microphone even though the Hall has sufficient acoustic responsiveness to support live orchestral work."
A key element of this are tall timber doors which louvre open to reveal a view towards a rose garden, but which also act as sonic reflectors. The diagrid roof shows its structural form as a design feature, while also performing acoustically to allow sound to bounce around and support a larger sound with fewer echoes – all tested by the London Philharmonic orchestra at the opening ceremony.
Figs.ii-v

The bowl-shaped Centenary Hall building protrudes from and rises above the rest of the complex, a more solid buff-brick form with chamfered window recesses at first floor, offering light into a suite of over 20 music learning and rehearsal rooms. Also on this level – which connects to Centenary Hall's tiered seating which had been reclaimed from the school's former hall – via an internal bridge, is the Metherell Song Room for choir rehearsal, designed to reproduce the same acoustic qualities as the main hall.
At ground level are larger teaching and staffing spaces, while deeper in the plan is the 150 seat Bonnie Yeung-Tsang Recital Hall, offering a more intimate chamber space and various internal spaces offering passage and dwelling. Externally, a new courtyard has been formed within the complex, and the historic rose garden which can be seen from the main hall, and which provided inspiration to the circular form, has been restored in a landscaping scheme also offering possibility for external performances.
Figs.vi-ix

As a complex, the Centenary Buildings offer intelligent architecture and acoustics for the girls who study at the private school which costs between £11,000 and £15,000 a term. However, the complex will also be open to the public on occasion through the new Hemsted Park programme of commercial events, for which the opening season includes theatre, ballet, jazz, classical performances, and Shakespeare in the Rose Garden.
Guy Hollaway, Principal Partner at Hollaway Studio, said that
"Centenary Hall is like a musical instrument in its own right. To create a mini Glyndebourne in this setting is an incredible feat of design and acoustic engineering and truly shows how important music is as part of an education."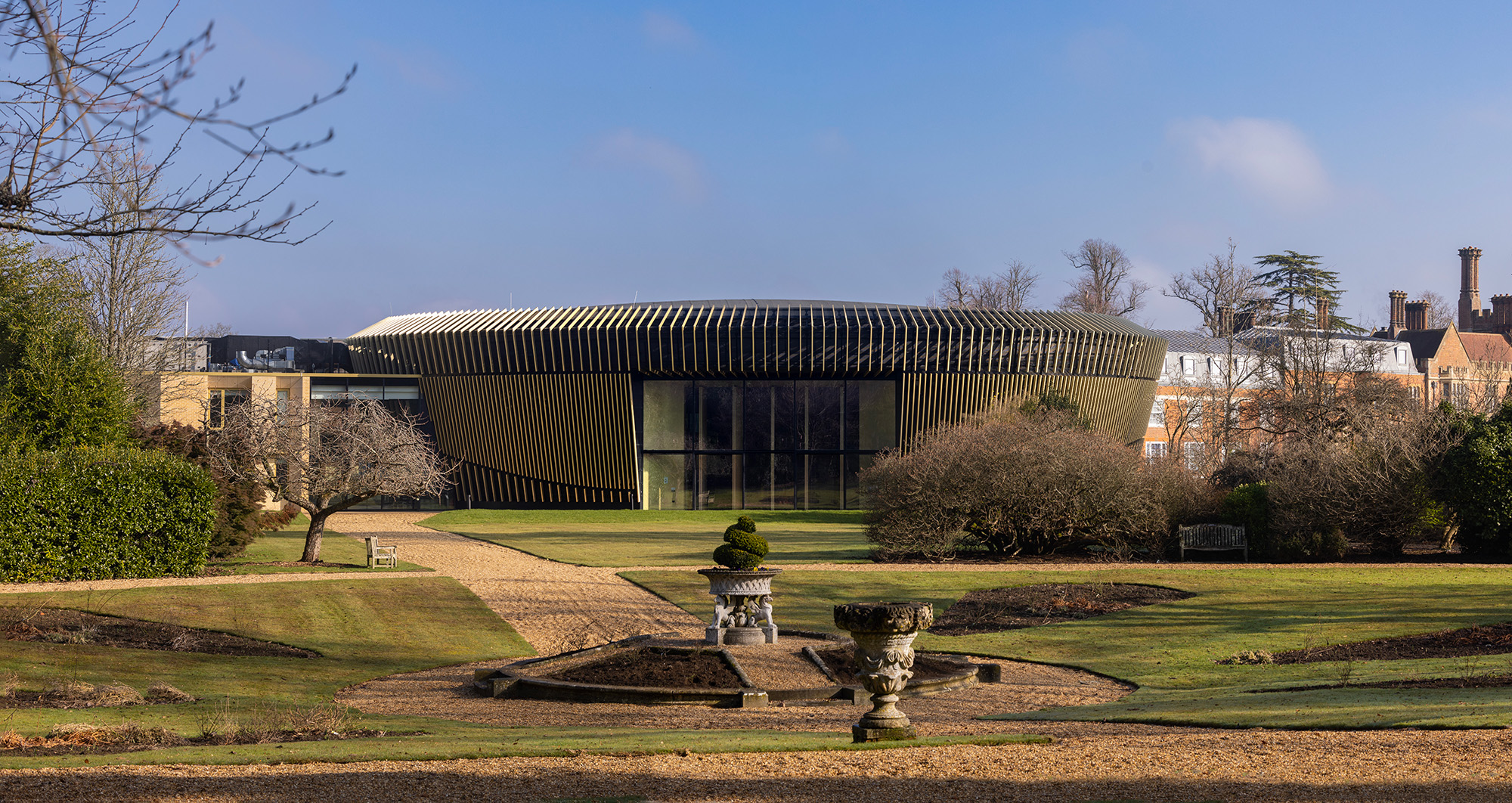 Figs.x,xi

---
Hollaway Studio is an award-winning architecture and interiors practice that places people and feeling at the core of its philosophy of architecture. With offices in London and Kent and a strong reputation for design, the practice is working in a wide range of sectors including hospitality, hotels, restaurants, education and housing. Hollaway has designed the world's first multi-storey skatepark – F51, located in Folkestone – which has been named one of the "10 coolest new buildings to gawp at this year" by the Times. In recent years it has worked on a number of large-scale regeneration schemes including the restoration of five listed buildings into a mixed-use site involving four TV & Film Studios, Post Production, educational facilities and residential. Recent projects include the award-winning Process Gallery for artist Nick Veasey; the first new-build Picture-house in the UK at Ashford for developers Stanhope; a new winery, gin works and brewery for Chapel Down; and a number of large regeneration and housing schemes in London including Bromley South Central for U&I, and the Fisheries in Hackney's London Fields.
www.hollawaystudio.co.uk

Benenden School is regarded as one of the leading independent schools in Britain. Founded in 1923, it is situated in 250 acres of attractive parkland in Kent, the Garden of England, just an hour from London. There are 550 girls in the School, aged 11-18.
www.benenden.school