Build & unbuild: Coffey Architects' Drawing Room
In south London, Coffey Architects have designed a brand new gallery for Drawing Room, an organisation dedicated to celebrating and researching the history and future of the medium of drawing, part of Tannery Arts studio provider.

A new gallery dedicated to the art and process of drawing has opened in South London. As part of a large mixed-use scheme in Bermondsey, Drawing Room has a permanent home after two decades of migrating across London. Designed by Coffey Architects within a former pickle factory, the organisation has a gallery space, library, community spaces, and a suite of studio spaces let to artists through Tannery Arts.
The whole project is called The Tannery, with 400 homes and commercial units surrounding the gallery space. The scheme was masterplanned by AHMM for the developer London Square, with Coffey Architects not only responsible for Drawing Room and the studios, but also a new build block called Bar of Light with a generous statement stairwell, seeking to tie together a warehouse restoration and new-build block, seemingly sat upon the Drawing Room gallery.
Figs.i-iii

Drawing Room is a division of Tannery Arts, an organisation with a studio waiting list of over 1500 artists. Some will be lucky enough to find making spaces in the 16 studios of various sizes, some of which might be shared use and some for single practitioners. Some of these studios are within the same building as the Drawing Room gallery, upstairs with north-facing windows in a sawtooth roof. Others are within the converted former pickle factory warehouse space, offering triple-height spaces which will particularly suit perhaps a large-scale sculptor or painter of extremely large canvases.
Perhaps some of the resident artists may one day get shows within the simple but well-detailed gallery space. The opening show is
UNBUILD: a site of possibility
, an exhibition of five artists who each use techniques of expanded drawing to consider the impact of architecture on bodies and minds. Tanoa Sasraku's
A Tower to Say Goodbye
dominates the space, a paper sculpture the artist made over several months in occupation of a disused postal sorting office. Formed of ripped and attached paper, it is a construction which is both shaped by solitary confinement in such a dusty, empty, cavernous space, but also formed of geometries, architectural forms, and observations of form from within it.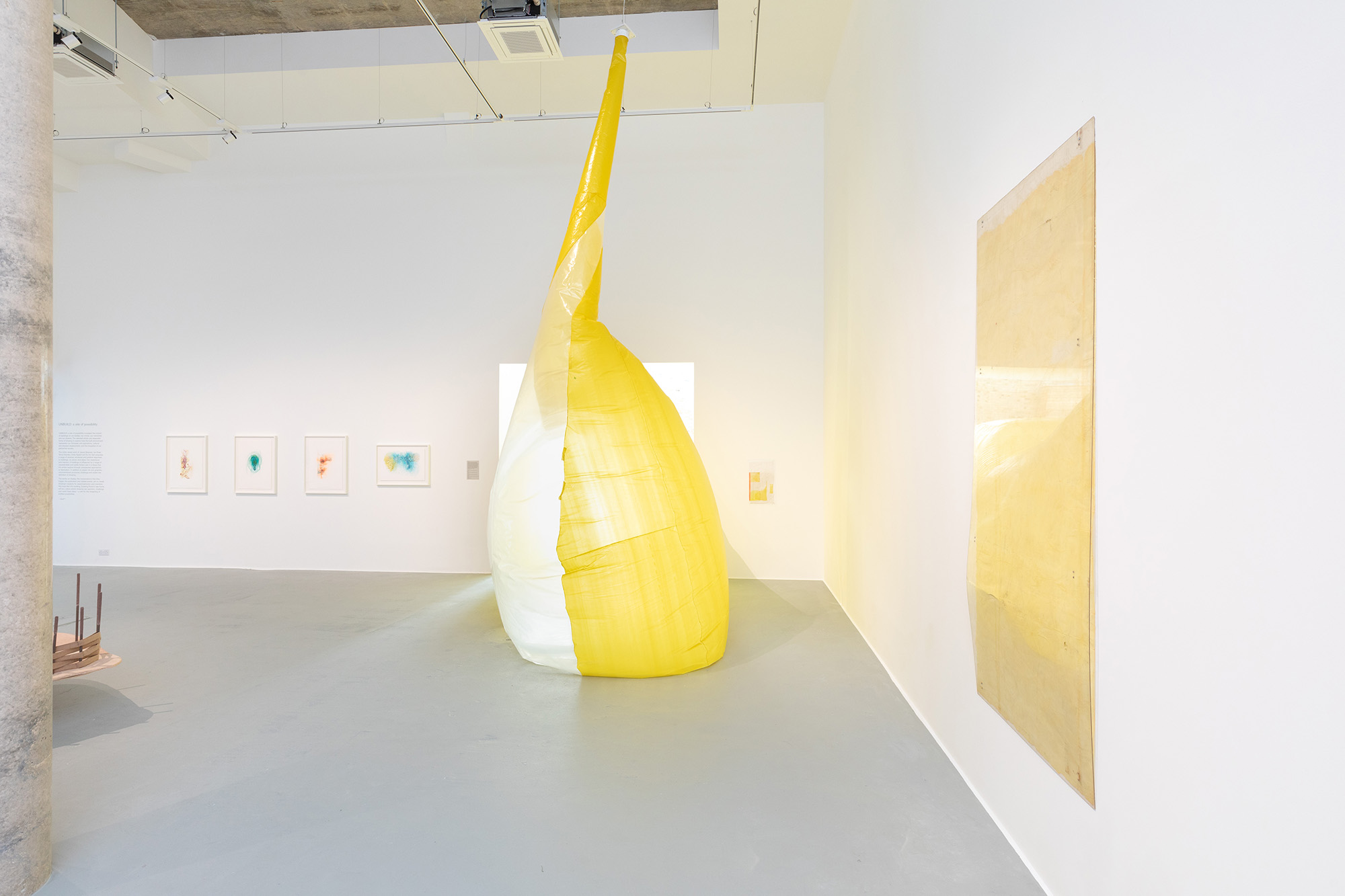 Figs.iv,v

Ian Kiaer's offer also draws the eye, with a piece continuing ideas on display in his recent Alison Jacques Gallery solo exhibition (see
00092
), his delicate inflatable obstructing Coffey's subtle windowed reveal, one of only two architectural gestures – the other a beautiful off-centred column – which break the space away from white cube clarity, offering gestures of form for artists and curators to play against.
Do Ho Suh presents ghostly drawings made in collaboration with Grasshopper architectural drawing software, mapping the inside and exterior of two of his former homes – a South Korean Hanok and a US apartment. The two spaces mingle in form and memory, as do the traces of line which make up the ergonomic shapes of door handles in an adjoining series.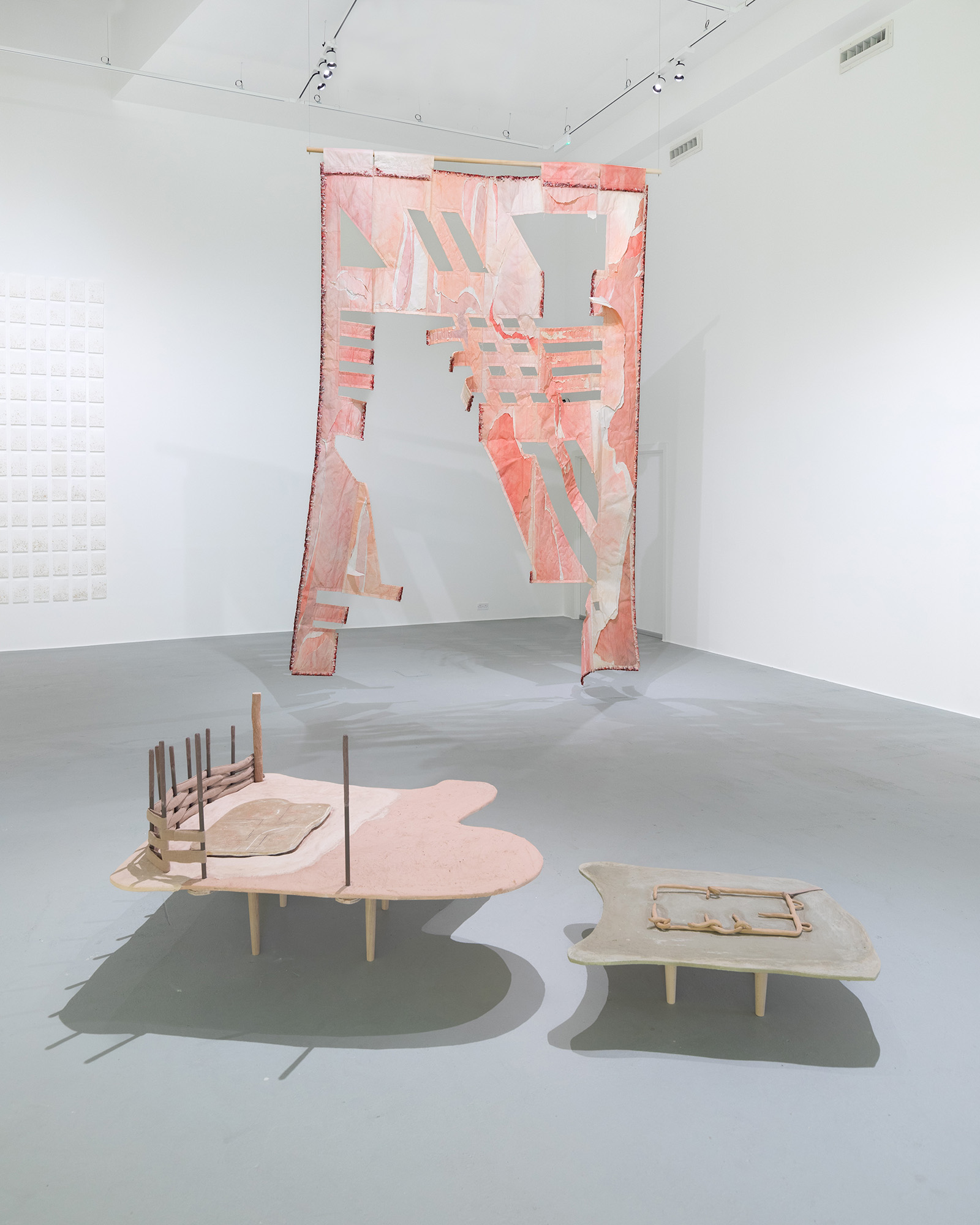 Figs.vi,vii

Fosa
, a new work by Emily Speed, reads like low-level domestic furniture, but on closer inspection reveals to seemingly be body parts – a leg supports the surface and long fingers weave between wooden posts. It is made using traditional building techniques, including goat hair plaster and wattle and daub. Body and architecture fuse, perhaps reminding that a building is more than sculptural form, and is a living, breathing extension of the individuals and communities who inhabit them.
Community is a theme also picked up by Jessie Brennan, an artist who has long worked with people, place, and the agency of neighbourhoods to build their surroundings. In previous works, Brennan has supported and worked with a community garden in Peterborough, and here again she has engaged the residents of the surrounding housing estates in their community garden. Using daffodil pulp, Brennan has run paper-making workshops to create unique single leaves of paper, here presented in a wall-filling grid. After the culmination of
UNBUILD
, each dwelling in the estate will receive a piece of paper, the artwork atomised.
Figs.viii,ix

Future exhibitions at Drawing Room include the organisations Drawing Biennial, a key fundraising event for the charity. Beyond exhibition, however, are other community-focused activities, from drawing classes to talks, while the library and research centre allows visitors to freely discover the history and future of drawing as a medium.
Fig.x
---
Drawing Room is a non-profit public institution, founded in 2002 by Mary Doyle, Kate Macfarlane and Katharine Stout and is part of the studio organisation Tannery Arts which was set up by a small group of artists in Bermondsey in 1993. Drawing Room is financially supported by artists through its Drawing Biennial fundraiser, by Arts Council England as a National Portfolio Organisation, and by donations and membership subscriptions. www.drawingroom.org.uk

Tannery Arts Ltd is an independent non-profit organisation, comprising a studio provider Tannery Arts and a public gallery, Drawing Room. Tannery Arts provides quality studio spaces for artists across central London, as well as offering them valuable support and resources at often critical points in their development.
www.tanneryarts.org.uk

Coffey Architects has grown a reputation for highly crafted public, residential and commercial projects since 2005. The studio brings a speciality in light, threshold and spaces that thoughtfully connect people to their environments. In all projects, Coffey is concerned with the experiential qualities of how a place feels, how it connects to the passing of time and the natural elements of the outside. Coffey has been widely commended for its success and ambition. So far in 2023, it has won a Civic Trust Award, two RIBA Regional Awards (The Digi-Tech Factory and Cove Ridge), RIBA East Client of the Year (The Digi-Tech Factory) and a Surface Design Award. Its project, Cove Ridge, is currently longlisted for House of the Year. Additional accolades include: RIBA National Award for Television Centre and Moor's Nook, and RIBA Regional Awards for Apartment Block, Hidden House, Modern Detached, Science Museum Research Centre, Modern Mews, Modern Side Extension and Ad++ House; Visionary Architect of the Year at MIPIM UK 2016; NLA Awards for Apartment Block, Croydon Smaller Sites Programme, U+I Headquarters and Modern Mews, and two AJ Best Retrofit Awards. In 2012 the practice received the BD Young Architect of the Year Award and in 2011 the RIBA Stephen Lawrence Prize.
www.coffeyarchitects.com