The roots beneath the street: An interview with Cristina Iglesias
Spanish artist, Cristina Iglesias is interested in what lies beneath. Her work ossifies roots, vines & nature into solid sculptural forms, sometimes with water flowing over, sometimes inviting visitors to walk around and explore, and sometimes both. As she exhibits new works in London and New York, Will Jennings talks to the artist about what else emerges when she digs into the city.
I am meeting Cristina Iglesias in the smaller of Gagosian's London galleries. Davies Street sits like a vitrine looking over the street, a shallow display space which might be far smaller than their vast Grosvenor Hill gallery, designed by Carus St John, but a perfect opportunity to disrupt the Mayfair manners. Spanish artist Cristina Iglesias' trademark nature-infused sculptures were sitting in the space, their grotesque and writhing roots and vines looking parasitical upon the pristine gallery walls and floor.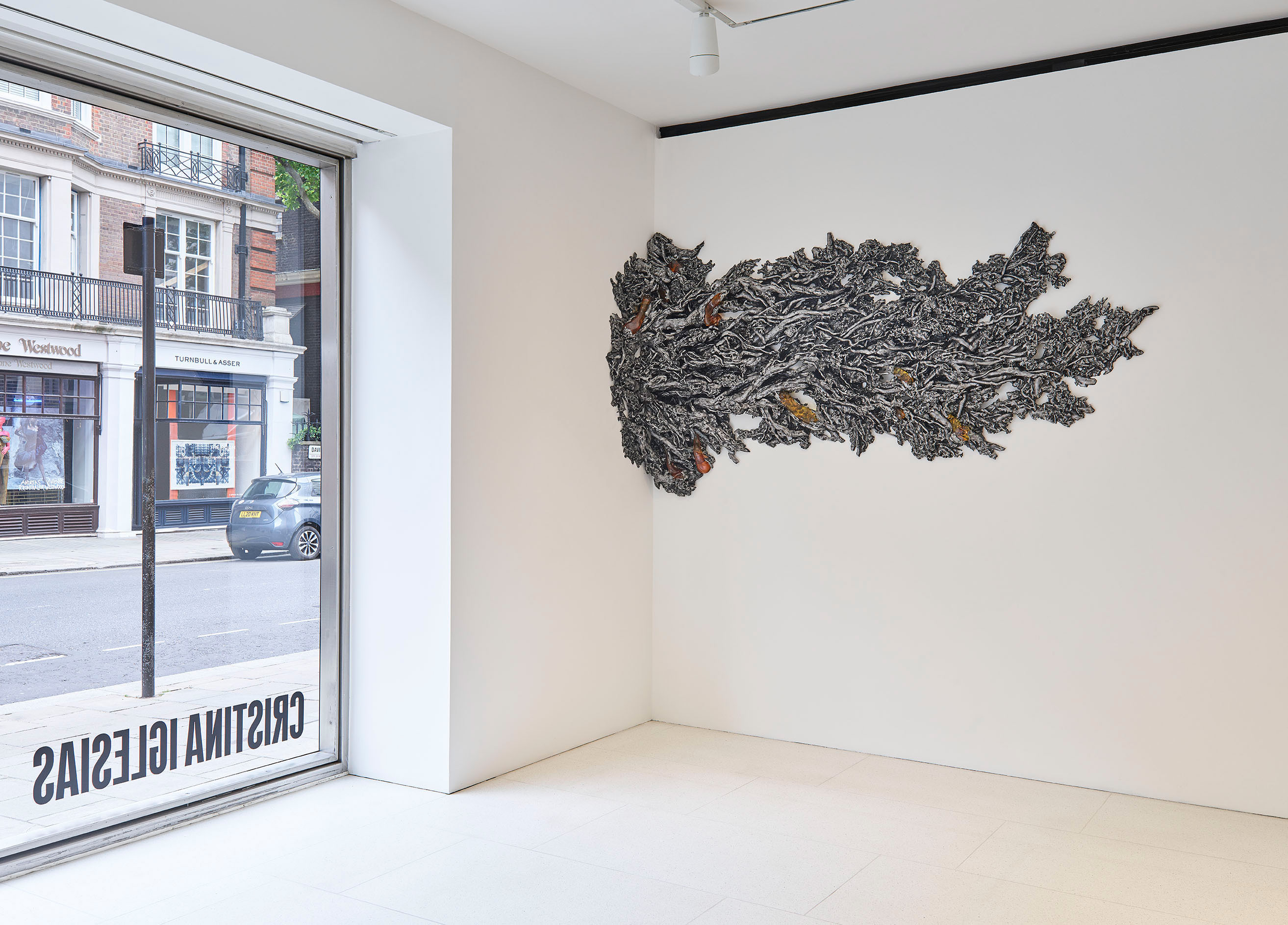 figs.i-iv

It's mid May, and as well as these works in the gallery – two wall sculptures, a free-standing enclosed space of semi-circular walls, and a fountain-like piece – the artist has two capital city projects this summer: the Royal Academy's annual courtyard installation and
Landscape and Memory
, a permanent landscape sculpture in Madison Square Park. I asked Iglesias if these two works relate to one another in any way.
Both talk about communication, nature, growth, and nature communication – but also our communication of course. The New York work is more of an underground piece, in London the underground is in our mind.

In Madison Square Garden I talk about the memory of old rivers. But the piece in the Royal Academy Courtyard I call Wet Labyrinth Room because it's a labyrinthine journey inside a room like a small pavilion, so it's more of a sculpture. You have fictional vegetation, and a fictional interior that develops in a way to make you move in a certain way. And you have reflections from the stainless steel that makes the feeling of labyrinth larger.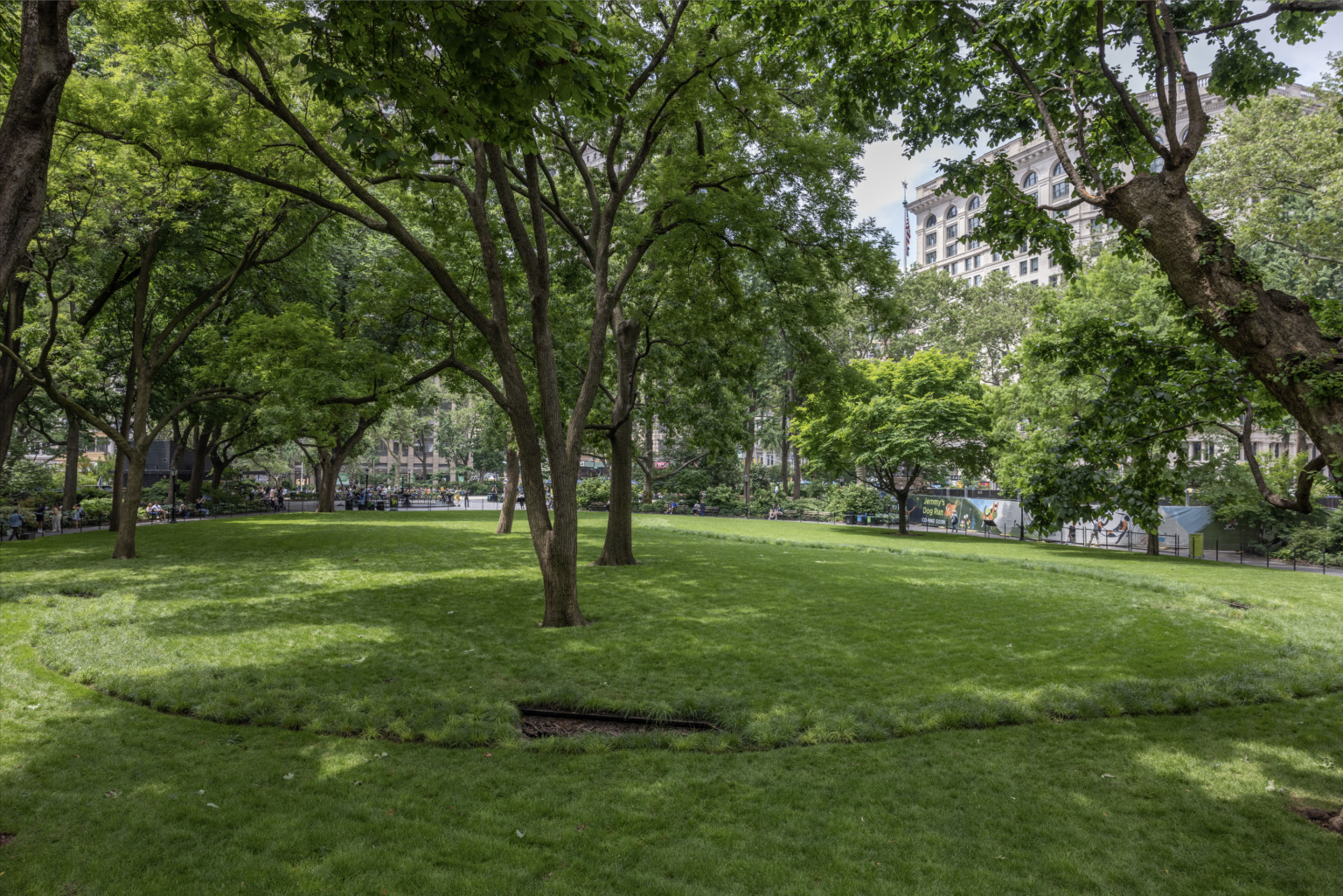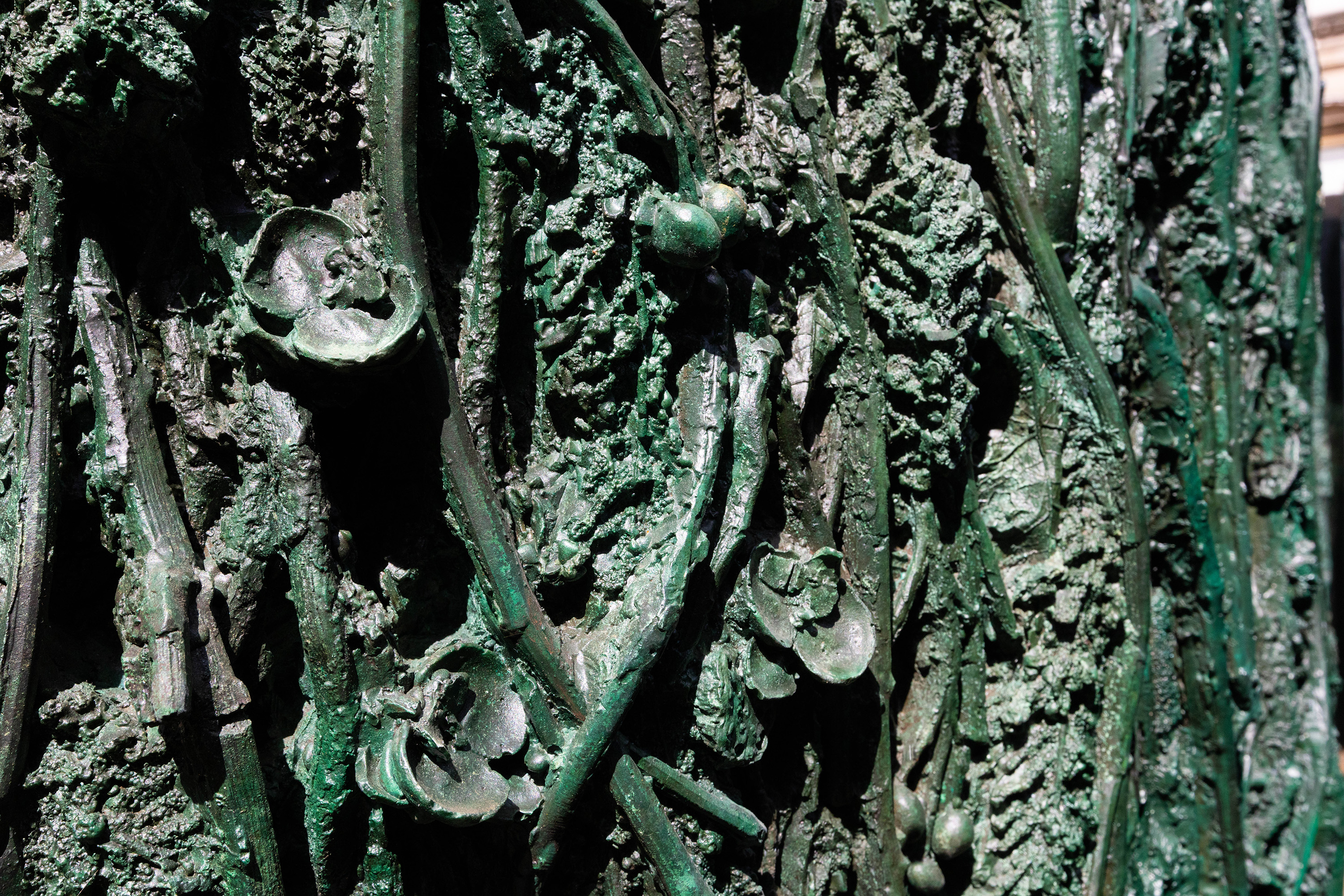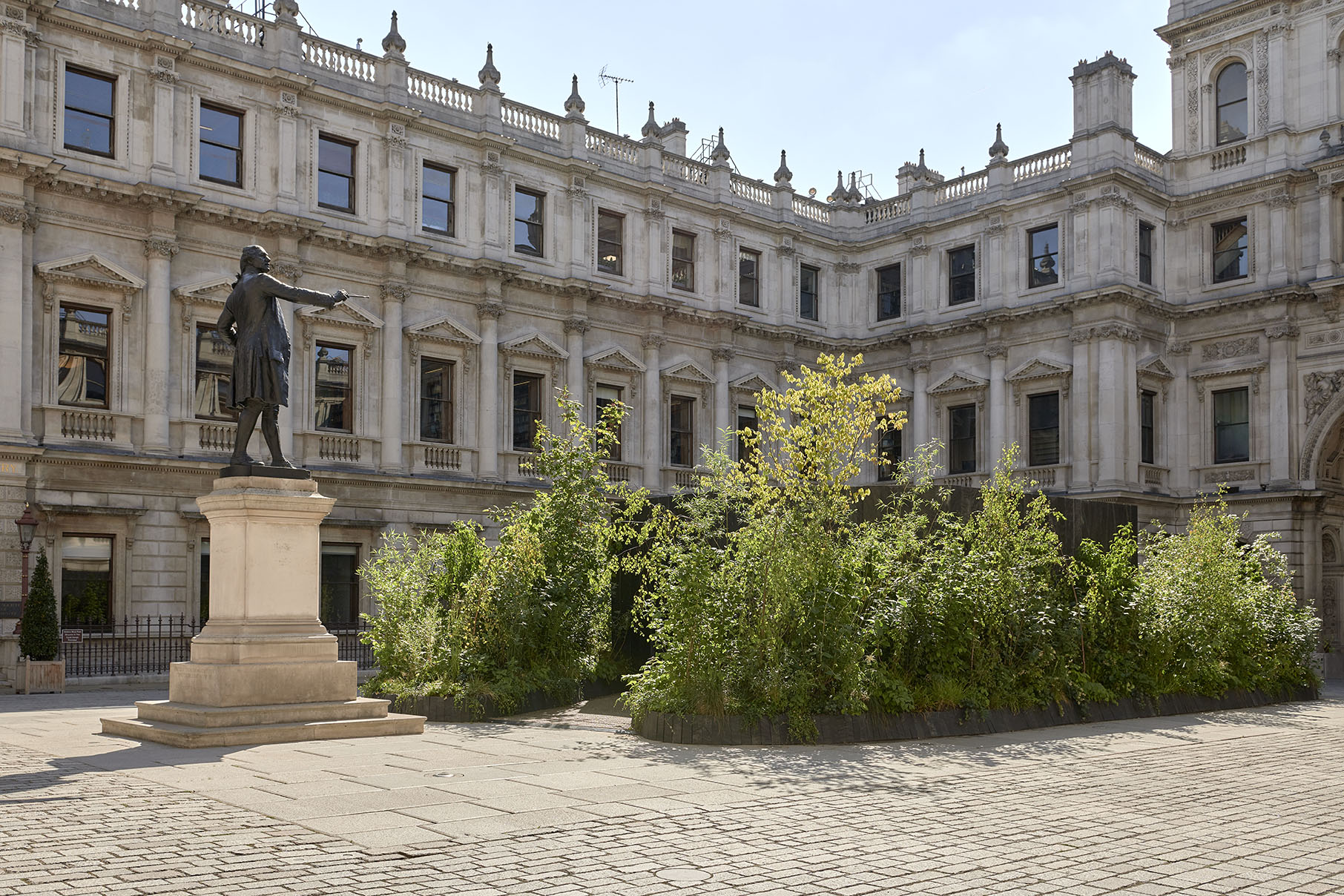 figs.v-vii & viii-x
It's connected to the idea of a labyrinth in the renaissance. But it's true because it's sculpture. The outside is mineral, it has more to do like the piece that you know, that I did in Inhotim in 2012 in Brazil where the exterior is stainless steel - so the real nature reflects on the exterior and then you have the fictional nature inside, then there is water so there's sound. Here in the Royal Academy we are also using water, which is quite difficult, and we have spontaneous landscaping attached, so the exterior will have actual growth.


figs.xi-xiv

Iglesias' Inhotim work
Vegetation Room Inhotim
(2010-12) creates an uncanny modernist cube unexpectedly sat amongst the forest, its mirrored exterior concealing it within growth, and then inside revealing a different kind of nature experience. It reminds me of a grotto, an architectural cave-like space within a country house's estate which would be a place of sensorial escape and a feeling of otherness compared to the manicured landscape outside. I wonder if Iglesias is after that grotto-like experience and the psychological, as well as spatial, experience for a temporary inhabitant.
Yes! For example last year I opened a new work Hondalea (Marine Abyss) inside the lighthouse on Santa Clara Island, off San Sebastián. It's a grotto inside of the lighthouse - we dug down nine metres and it is bronze grotto with a sense of the sea coming in, sometimes breaking waves.

And you just touched on the psychological aspect of it - how it affects you, how you see it, to be surrounded by it, to see something that is an organism that grows and grows and grows and you feel could grow even lower. It's not defined, it's quite abstract in form, but it creates its own space. This psychological aspect is also fundamental to the piece in New York, you look at the underground and it has a reflection that talks about the continuity of this river. There are five parts of the sculpture visible and between are planted grasses to give a sense of humidity underneath, and how memory reconstructs landscape.


figs.xv-xviii

Depth is important to Iglesias. In
Hondalea (Marine Abyss)
the work is sunken. For Norman Foster's Stirling Prize winning Bloomberg HQ in the City of London she designed two sunken fountains,
Forgotten Streams
(2017). Her Madison Square Park installation is sunken into the grass to reveal buried truths. That work is titled
Landscape and Memory
, which is also the title of a Simon Schama book considering the cultural and political power of landscape. The city of New York is built upon indigenous histories, communities and lives buried in the foundations and roots of today's metropolis.
fig.xix
Totally. Geologically, I work with strata – an idea of strata that is physical, geological, but also cultural. It's very interesting, you feel that you can construct a form. There is a lot of improvisation in my making of these pieces, because there is not a cast of the whole thing. I make various casts and then I compose them, so this side is not the same that this one. I am compressing different natures, it is an idea of about the obstruction of nature. What is in between are the roots, the roots that really go down into the city to make it grow.
Over the four decades since 1986's Big Bang, the City of London has grown sky high, so the soil must be rich with strong roots. Iglesias' two fountains which sit at either end of the Bloomberg Arcade – a pedestrian route which traces ancient Roman Road Watling Street and cuts Foster's £1bn building in two at ground level – speak to those roots underneath. A lot of history is compounded under London's architecture, whether physical like the subterranean ruins of the Roman Temple of Mithras within Bloomberg's basement, or intangible like the colonialism, imperialism, and power from which the financial services and corporations above have been forged.
In the city, a financial capital, you have a history of not only slavery but also nature and rivers, and we build and build and build upon them. It truly makes sense when you look more carefully. I'm talking also about the Royal Academy installation, this continuous landscape is akin to a waste land, it's an idea of whatever grows in an abandoned part of city, in urban nature. I mean, what is that? What can we do with that?
figs.xx,xxi
There's a film and book by English academic Matthew Gandy called Natura Urbana. It's about the brachen of Berlin, areas left fallow after war damage and through post-war period without capitalism building on it. The spaces became sites of nature and community flourishing, but now are increasingly under pressure from developers. There's a struggle between developmental progress and people asking wanting to retain empty spaces for nature and culture to grow, and I wonder if Iglesias' nature-aesthetic is part of an encouragement to reconsider our social spaces.
Totally, we need places where young people can create, write, discuss, and where nature grows in a way that is more free. But everything tends to be so manicured, so speculative. At the same time, one of the things that attracted me to the Bloomberg project was the reason for the work and how it surrounds the building is that it is like the moat around the castle. I had to work with the security and safety people: a car drives so many miles an hour, and how wide and deep it had to be. I found it interesting to work with those limitations and devices, but it became public – everybody can go there and see the fountains, you don't need to work at Bloomberg to do that. I think there should be instructions to everybody who designs buildings to give one part of it for citizens' use.
Perhaps one role of art is to help carve that civic space and function from relentless profit and development, to provide – like the Royal Academy's
Wet Labyrinth Room (With Spontaneous Landscape)
– a moment of respite from the city, or as with the Bloomberg fountain a glimpse into another realm, a reminder to those above about that which is below and trodden underfoot. In New York, her works trace the path of a lost river, suggesting a future which must be rooted on knowledge and deep reading of the past. But, by its very nature art is immediately received as an aesthetic, a surface or decoration, and while sculpture can often be dropped into a space to offer personality to a space, can there be a deeper reason for an architect/artist collaboration?
For me art and architecture share many characteristics: a sense of proportion, the use of light, to inhabit a space in a different way. I have to say that many times when I work with architects, such as Renzo Piano, they tell you "I need something!" They always have a problem and ask how art can solve the problem. But art is meant to just be free. With an architect art is a collaboration, and I want to collaborate as it's very rich. But also, you have to be very strict with yourself, one has to remain autonomous, the piece has to remain. Even if it's collaborative the work has to retain its personality and character.



figs.xxii-xxiv
---
Cristina Iglesias was born in San Sebastián, Spain, in 1956. She lives and works in Madrid. Collections include Tate Modern, London; Centre Pompidou, Paris; Museo Nacional Centro de Arte Reina Sofía, Madrid; Guggenheim Bilbao, Spain; Hirshhorn Museum and Sculpture Garden, Washington DC; and Museum of Fine Arts, Houston. Exhibitions include Solomon R. Guggenheim Museum, New York (1997, travelled to Renaissance Society, Chicago, 1997–98; Museo Nacional Centro de Arte Reina Sofía, Madrid, 1998; and Guggenheim Museum, Bilbao, 1998–99); Carré d'Art–Musée d'art contemporain de Nîmes, France (2000); Fundação Serralves, Porto, Portugal (2002, traveled to Whitechapel Gallery, London, 2003, and Irish Museum of Modern Art, Dublin, 2003); Ludwig Museum, Cologne, Germany (2006); Museo Nacional Centro de Arte Reina Sofía, Madrid (2013); Musée de Grenoble, France (2016); Centro Botín, Santander, Spain (2018–19); and Skulpturenhalle Neuss, Germany (2021). Major public commissions include Deep Fountain, Antwerp, Belgium (2006); Portón–Pasaje (Gate–Passage), the ceremonial bronze entrance doors for Museo Nacional del Prado, Madrid (2007); Tres Aguas, Toledo, Spain (2014); Forgotten Streams, London (2017); Inner Landscape (the lithosphere, the roots, the water), Museum of Fine Arts, Houston (2020); and Hondalea (2021), on the island of Santa Clara, San Sebastián, Spain. Iglesias was awarded the Royal Academy Architecture Prize in 2020.
www.cristinaiglesias.com

Will Jennings is a London based writer, visual artist, and educator interested in cities, architecture, and culture. He has written for the RIBA Journal, the Journal of Civic Architecture, Quietus, The Wire, the Guardian, and Icon. He teaches history and theory at UCL Bartlett and Greenwich University, and is director of UK cultural charity Hypha Studios. us. Nulla in molestie dui.
www.willjennings.info

visit
Cristina Iglesias' at Gagosian gallery, 17-19 Davies Street, London, runs until 19 August 2022.
www.gagosian.com/exhibitions/2022/cristina-iglesias

Landscape and Memory, a site-specific sequence of Iglesias's "phreatic zones," will be on view in New York's Madison Square Park until 04 December 2022.
www.madisonsquarepark.org/art/exhibitions/cristina-iglesias-landscape-and-memory

Wet Labyrinth Room (With Spontaneous Landscape) is installed in the courtyard of the Royal Academy unti 21 August 2022 to coincide with the Summer Exhibition.
www.royalacademy.org.uk/exhibition/summer-exhibition-2022

Vegetation Room Inhotim is located at Instituto Inhotim, a contemporary art museum and Botanical Garden, located in Brumadinho Minos Gerais, Brazil.
www.inhotim.org.br

Hondalea (Marine Abyss), Santa Clara Island, San Sebastián, is open to the public.
www.donostia.eus/ataria/en/web/hondalea

fig.ii Sed consequat ante eget magna rhoncus ultricies laoreet sit amet odio. © Lorem Ipsum

images
figs.i-iv Installation view (2002). © Cristina Iglesias, Photo: Prudence Cuming Associates. Courtesy Gagosian.
fig.v-vii Landscape and Memory (2022). Bronze, mirrored stainless steel, hydraulic system, water and grass. 5 pieces, 80 x 317 x 321cm approximate each. Madison Square Park, New York. © Cristina Iglesias,
figs.viii-ix Wet Labyrinth Room (With Spontaneous
Landscape) (2022) Phyllite stone, bronze powder with resin, stainless steel, mineral draining floor, closed water circuit mechanism, water and landscape. 310 x 904 x 680cm. Royal Academy of the Arts, London. © Cristina Iglesias.
fig.x Detail of Cristina Iglesias' Wet Labyrinth Room (with Spontaneous Landscape) (2022). Photograph © Royal Academy of Arts, London / David Parry.
fig.xi-xiv Vegetation Room Inhotim (2012). Bronze powder, polyester resin, stainless steel, water and hydraulic mechanism. 3 x 3 x 9m. Inhotim, Belo Horizonte, Brazil. © Cristina Iglesias.
fig.xv Hondalea (Marine Abyss) (2021) All the material of the building's architecture, bronze and hydraulic machinary and water. Lighthouse at the Santa Clara Island, San Sebastian, Spain. Photograph © José Yosigo.
fig.xvi-xviii Hondalea (Marine Abyss) (2021) All the material of the building's architecture, bronze and hydraulic machinary and water. Lighthouse at the Santa Clara Island, San Sebastian, Spain. Photograph © José Luis López de Zubiría
fig.xix-xxi Forgotten Streams (2017). Bronze, water, stone, stainless steel and hydraulic mechanism. Bloomberg, London. © Cristina Iglesias.
fig.xxii Wet Labyrinth Room (With Spontaneous Landscape) (2022) Phyllite stone, bronze powder with resin, stainless steel, mineral draining floor, closed water circuit mechanism, water and landscape. 310 x 904 x 680cm. Royal Academy of the Arts, London.© Cristina Iglesias.
fig.xxiii,xxiv Cristina Iglesias' Wet Labyrinth Room (with Spontaneous Landscape) (2022). Photograph © Royal Academy of Arts, London / David Parry.

publication date
09 August 2022

tags
Bloomberg, Brachen, Caruso St John, Norman Foster, Gagosian, Matthew Gandy, Geology, Grotto, Hidden River, Interview, Landscape, Madison Square Park, Natura Urbana, Cristina Iglesias, Inhotim, Labyrinth, Roots, Royal Academy, San Sebastian, Santa Clara Island, Sculpture, Sensorial, Nature, New York, Subterrain, Water