Play what you can: Assemble interpreting Lina Bo Bardi
Nottingham Contemporary have mounted an exhibition where touching the artworks is encouraged. Turner Prize winning architecture collective Assemble have reimagined elements of a drawing by Lina Bo Bardi to explore the importance of play in society and culture. Ruby Allison visited for recessed.space

"Wow I want to take my shoes off and play,"
said the grandmother
"You can Granny, come play with me!"
replied the little boy
"I can't do that, granny's too old and has a bad knee"
I was waiting to meet one of the curators of
Assemble + Schools of Tomorrow: The Place We Imagine
, Lisa Jaques, while perched on a vinyl-covered penguin-like creature, overhearing a beautiful conversation between a little boy and his grandmother.
"we could go down that one!"
The boy pointed towards the a slide in the middle of the art gallery, with no more persuasion needed they both headed over.
"Did it hurt your bum Granny?"
"No, let's go again!" said Granny
fig.i
Upon entering a gallery I am normally aware of a sense of how to behave. A sign says don't touch, while people whisper while politely observing the art, a frown is thrown at anybody who doesn't play by the rules. However, this visit was different. I arrived at Nottingham Contemporary ten minutes early to be greeted by smiles and invitation to play.
Play isn't just for children, it can be enjoyed by everyone and anyone – young to old, shy to confident. It is an essential part of life, an organic and holistic form of connection.
The Place We Imagine
is a collaboration between the gallery and design collective Assemble, also working closely with resident artists and local schoolchildren, and it allows for exploration and discovery within the gallery space. With play at the heart, there's intent to contest the boundaries of the gallery walls, opening up a new way of experiencing a museum for both children and adults – and grannies.
figs.ii,iii

In 1968, Italian-Brazilian architect Lina Bo Bardi created an imagined utopian playground as a realm for innocent, autonomous play. Drawn during the Brazilian dictatorship, with the iconic Museum of Art São Paulo (MASP) in the background, her imaginary proposition presents radical ideas through an evocative lens - Bo Bardi's concept of play could be perceived with a political undercurrent, offering opportunity to rethink the power of young imagination.
Bo Bardi was ahead of her time. Today, her drawing triggers thought-provoking ideas on the way we perceive play, centring art galleries as a potential space to rethink the relationship between playing and learning. Bardi's drawing makes the viewer interpret the vision through a child's eyes rather than the architects, with multi-coloured carousel-like flooring and ribbon-like slides – her quote
"the young will be the protagonists in the life of the museum through design, music and theatre"
informs the Nottingham Contemporary curation.
fig.iv

Turner prize-winning collective
Assemble
have brought to life the impossible reality of Lina Bo Bardi's unrealised vision, exploring local children's actions, ideas, and responses to play through three large-scale interactive sculptures. Two of them –'Big Red' and 'Menagerie' – have been created by Assemble to resemble two of the ideas within Bardi's drawing.
Big Red
, with the red ribbon-like slide, was originally designed to challenge the civic context found at
The Brentway
, a 2021 Assemble project in Toronto connecting creative practice, public art, and community. The project incorporated outdoor and online elements to rediscover the necessity of play as a tool of post-pandemic urban recovery, and how play can help us better understand our environments and each other through inadvertently shaping public spaces.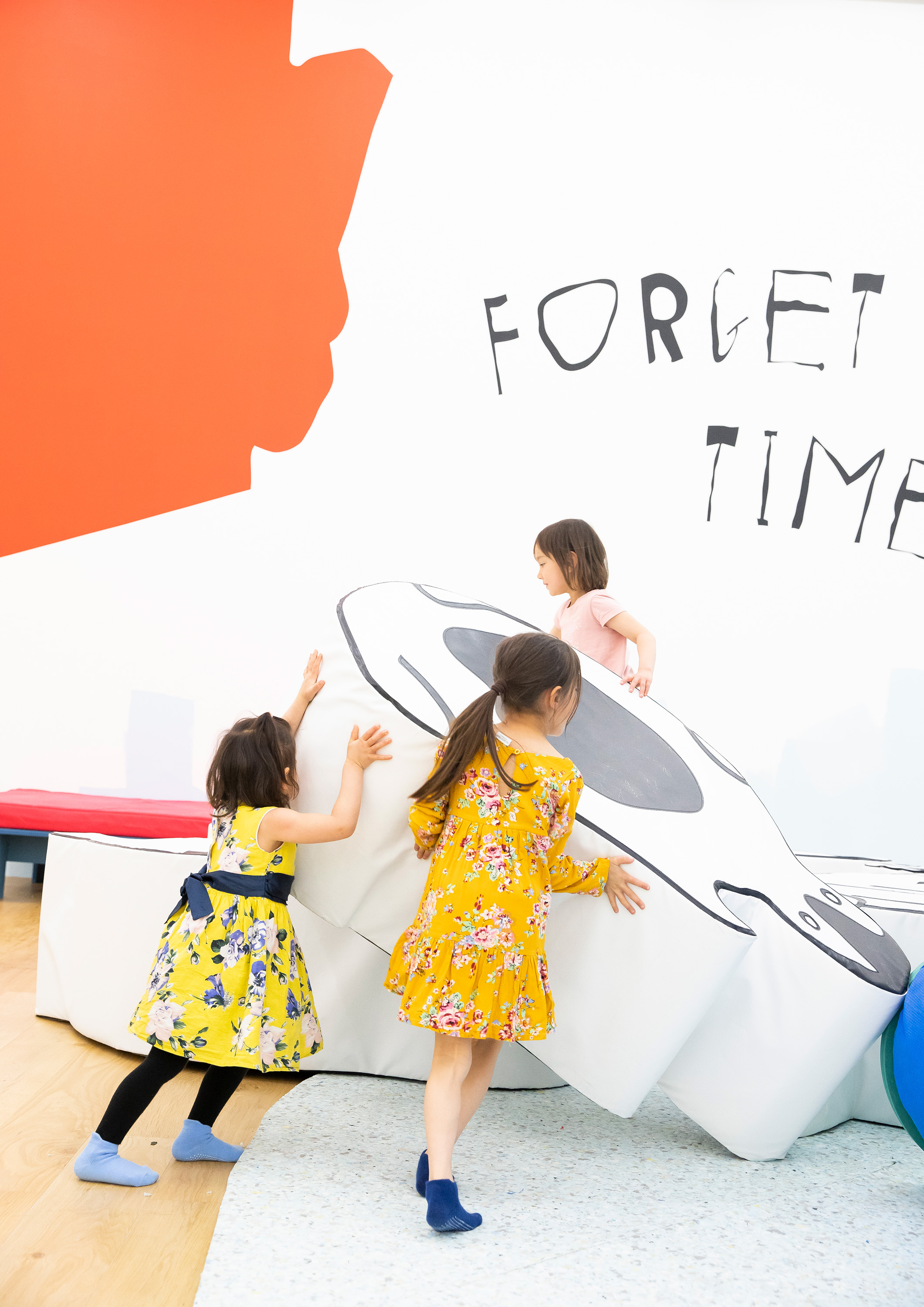 figs.v-vii

Menagerie is a second piece re-imagined from Bo Bardi's drawing. Due to its indefinable ridiculousness it's hard to describe, but as I observed visitors explore it I was reminded of the beautiful silliness of the Jolly Holiday scene from Mary Poppins. Vinyl-covered creatures across a rainbow carousel-like floor can barely be recognised as animals, and their function is just as hard to discern - the squishy foam imaginaries were variously interpreted as seats, trampolines, or tunnels and slides. This is what the exhibit is about, enabling a playful adventure for everyone in the space, allowing unprescribed play with creative thinking.
figs.viii-x

The third sculpture was developed through interdisciplinary involvement with children of the city's Robin Hood Primary school, interpreted by artist Laura Eldret then constructed by Assemble. The workshops explored different approaches to play, allowing the children to take creative charge and for their imaginations to be key tool in influencing the final outcome: a nebulous clay sculpture titled Fun House capturing the children's own experience of play.

Its green lattice frame is stuffed with neon illustrated blue squishy pillows, topped with a green inflatable ball. When the blue is pressed, sounds of playgrounds are emitted. It's a sculpture oozing with creativity, enthusiasm, and community.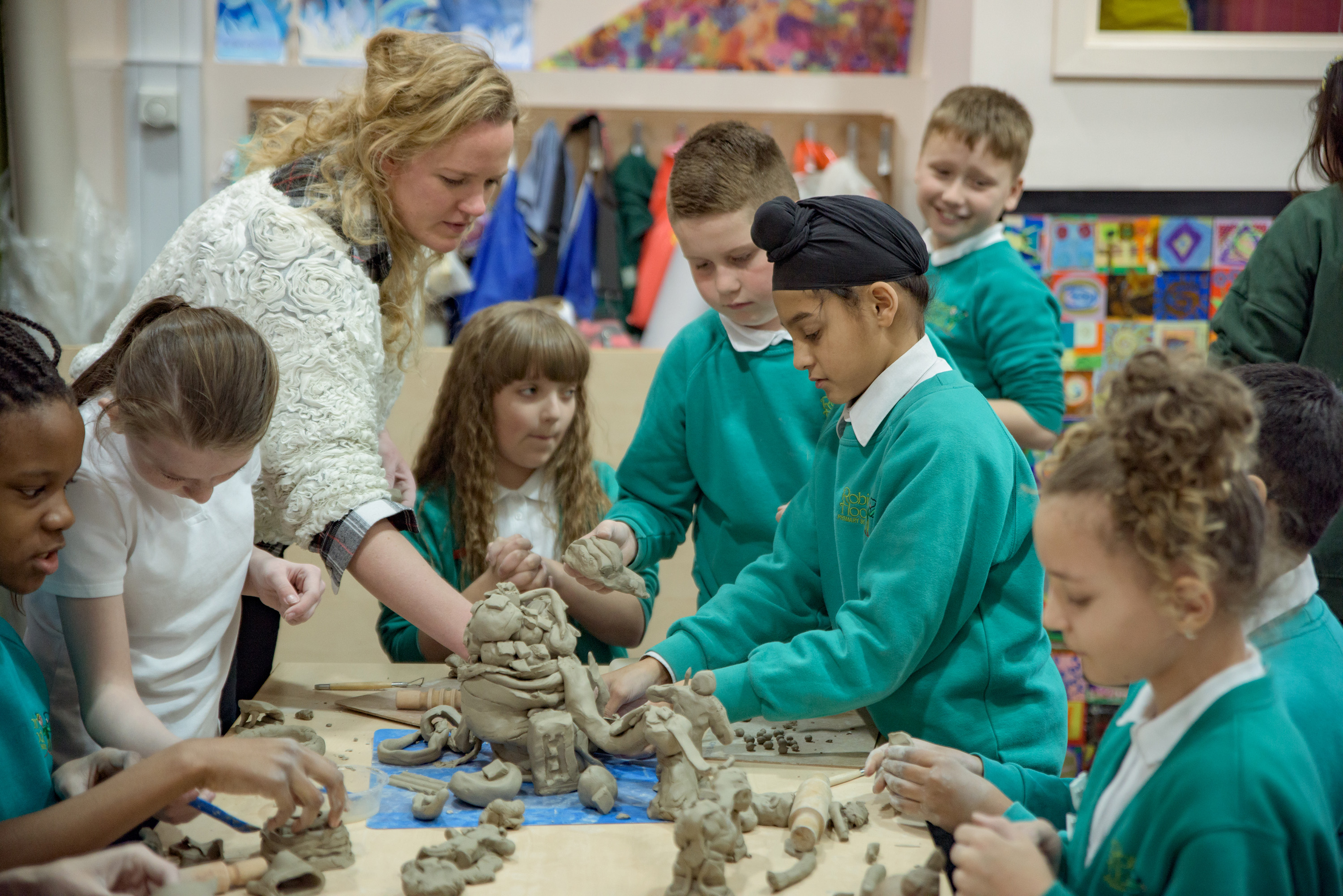 figs.xi-xiii

Over three years, Nottingham Contemporary's
Schools of Tomorrow
programme has supported artists to collaborate with primary schools on craft-led workshops. Together, they have created bespoke, subversive works highlighting ideas of play learnt through conversations and interactions with the children. Jotted phrases from these workshops are written across the walls:
"it's not exact, experiment, explore"

"forget time"
On another wall
rules
created by artist Charlotte Tupper and children of Edna G Olds Academy are written, with the intent of inviting visitors to reconsider and contest society's assumed rules.
"big kids squash the little ones"

"Slow down or you will eventually run out of legs"

"don't even think about playing or you will disappear"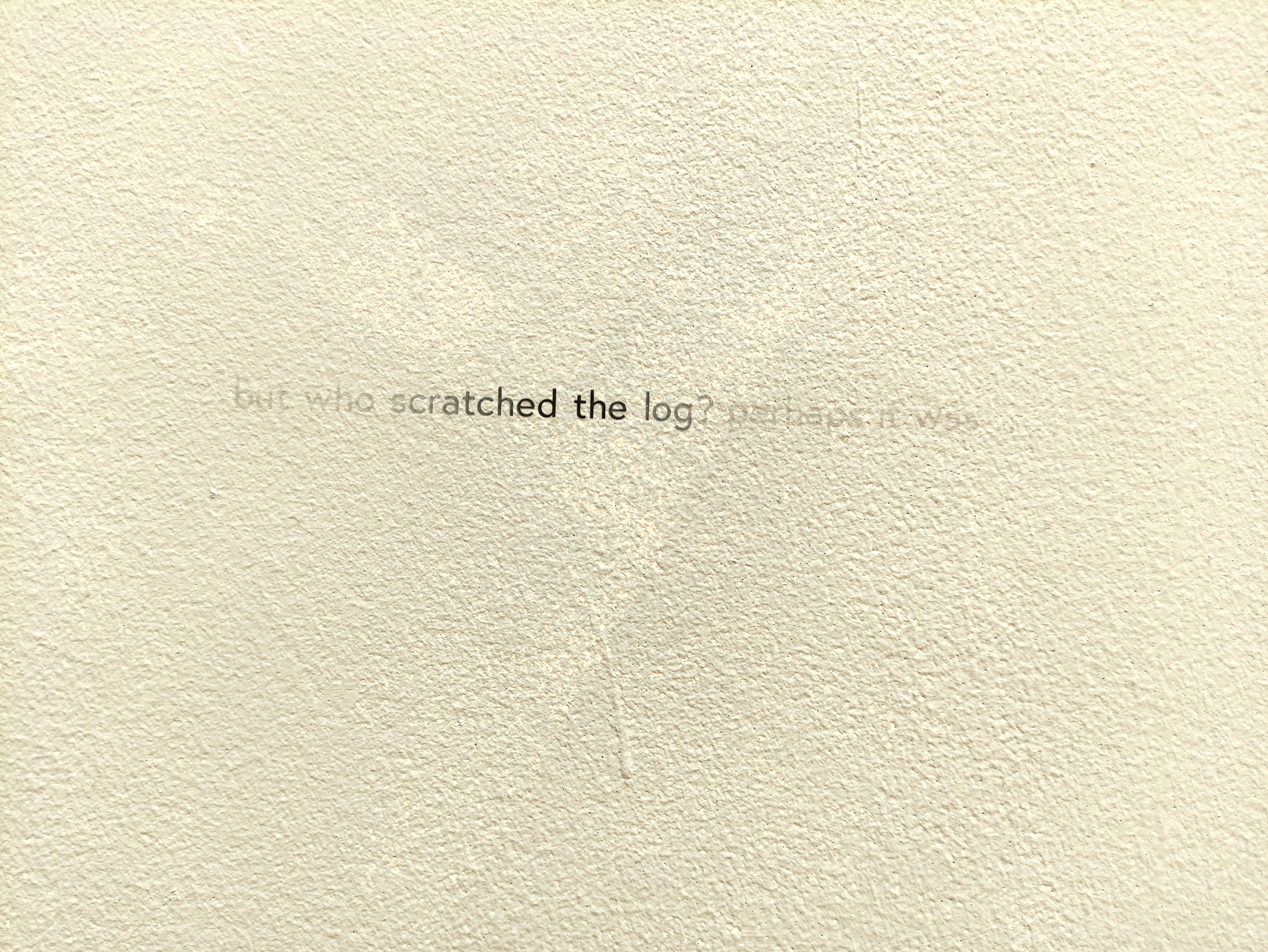 figs.xiv-xvi

As an associate artist, Peter Rumney collaborated with Melbury Primary School to develop creative writing from contemporary art, developing literacy skills through playful and creative narratives. "The birds were singing and tweeting at the end." I found the hidden writing powerfully potent and thought-provoking. "But who scratched the log? Perhaps it was…".
There is humour in an interactive and subversive work by Sian W Taylor. A film montage capturing precarious footage from a GoPro attached to a toddler's head, it celebrated inquisitiveness, revealing how toddlers engagement with space through the toddlers' perspective.
It was evident from my morning amongst these works how the ridiculousness of the environment influenced viewers' behaviours and body language, and how that was so different to a normal gallery-going atmosphere. This dynamic environment offered opportunity for discovery, wonder and exploration, and through this a positive perception of the world is created.
figs.xvii-xviii

---
Ruby Allison is currently studying BA Landscape Architecture at the University of Greenwich. Having grown up in the beautiful mountains, Ruby is currently working as a freelance Climbing Wall Instructor at centres across London. Ruby is interested in design proposals allowing for change in communities through innovative public engagement and inclusion in the design process, with play situated at the core. She is a keen illustrator and crocheter, so hopes to pursue a career path where public art and sculptural play installations, intersect with her love for craft and design.

Assemble is a multi-disciplinary collective working across architecture, design and art. Founded in 2010, Assemble has developed a co-operative working method that enables built, social and research-based work at a variety of scales – both making things and making things happen. In 2015 they won the Turner Prize, the first architects to do so.
www.assemblestudio.co.uk

Lina Bo Bardi (1914–92) was a prolific Italian-born Brazilian modernist architect. She devoted herself to promoting the social and cultural potential of architecture and design. While studying under radical Italian architects, she quickly became intrigued with Brazilian vernacular design and how it could influence modern Brazilian architecture.

Schools of Tomorrow is a four-year learning and research programme funded by Paul Hamlyn Foundation, which places artists in residence at eight local schools. Together, artists and teachers develop approaches to supporting creativity in and beyond the classroom through a process of action-led enquiry. Assemble linked with three of our partner schools to develop a play structure.
www.schoolsoftomorrow.org

visit
Assemble and Schools of Tomorrow: The Place We Imagine is exhibiting at Nottingham Contemporary until 4 September, 2022.
www.nottinghamcontemporary.org/whats-on/assemble-schools-of-tomorrow

images
figs.i,iii,vi,ix,xviii Assemble and Schools of Tomorrow: The Place We Imagine, installation view at Nottingham Contemporary, 2022. Courtesy Nottingham Contemporary. Photo © Stuart Whipps.

figs.ii,v,viii,xiii,xvii Assemble and Schools of Tomorrow: The Place We Imagine, installation view at Nottingham Contemporary, 2022. Courtesy Nottingham Contemporary. Photo © Julian Hughes.

fig.iv Lina Bo Bardi (Roma, Italy, 1914 – São Paulo, Brazil, 1992) Estudo preliminar—Esculturas praticáveis do Belvedere do Museu de Arte Trianon [Preliminary Study—Practicable Sculptures for the Belvedere at Museu de Arte Trianon], 1968. Collage, China ink and watercolor on paper, 56,2 × 76,5 cm. Collection of Museu de Arte de São Paulo Assis Chateaubriand. Gift of the Instituto Lina Bo e P.M. Bardi, 2006
MASP.04442. Photo © MASP

figs.x,xiv-xvi Details of Assemble and Schools of Tomorrow: The Place We Imagine, at Nottingham Contemporary, 2022. © Ruby Allison

figs.xi,xii School workshops. Courtesy Nottingham Contemporary. © Sam Kirby

publication date
16 June 2022

tags
Ruby Allison, Assemble, Collaboration, Laura Eldret, Interactive, Language, Lina Bo Bardi, Nottingham Contemporary, Play, Peter Rumney, Schools, Schools of Tomorrow, Sculpture, Sian W Taylor, Charlotte Tupper, Workshop, Writing