Weaving visibility: Andrea Mindel's public embroidery
Andrea Mindel is a textile artist who in a project at Towner Eastbourne gallery embroidered with their own hair. They are also disabled, & the relocation into the foyer of the gallery was part of a national pop-up event to make disabled creativity visible. Jordan Whitewood-Neal visited for recessed.space, observing in how Mindel's frame was set into the space a further reading of private & public in the everyday lives of disabled people, not least during the invisibility of Covid.
On July 2nd, the 102nd anniversary of the first international Dada art fair in Berlin, 31 disabled artists in over 30 venues across Britain and Northern Ireland, Margate to the Orkney islands, instigated an array of interventions, collectively titled
We are Invisible, We are Visible
(
WAIWAV
). Directly drawing from the Dadaist ideology, the events were designed to challenge not only the biggest of world issues but also the pandemic induced susceptibility and invisibility that many disabled people have faced.
"Where Hans Arp 'sought an art to cure the madness of the age', we seek an art that performs and celebrates madness as a mirror to the world, challenging the narrow notions of what it is to be human and the limiting impact of those chains leading us ever towards oblivion,"
explains Colin Hambrook, Disability Arts Online Founding Editor. Talking to the similarities between Dada and Disability Arts he adds:
"It is through the engagement with live art, performance or interventionist art in particular that similar ideals arise — of rulebreaking, anti-normality, and the art of protest."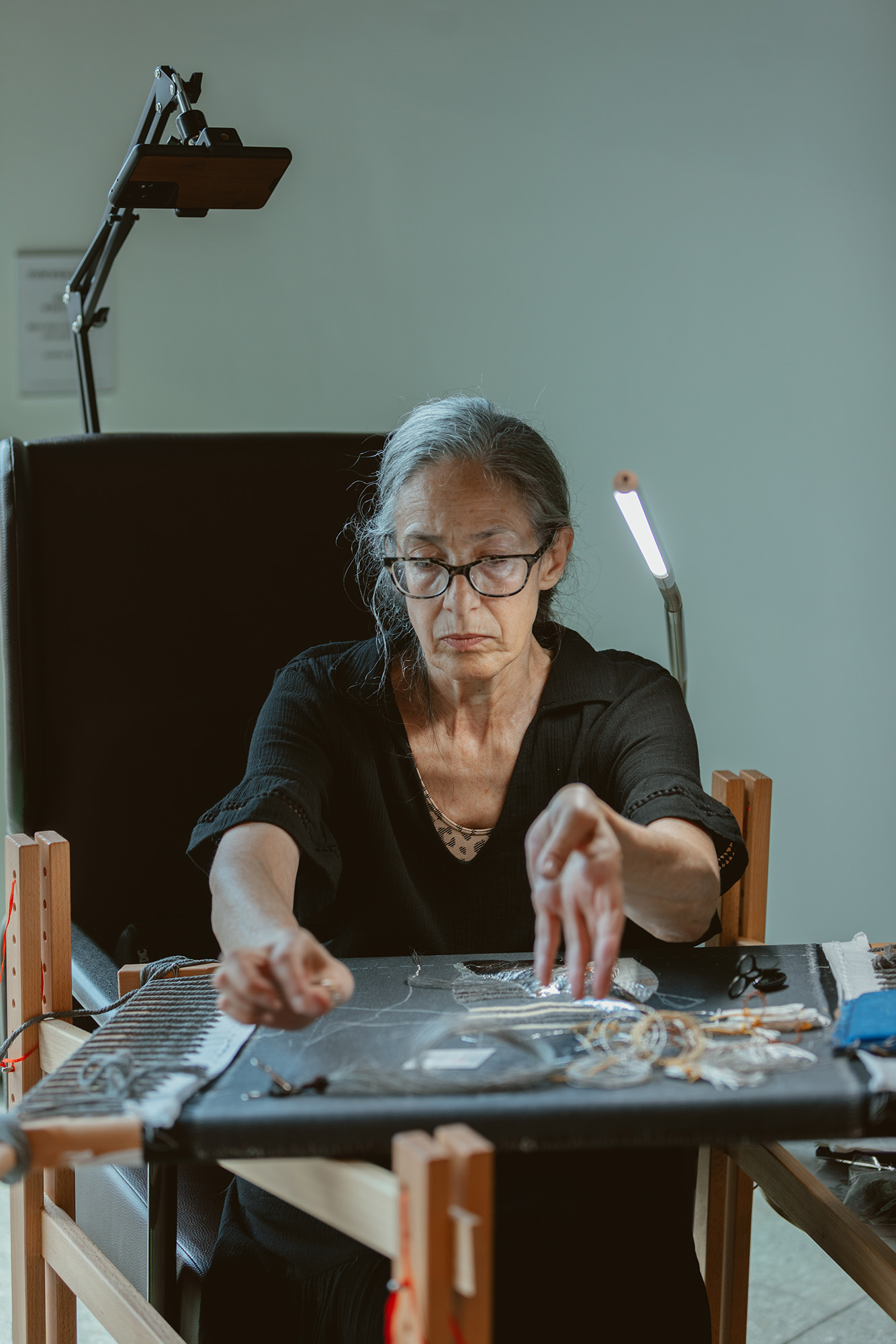 When one thinks of protest, surrealism, and absurdity, embroidery may not be the first radical act which comes to mind, yet artist Andrea Mindel's intervention
WAR?! WHAT WAR? – How to achieve eternal bliss
, contained messages of anger and frustration literally embroidered into their work. Taking place at public contemporary art gallery Towner Eastbourne, Mindel's performance was of profound and perceptible presence and delicacy, with audience engagement key.
What struck me upon first entering the foyer of the Rick Mather Architects designed building was how tangential Mindel's intervention was to the space, tucked in a nook to one side — though when turning and seeing the work, there is a moment of immediacy. One of the most subtle yet vital parts of the work was materiality: Mindel was using their own hair to embroider, functioning personally, historically, and ecologically within the process, and acknowledging deep routed connections between their own body and the work of Dada, Mindel telling me:
"Elsa von Freytag Loringhoven shaved her hair and painted her head red. Claude Cahun also shaved her head. I was 17 when my hair fell out from taking steroids. And then again at 23."
But equally, they spoke of hair as a material to be preserved, also with the ability to function in preserving both the planet and self. This combined with their use of the goldwork tradition establishes the materials of the body not only as ecologically important, but as an act of defiance against the upper class:
"Hair as a memento-mori, a keepsake and remembrance token of a loved one grew in popularity when Queen Victoria saved lockets of Albert's hair. Hair was fashioned into complex rope like chains using lace-making type equipment and patterns. The ends of these chains were fashioned into clasps with gold and other precious materials. Floral hair patterns were constructed, often from a whole family and kept for posterity in a glass frame or cloche.[…] I wanted to use hair in the goldwork tradition of embroidery because goldwork was mainly used for the wealthy, the State and the Church. This is where it is used to this day, although with the boom in embroidery driven by the pandemic, there are many more stitchers making work using goldwork. I wanted to use goldwork to honour "the common people"
How do we entangle ourselves with the work we produce? This was the main question which derived from Mindel's approach. The intimacy and labour of embroidery work means that it is both intricate in its production, but almost machinic in how the machinery and space of performance was curated within the gallery. Mindel spoke not only to the intimacy of the process itself but also how the technique allowed them an introverted space within which to practice and contemplate.
"When I designed this intervention, lockdown was just coming to an end. The idea of bringing my embroidery trestles into the gallery space was to help me ease back into active engagement with people, whilst creating a sense of distance between myself and the audience, to create a safe space around me. Projecting my hands onto a screen which the audience could engage with, rather than having to peer over my shoulders, made sense and created a digital aspect to the work."
Distance is an aspect of life that we rarely have control over. The vulnerability felt by disabled people over the last two years has made our domestic spaces ones of refuge, irregardless of how
suitable
such a refuge may be for our various needs. Mindel's piece, although still inviting conversation, formed a boundary between them and visitors, respect for the craft manifested in respect for personal space. Yet the embroidery armature, a wooden platform and slate frame pulling their medium into tension, established a unique space for dialogue with both Mindel and with the work.
"I realised very quickly at the intervention that I wasn't going to get a lot of sewing done for the conversations that needed to be had! The chair, the slate frame, the arrangement of side tables, and having all my small equipment with me was a recreation of the workstation I have created for myself in my living room."
This very intentional transfer of the
private
into the
public
is an aspect unique to disabled space-making, where homely set-ups are often required to be recreated beyond the home for comfort and practicality. If the Dadaist motive of the event is, as Hambrook said, to
"challenge what it is to be human"
then part of this movement is not only showing the many ways we continue to be uniquely human today, but how space can be reconfigured through our very presence.
The geographical scale of the WAIWAV event was constructed out of many intimate interventions – such as Tony Heaton and Terry Smith's inhabitation of a lift at BALTIC in Gateshead, or Aaron Williamson using 3D glasses hiding in plain sight at the John Hansard Gallery, Southampton – but what they all seem to speak to, and this is particularly true of Mindel's work, is a profound sense of what Georges Perec would call the
Infraordinary
. Things, or in this case a community, that exists but yet often perceptibly neglected, a community that unbeknownst to many has the power to change the world. When asked about their role in the event, its relation to the Dada movement and their methodology, Mindel says:
"I am inherently serious when it comes to the human condition and the awful systems of power we have created. I may sit quietly embroidering in my NHS chair but that doesn't stop me from being anarchic."
What this event created argues Mindel
"was a great way of creating a sense of belonging, of being present, rooted in the world."
This speaks to the ways in which responses to crises manifest. But the fear is that in a world where people attentions are so easily redirected and minds so desensitised, does absurdity and anarchy still function in the same way? The way we consume information and culture, quickly digesting and releasing it a day later, means that absurdity becomes diluted amongst the social detritus we are constantly pummelled with.
DASH artistic Director Mike Layward argues that
"Disability Art is the inheritor of the ethics and ideology of Dada,"
suggesting it seeks to respond powerfully and intimately to the world. But in a world where crises are a daily occurrence, or hidden and perpetuated systemically, this inheritance becomes ever more daunting. Disabled artists however, like all that contributed to this timely event, highlight what a cultural force they can become. Watching Mindel work, engaging with anyone who wished to, made me believe that change has the potential to occur from any corner of the world.
---
We are Invisible We are Visible (WAIWAV) was a day-long takeover of British cultural venues presented by DASH, the disabled led visual arts organisation. On 2 July 2022, 31 Disabled artists disrupted 30 museums & galleries across the UK with surreal interventions in recognition of the 102nd anniversary of the first Dada International Exhibition. It was the most ambitious showcase of work by d/Deaf, Disabled & Neurodivergent artists to be presented in the UK.
www.waiwav.org

DASH is a Disabled led visual arts charity. It creates opportunities for Disabled artists to develop their creative practice. These opportunities take many forms, from high-quality commissions to community-based workshops, the work it creates is centred around its vision and mission. With a history of work including visual arts, dance, theatre, live arts and festivals in Shropshire since the mid 1990's, DASH became a limited company and registered charity in 2001 & in 2004 secured revenue funding from Arts Council England. In 2009 DASH took the decision to specialise its work in visual arts, while expanding its geographical boundaries.
www.dasharts.org.uk

Andrea Mindel is a contemporary textile & multi-disciplinary artist based in the UK. Their work has been exhibited nationally and internationally. Their practice addresses themes of social injustice, grief and mourning within the context of climate crisis, illness, disease and genocide, using their work to advocate for the LGBTQAI+ community & other under-represented voices.
www.outsidein.org.uk/galleries/andrea-mindel

Jordan Whitewood-Neal is a disabled designer, educator, & architectural researcher at University of Brighton, exploring disability, pedagogy, & the rhetoric of domesticity at the Architectural Association. He has presented his research at several conferences & universities including the London Festival of Architecture, Glasgow School of Art & Köln School of Design. He is a Young Trustee of the Architecture Foundation, Teaching Development Fellow at the London School of Architecture, & co-founder of disability collective DIS/.