Venice Biennale: Dublin distilled by Niamh O'Malley
In the Arsenale of Venice Biennale there are moments from Dublin. For Ireland's contribution to the art event, Niamh O'Malley has extracted and made oblique urban elements, creating sculptural situations from everyday infrastructure.
For all that La Biennale di Venezia is a collage of a million artistic ideas, approaches, and aesthetics, however idiosyncratic any national pavilion's installation is, it's hard to shake off the Venice-ness of the whole thing. An artist can completely transform the interior of a national space, turn it into an other-worldly environment, or distract you with VR and digital windows into other places, but the crowds of art visitors and particular architectures of the Giardini and Arsenale sites means the fourth wall is never airtight.
figs.i,ii
In 2022's edition, Ireland have set out to extract a feeling of Dublin's streets and urban fabric, but instead of trying to recreate a totality of place, a theme-park experience, her installation
Gather
instead has extracted specific architectural details and rebuilt them in sculptural form within the space.
The work considers the infrastructure and everyday components of the city, designed elements which have their full meaning only when interconnected to the complexity of urban space – here in their isolated form carrying some of that residue of use but also now acting as sculptural,
other
, and curious forms.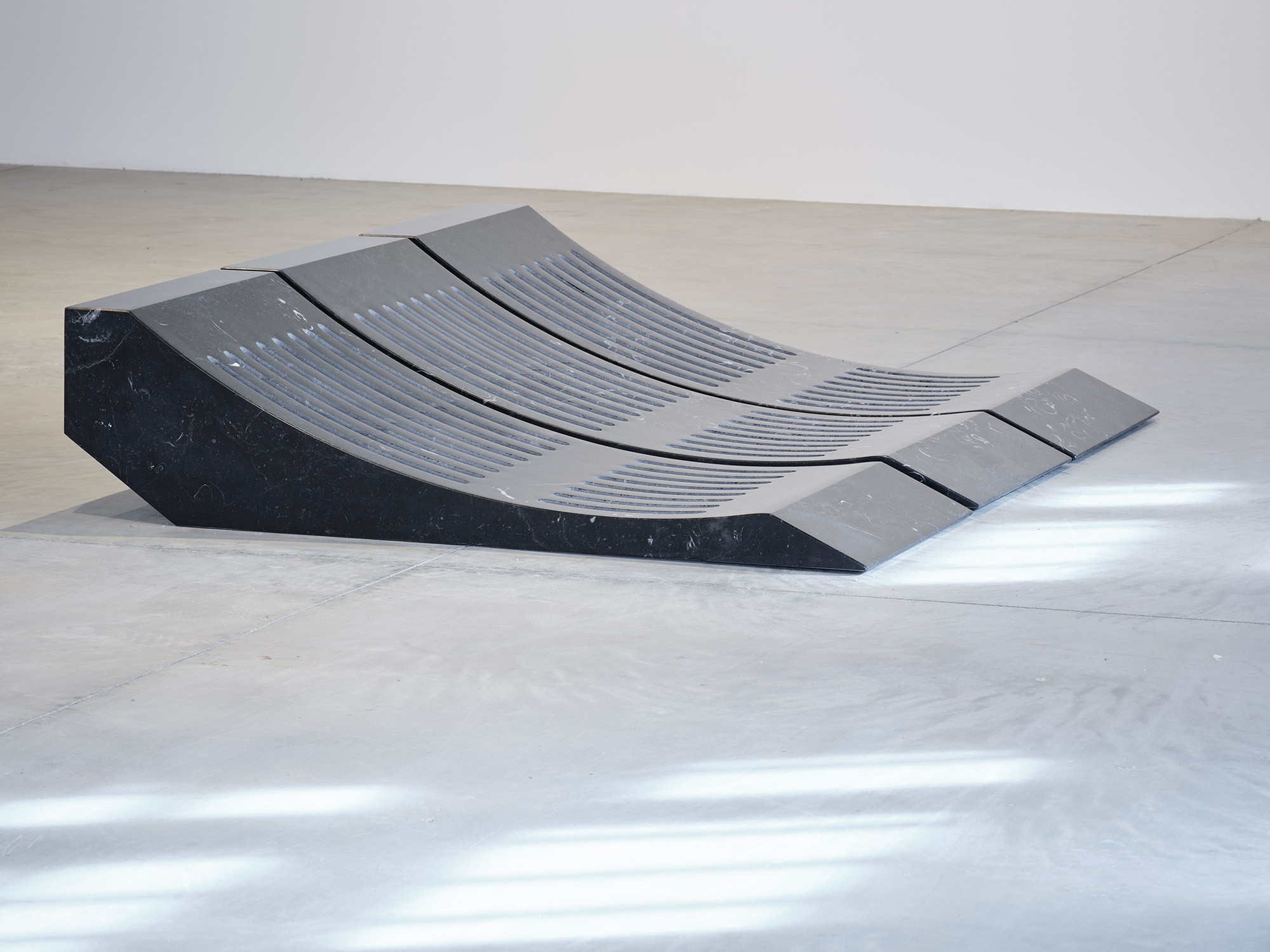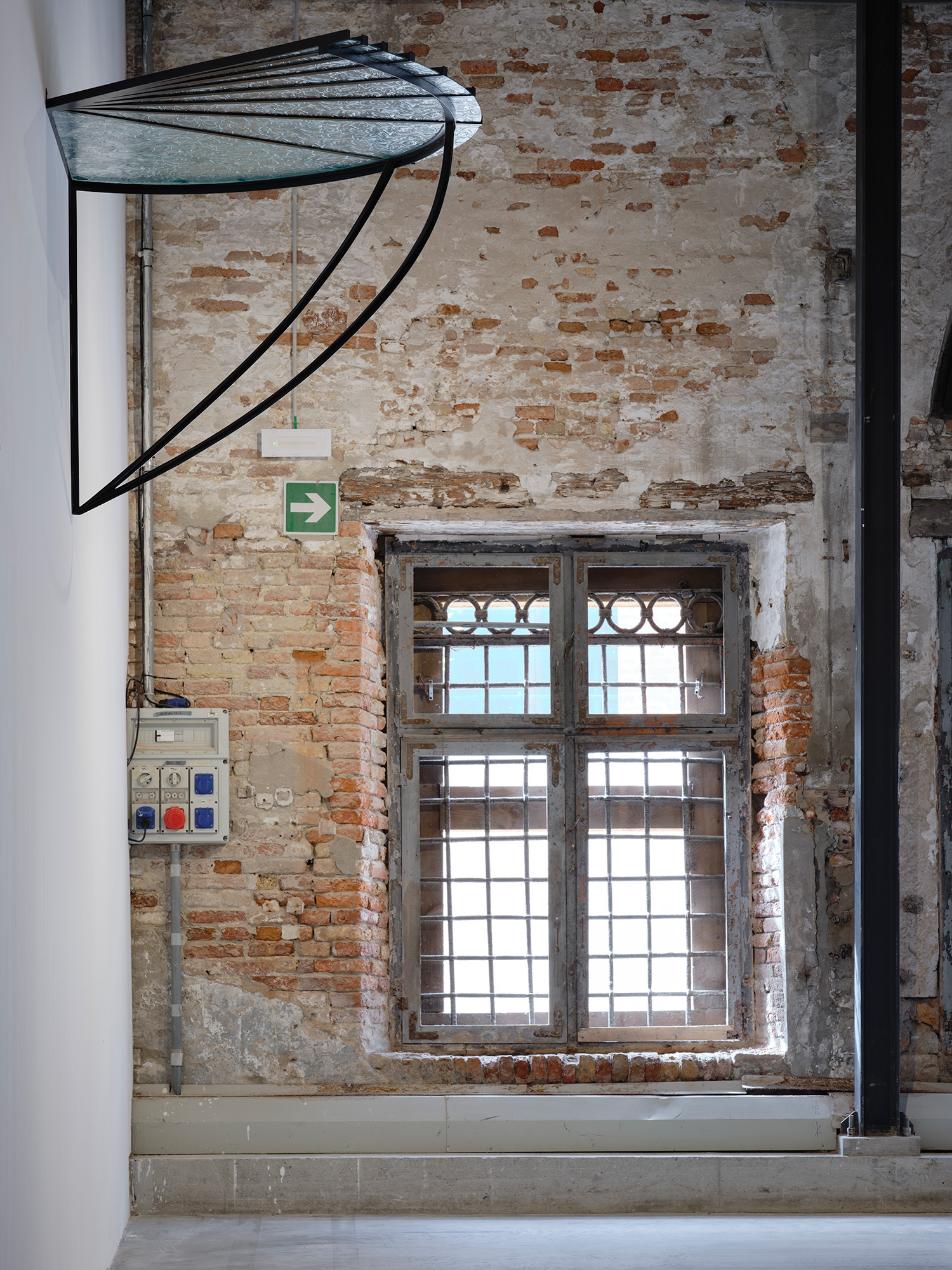 figs.iii,iv
A video of ventilation grille seems extricated from the back of some unknown restaurant, dirt and residue mark its tired louvres. A curved and slotted form on the floor is even more removed from its function, it reads like an anti-terrorism structure, but here disconnected from the world it was designed to protect it is absurd, lost. High up on the wall, a canopy casts a shadow
There are also more oblique and newly-made sculptural forms. They look city-esque, but less identifiable, perhaps some kind of amalgamated form from moments and details of various buildings and periods compounded into one form. A wall work displays glass of varying finishes and hues, open frames suggest what they may have once come from, or have been destined for.
figs.v,vi

Gather
was conceived by O'Malley with Clíodhna Shaffrey and Michael Hill of Temple Bar Gallery & Studios, Dublin, in 2019 originally for 2021, before the pandemic delayed Biennale by a year. The pandemic is present in that dislocated and isolated sense that the pieces have, as many city dwellers also felt when locked down and removed from the constant relational networks of daily existence. It is also heard in the silence of designed elements which feel like they should be surrounded by noise, activity, and energy, but here are cold and quiet, as uncanny as deserted streets of capital cities in the first lockdowns.
figs.vii,viii
Long steel forms from steel and beech, immaculately crafted hang from a vertical sculpture. It's called
Holds
, and the hooks and holes of it seem ready to support something – hangers of clothes in a shop, hands of a rider on a bus or tram, the roof of an architectural extension – but we don't know what, and never will. There are poetic reminiscence of foliage, function, form, and cityness, but all oblique and cold. This is Dublin, but a filtration of the place, distilled until barely recognisable. The visitor cannot escape Venice, and the patina of those shipyard brick walls in which O'Malley's installation is placed, but Gather seeks to disturb the space just enough, so it's neither Venice nor Dublin, but some momentary indeterminate of both reality and imagination.
fig.ix
---
Niamh O'Malley was born in Co. Mayo, Ireland, and lives and works in Dublin. O'Malley's recent solo exhibitions include John Hansard Gallery, Southampton (2021), mother's tankstation Dublin (2020), Royal Hibernian Academy, Dublin (2019), Lismore Castle Arts (2019), Grazer Kunstverein (2018), Bluecoat, Liverpool (2015), The Douglas Hyde Gallery, Dublin (2017 and 2015). Selected group exhibitions include Berwick Film & Media Arts Festival; CAG, Vancouver; eva International, Limerick; Eli & Edythe Broad Museum, Michigan; Irish Museum of Modern Art, Dublin..
www.niamhomalley.com

visit
Gather by Niamh O'Malley for Ireland at Venice can be visited in the Arsenale of the 59th International Art Exhibition La Biennale di Venezia until 27 November, 2022.
www.labiennale.org/en/art/2022

After Venice, the work will tour as a multi-venue exhibition and public engagement programme over 2023, at The Model in Sligo, Temple Bar Gallery + Studios in Dublin, and Golden Thread Gallery in Belfast.

images
figs.i-viii Niamh O'Malley, Gather. Installation view, Pavilion of Ireland, 59th International Art Exhibition – La Biennale di Venezia. Photography © Ros Kavanagh.
fig.ix Niamh O'Malley in her Studio at Temple Bar Gallery + Studios, 2020. Photograph © Dragana Jurišić. Courtesy Temple Bar Gallery + Studios.

publication date
05 August 2022

tags
Dublin, Golden Thread Gallery, Infrastructure, Ireland, The Model, Niamh O'Malley, Temple Bar Gallery, Street furniture, Urban, Urban design, Venice, Venice Biennale