Eurovision architecture: a conversation with stage designer Julio Himede
The annual exuberance of Eurovision is a celebration of music, camp, kitsch & cultures across Europe & beyond. This years edition takes place in Liverpool, hosting on behalf of 2022's winners Ukraine, with 37 performances taking place on a stage designed by Julio Himede & his design firm Yellow Studio. We spoke to Julio to find out more about what goes into to a Eurovision design.
This year's Eurovision is a first. 2022's edition was won by Kalush Orchestra from Ukraine, but due to the Russian invasion the country is unable to host. So, second placed United Kingdom are putting on the show from Liverpool over three evenings – two semi-finals then the grand final – which seeks to be a UK/Ukraine coproduction.
The stage architecture is designed by Yellow Studio, a New York firm with experience in huge televised music events from the 64th Grammy Awards, MTV's European Music Awards and Video Music Awards, and Mariah Carey's Magical Christmas Special for Apple.
This year's event encompasses 220m² of staging, designed to wrap around the arena, performers, audience and green room. recessed.space spoke to Julio Himede, director of Yellow Studio, about their design and the process of creating such a unique, immersive staging.
Fig.i
recessed.space: Who are you designing for? There are three clients, I guess: the performer, the audience in the room, then the television audience. How do you marry these three different clients?
Julio Himede:
First and foremost, the artist. For each of the 37 performances this year, the artist is the protagonist – and if I was designing for a play, or an opera, or the Grammy Awards, it's all about the artist and giving them a platform to perform. If we give them a wonderful landscape, then they will feel energised by it, excited by it, and they will perform their best performance ever.
We work in television, so we know our tricks about what works on TV and what works live in the venue, and we have to take all this into consideration – but we really have to dive into the minds of the artists.
For example, to give you an idea, we have a wide stage, but then we have a novel stage that comes out – an oval stage surrounded by almost 270° audience, a traditional standing mosh pit audience. It gives a wonderful energy to a performer surrounded by a sea of audience, an amazing sprit and energy – and that gets captured on camera, that energy and reaction between artist and audience.
How much freedom of design were you given for your creative ambition? I imagine there is a lot of rigidity of structure – a stage of a certain size, required camera angles, the needs of the green room – so how much could you play within this and push your ideas?
We can bring in a very, very large scope of creativity. We do have to follow certain logistical rules – like the changeovers between one country and another lasting 45 seconds – but it's a wonderful creative journey that we as designers, architects, and visual artists can play with, there's a lot of freedom. One of the challenges is how to make Eurovision so
big
, to have the scale everybody's after and is so recognisable.
The BBC are the ones driving the entire project forward, and they are obviously collaborating with the European Broadcasting Union, and also the delegation from Ukraine. There's been a lot of crossover in the creative process, and a lot of crossover between the UK and Ukraine. I have been working closely on designing the show with the producers since November.
Figs.ii,iii
It's great you mention Ukraine, because this year is unique with Ukraine as winners but, because of Russia's invasion, the UK are hosting. How do you bring both these places – and their cultures and identities – into the design?
It's a special year to be designing Eurovision. In our design journey we started by researching a lot of cultural identities that make up Ukraine, but also the UK. For example, we studied Ukrainian architecture, the national flower, a lot of craftsmanship, symbolic patterns on embroidery, traditional costume. Then we took many of those identities and work out what was relevant to a music show.
Then we looked at what Liverpool had to offer – and of course the city has a rich musical history. We went on this big journey, then with the producers developed what will be engaging and tell the story, as well as be relevant to an audience across Europe and the world. These cultural identities will be through video content – there are a couple of video companies, one from the UK and one from Ukraine, so you will see this wonderful, rich culture throughout the three shows.
The entire production – and not just in design – has involved more and more Ukrainians. There is a Ukrainian lighting department, the content company I mentioned, and across the whole crew in general it's been a wonderful coming together.
In terms of the architecture, will these symbols like the flower be present in the design or primarily within the video content? Or are they just ingredients of your design process?
Many of the cultural aspects I mentioned will be seen through the video content, but we are essentially architects for the stage, and so we follow a very similar design path to traditional architects. We explore and research, then turn things upside down to come up with an idea. Once we have done all the research we move into Rhino design software, and that's where we start.
Here, we began with a circle and a square, a clean geometry, and then started mixing the two – almost like the circle is one country and the square is another. We started blending, pushing, and pulling until we came up with the final shape – it was a really interesting way to intersect both shapes, to explore different angles.
Our concept for the stage design is a big hug. The hug is represented through these architectural archways, almost as if the people of Liverpool are welcoming viewers from Europe and Ukraine with open arms. That was our concept, but how we got there by bringing that square and circle together was interesting. I call it the
Romantic Period
in our studio – when we have three or four weeks to explore concept and design, and this all came out of our romantic period.
Fig.iv
What is also unique to Eurovision is the green room, not hidden behind the stage but present in the auditorium and part of the dramaturgy of the live event, with cameras going there to interview artists before cutting back to the stage. Have you worked on anything like this before?
It's the first time I have. I think it's really important to have the participants in the room because it feels more accessible, more of an immersive experience. You can notice it when watching from home. This goes back to our concept of the hug, and that circular green room is almost like the hug is coming towards you over 360°. It's wonderful because it creates a party environment – I don't think any other shows have this sort of party energy.
A party, but also a certain level of chaos – because some artists are getting increasingly drunk, or anxious, or excited, and it's all present in the room.
It's a wonderful kind of energy – and I think it really keeps a televised broadcast event going, that energy from the audience and artists all being there together, it builds up the anticipation. It's unique, we don't see the green room exposed anywhere else like this, only Eurovision.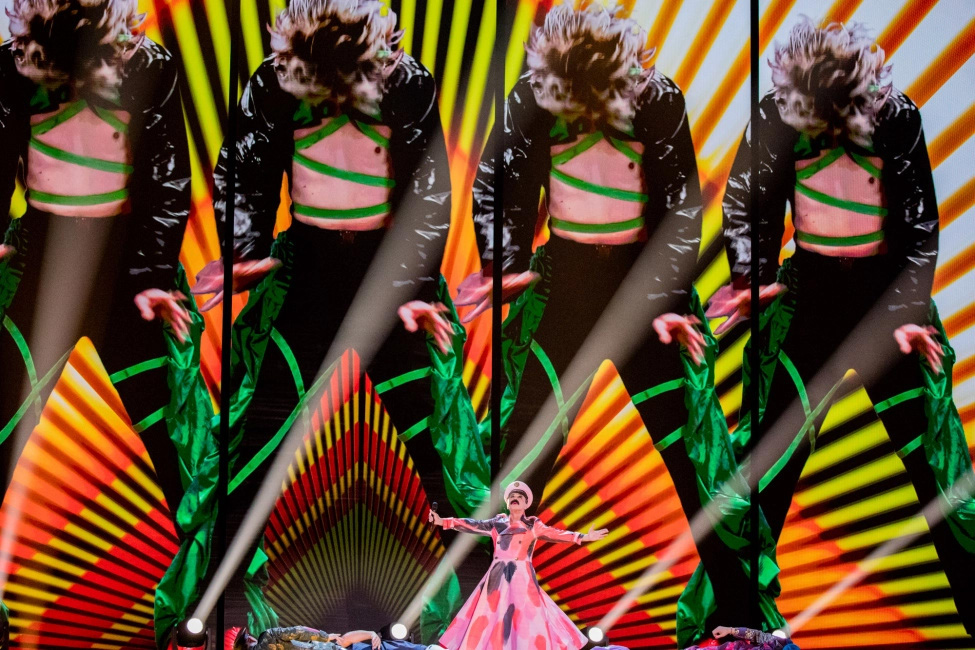 Figs.v,vi
Are there any surprises we can look forward to? Any tricks or events which will only be revealed in the live show?
There are a few elements of automation that we are keeping specifically for the interval acts – performances that we have put together with the BBC over the three shows: previous Eurovision winners, other Ukrainian and UK performers. So there are tweaks to the set design to allow for those transformations.
Generally, there is a lot of automation. Part of our brief – and our responsibility as designers and creators of the show – is to transform the stage from one performance to the next. Even though we may not be involved in the creative design for each country, we have to allow for a lot of transformation. So there's a lot of variety in how the stage transforms, or with the lighting which is integrated into the set and architecture which keeps evolving from one performance to another: growing, then lowering, then growing from the floor up. When you have 37 performances, we need to provide tricks, to use the stage in a different way, to transform between a massive scale to something small and intimate if the artist wants that.
When we are designing, we have a close relationship with the camera directors, because we want to make sure the cameras can get right in there – no matter how complex our set is, no matter how much automation is going up, down, left, right – the cameras have to navigate through all of this. It's very, very, very intricate.
Figs.vii,viii
Finally – you have listened to all the songs, you have worked with many of them, so who is your tip, who should we put money on? Or, who uses the stage and your design to the max?
I keep changing my mind – there are so many great performances. I am always surprised, and I always have a bet on one or two and then somebody else wins… But a lot of them really use the stage well. It's fascinating how the delegations from each country get the best from our design, it's really wonderful.
What's so amazing about Eurovision and its very specific format is that we did something called speed dating. Basically, we spent five or six minutes with each country, showing them the entire design and what can happen – "this flies up and down, this can turn, whatever" – and we spend two or three days talking to every country. It takes a lot of energy, but it's a great opportunity to showcase our landscape, our environment, and the tricks it has to offer. Then it's up to them to really use it – and I am pleasantly surprised how many of them are using the entire landscape.
Our set design is made out of video, from the floor to the ceiling and side panels, so we are able to change each creative in a matter of seconds – and there are so many creative ideas through video and lighting – and we can go "bang" so it can all change in just a few seconds.
Figs.ix,x,xi
---
Yellow Studio is an artistically minded international design firm based in New York City. Specialising in production design, creative direction, event production and art direction, Yellow Studio's projects range from televised productions to musical performances & in-person activations. Driven by bold ideas and limitless imagination, Yellow Studio brings innovative ideas to life, in an innovative, collaborative fashion. Comprised of set designers, architects & operational, production & event specialists, Yellow Studio's team is unique in its combination of passionate experts & tenured creatives. New York & Sydney offices further enhance their geographical flexibility and international experience.
www.yellowstudio.com

BBC Studios Entertainment & Music will deliver the three live shows for host broadcaster BBC. They have assembled an elite team who bring a wealth of live experience to lead the production of this milestone event in British broadcasting, including Executive Producer Andrew Cartmell, Exec in Charge of Production James O' Brien, Head of Show Lee Smithurst, lead director Nikki Parsons, lead Creative Director Dan Shipton, Music director Kojo Samuel, Lighting designer Tim Routledge & Robert Edwards as Head of Sound.
www.productions.bbcstudios.com/our-production-brands/entertainment-productions

watch
The 67th Eurovision Song Contest will be held in Liverpool, with semi-finals of the Contest on 9 & 11 May followed by the Grand Final taking place on Saturday 13 May 2023. Live on the BBC & across Europe.
Find out more at: https://eurovision.tv/how-to-watch

images
fig.i The Eurovision trophy & stage. Photograph: Corinne Cumming / EBU.
fig.ii TVORCHI rehearsing Heart of Steel for Ukraine at the First Rehearsal of the Grand Final at Liverpool Arena. Photograph: Sarah Louise Bennett / EBU.
fig.iii Mae Muller rehearsing I Wrote A Song for the United Kingdom at the First Rehearsal of the Grand Final at Liverpool Arena. Photograph: Corinne Cumming / EBU.
fig.iv Eurovision stage designed by Yellow Studio. Photograph courtesy EBU.
fig.v Vesna rehearsing My Sisters Crown for Czechia at the First Rehearsal of the First Semi-Final at Liverpool Arena. Photograph: Sarah Louise Bennett / EBU.
fig.vi Let 3 rehearsing rehearsing ŠČ for Croatia at the Second Rehearsal of the First Semi-Final at Liverpool Arena. Photograph: Chloe Hashemi / EBU.
fig.vii Voyager rehearsing Promose for Australia at the Second Rehearsal of the Second Semi-Final at Liverpool Arena. Photograph: Chloe Hashemi / EBU.
fig.viii Luke Black rehearsing Samo Mi Se Spava for Serbia at the First Rehearsal of the First Semi-Final at Liverpool Arena. Photograph: Sarah Louise Bennett / EBU.
fig.ix Victor Vernicos rehearsing What They Say for Greece at the Second Rehearsal of the Second Semi-Final at Liverpool Arena. Photograph: Sarah Louise Bennet / EBU.
fig.x Käärijä rehearsing Cha Cha Cha for Finland at the Second Rehearsal of the Second Semi-Final at Liverpool Arena. Photograph: Chloe Hashemi / EBU.
fig.xi Brunette rehearsing Future Lover for Armenia at the Second Rehearsal of the Second Semi-Final at Liverpool Arena. Photograph: Chloe Hashemi / EBU.

publication date
09 May 2022

tags
Eurovision, Julio Himede, Immersive, Lights, Liverpool, Music, Performance, Rhino, Set design, Stage, Television, TV, Ukraine, Video, Yellow Studio