32º East Arts Centre, Kampala: an advertisement for using earth
In Kampala, Uganda, a new arts centre designed by London-based New Makers Bureau in collaboration with Localworks, provides a compressed-earth space of sanctity & exploration for artists.
A new arts centre in Kampala has emerged from the Ugandan ground. 32º East Arts Centre is the first purpose-built community arts space in the city, the Phase 1 which is now completed offering four artist studios and a multi-use space. The arts space had been housed in four shipping containers – not particularly ideal spaces in a Ugandan summer – while the new facilities, designed by British architects New Makers Bureau in collaboration with Kampala-based Localworks.
Figs. i-iii
It is such collaboration which as at the heart of the project. Initiated in 2016 by Rocca Holly-Nambi and Nicola Elphinstone before passing the baton over to current Director, Teesa Bahana, the centre seeks to initiate a culture to support not only creativity, but also community and conversation. At a talk at The Africa Centre in London (see
00039
) Bahana was in conversation with James Hampton, architect and founder of New Makers Bureau.
"Rocca Holly-Nambi and Nicola Elphinstone were overwhelmed by how incredible the artists were, that they were meeting and connecting with, but noticed there weren't actually any residency spaces for artists to get to experiment, to try new things, to research, or connect with other artists. A lot of artists were doing amazing things, but in isolation,"
Bahana says of the historical roots of the project, though it has taken a lot of work to turn that initial kernel of an idea into a built project.
Bahana arrived at 32° East with a background in sociology, anthropology, peace and conflict studies, fewer experiences working in the arts than in
"why people do what they do? How can they do it together? What are the obstacles?"
This has all proved a useful grounding, with the space manifested not only in physical architecture, but also a social project – and in a country such as Uganda, where freedom of expression is a constant struggle, this has been as much a project as fundraising and building Phase 1 of 32° East.
There has been plenty of work with the local community, to involve them in the idea and possibilities of an arts space. Bahana explains her first year in the role as
"a lot of listening, and a lot of just being in the background – I think that's helpful, not to come in charging and be like This is how I want it to be, but to spend time trying to understand the landscape, to really meet people, to get to know them."
This process of listening and engagement has continued since opening, with members of the arts centre involved in local litter-picks, as well as hosting parties, discussions, and events.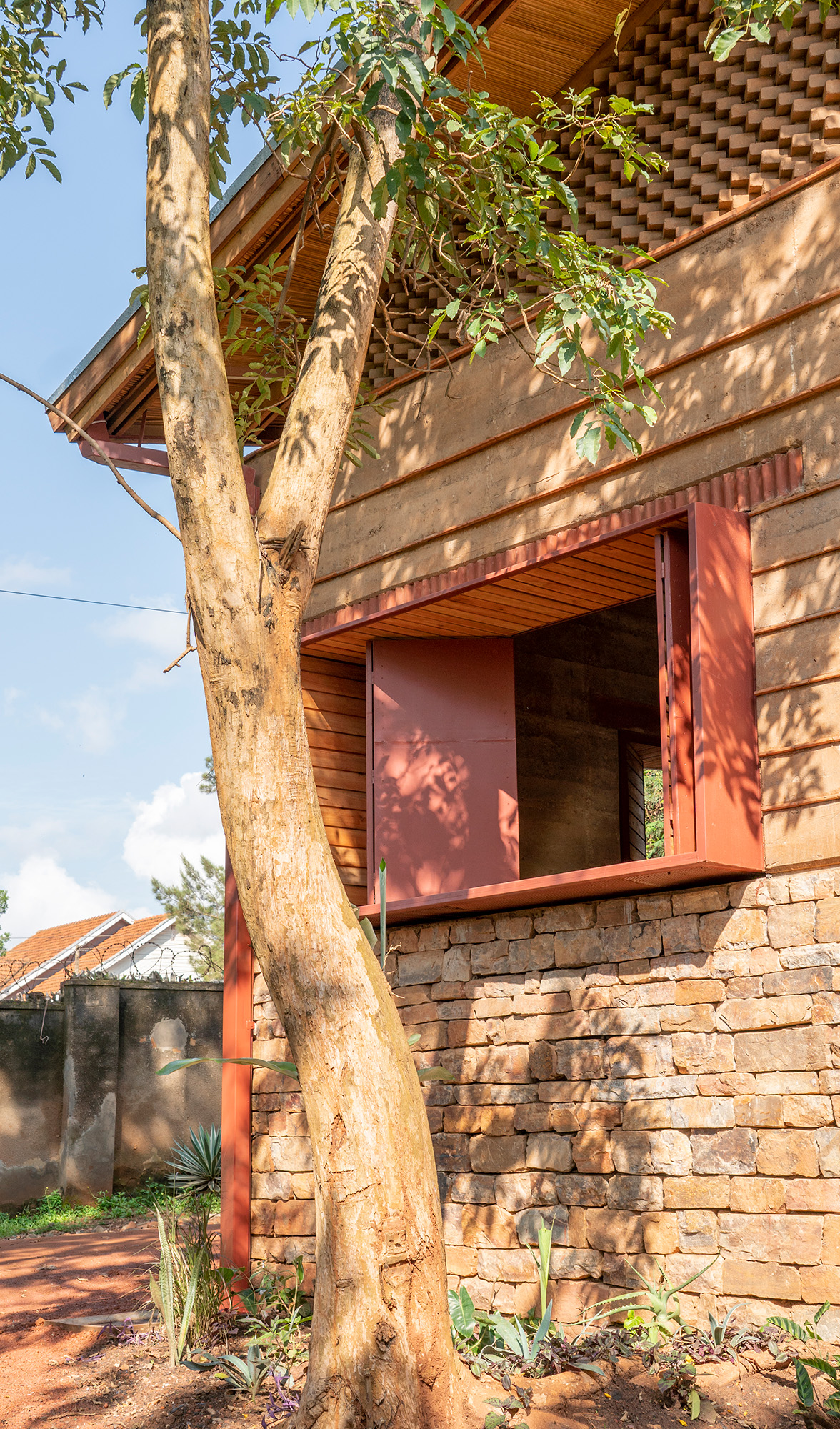 Figs.iv-vi
The building also speaks to the local environment. Formed of compressed earth walls, the low-carbon building. Formerly working for Will Alsop and then Studio Egret West, in 2015 Hampton formed landscape and architecture practice Periscope as co-director. It was while with Periscope that his relationship with 32° East began, imagined as a landscape-first project which carried through to his new company New Makers Bureau, formed in 2020. Bahana recalls that
"In 2016, when I heard landscape architecture, I was like, Oh, it will be nice and green, there'll be flowers – that is still part of it, it is beautiful, but I didn't know then about the impact of construction and, and what we can possibly do as an art centre in response to that." Here, landscape creates the very building, not just the planting scheme. Or, as Hampton states, "the building is an advertisement for using earth."

The project was designed and executed in collaboration with Ugandan architects Localworks, a firm rapidly developing a name for compressed earth vernacular and also community spaces, as with the Bidi Bidi cultural centre recessed.space reported on previously (see
00108
).
"But it's not just earth,"
Hampton says,
"lots of materials we come across with traditional building are much better for the planet, because there'd be a material close by that could be used – and it doesn't burn carbon because you're not getting in a truck and transporting it, or going through really carbon intensive processes."
Figs.vii-ix
The L-shaped Phase 1 will be followed by a similar L-shaped Phase 2, forming a courtyard typology, as the architect explains:
"There's a dialogue between the two sides, and this is a very social aspect. The idea is that the courtyard will be incredibly planted, rich and dense with trees, and then the courtyard has an environmental function, helping the air cross the building."
As well as the four artist studios, the multi-purpose space allows a varied use for the present as well as opening up ideas for the future. It has within it a café, but also can work as a gallery space, for performances, or community events.
It is intended that Phase 2 will provide three more studios, a gallery, garden, workshop, and commercial spaces, but how Phase 1 works will feed into the final design:
"There's future potential, with a flexibility built in because we haven't designed it yet – and you can see how elements work, and then see if you want to tweak and adjust ideas."
This flexibility will be valuable as the organisation – and its relationship to its buildings and community – evolves. It is a space of exploration and experimentation and development of ideas rather than creation of the sellable or marketable art object.
"The organisation is set up very much to not think about an end work as the primary goal, but it's about process and them growing as artists with the space to explore and do whatever they feel they want to do – or do nothing,"
Bahana explains of the centre's philosophy. She adds, "I think that space is so important to an artist anywhere, but in the Ugandan context, it's really important."
The Ugandan context referred to is not just one in which such functions of art and culture are developing, but a place of increasing governmental oppression.
"Right now in Uganda, we have this atrocious anti-homosexuality law that is just ridiculous, and one of the things that has emerged is how it encourages people to point out people who just don't fit within like your model of what a person should be, and criminalise them,"
Bahana says of the The Anti-Homosexuality Act of 2023 which increased potential punishment from life imprisonment to the death penalty.
While there is the ambition for openness and community transparency, the architecture and programme must also offer a space of sanctuary and safety for all. It would be easy, Bahana says, for a disgruntled neighbour to point out and report on assumed trans or gay members of the artistic community. There is, she says,
"an idea of being open, but also being closed in certain ways to protect the artists and community – in terms of design choices, it's an interesting thing to navigate."
Figs.x-xii
For Hampton, the courtyard and trees approach is rooted in a language of offering protection, as well as a sense of openness.
"there's a tension between those two things,"
he says,
"but it's really nice to see when it is working."
Discussing the longer-term plans for the site, once Phase 2 is completed, Hampton describes
"a kind of courtyard with an open entranceway at the front – so if you like, you can close the doors to be in your own world with an oasis element to it, or you can open it up."
Beyond this, Phase 3 will complete the landscape of the site with a new park.
"Right now we can't plant many trees because we'd have to uproot them for ongoing construction, so one of the things I am looking forward to is just planting trees that will really grow – and then we can use the produce in the café."
This is, however, a long-term aim. 32° East are currently fundraising for Phase 2. These first buildings were delivered for just under £300,000, raised through donations from across the world. There is still £450,000 left to raise for Phase 2 – though after the last few years of fundraising, construction, programme management, and pandemic, Bahana is going to take a few months enjoying the new buildings before ramping up the campaign later in the year.
Fig.xiii

---
32° East | Ugandan Arts Trust is an independent non-profit organisation, established in 2011, focused on the creation and exploration of contemporary art in Uganda. Their programme offers local and international artists in residence one-on-one sessions for critique and professional development, workshops for practical skills and regular talks and social engagement projects, working with public audiences.
www.ugandanartstrust.org

New Makers Bureau is a London based architecture practice founded by James Hampton in 2020. The practice makes imaginative low energy contextual architecture with a particular focus on embodied carbon. In addition to 32° East Arts Centre the practice is nearing completion of two projects in London: Downton Avenue and Durnsford Avenue, examples of low embodied carbon schemes utilising circular economy principles and reclaimed or recycled materials. Current projects include an off-grid low embodied carbon home in the Weald Area of Outstanding Natural Beauty and Wood Street Mews, a development of six low embodied carbon and low energy-in-use mews houses and a community café in Walthamstow.
www.newmakersbureau.com

Localworks is a multi-disciplinary design and build collaborative, based in Uganda, that specialises in the design and realisation of ecological architecture in East Africa. Practical and resourceful in research, sensitive and imaginative in design, professional and hands-on in realisation, our portfolio features awardwinning eco-architecture such as the Mustardseed Junior School and Our Lady of Victoria Monastery.
www.localworks.ug