Panorama L'Aquila: rebuilding a city with culture & gastronomy

Recently, the Abruzzo city of L'Aquila was taken over by ITALICS art network of Italian cultural organisations. Tgether, they presented Panorama 2023 across a city which in 2009 devestated by an earthquake but is emerging into a new city. Will Jennings visited for recessed.space, to see how the place was transformed, with exclusive photography from Carlo Zambon offering a visual-essay of the event & wider city.

L'Aquila is an Italian city in the Abruzzo region, recovering and reforming following a devastating 2009 earthquake. The city that is slowly emerging from over a decade of concealment under scaffolding is one putting gastronomy and culture to the fore.
ITALICS, a network of Italian art organisations, made it their base for a long weekend of discussions, packing the place with contemporary art in a pop-up festival. There is, however, a rich history away from the temporary contemporary additions...
Visit ITALICS' website to find out more:
www.italics.art/en/panorama-laquila
THE HISTORY OF L'AQUILA

L'Aquilla may be best known to readers outside of Italy as the epicentre of a 2009 earthquake. 308 people lost their lives, damaging up to 11,000 buildings in the process. However, there is much more to the city than the disaster. As the capital of the Abruzzo region, it sits upon a hillside overlooking valleys, Apennine mountains, and other hilltop towns looking back. A university town that comes alive at night, it is only an hour's drive from Rome and as such is well positioned for either a daytrip from the Italian capital, or a staging post on a coast-to-coast road trip across the centre of Italy.

The city dates back to the mid-thirteenth century, constructed by Frederick II, Holy Roman Emperor and King of Sicily, as a stronghold against the growing powers of the papacy. Since then, it has had a rich history – and peppered by other earthquakes before that of 2009 – with each period leaving an architectural legacy.

ITALICS ART & LANDSCAPE

ITALICS is a network of over sixty Italian galleries, working internally to share experiences and art-market knowledge, and also externally with the public to celebrate their artists. ITALICS Art and Landscape, a digital and public presence of the network, grew from this network in 2020 after the network's President, Lorenzo Fiaschi of Galleria Continua, and Gagosian's Pepi Marchetti Franchi wanted to celebrate the range of regional landscapes the galleries were spread across.

Panorama is the physical outcome of this approach to culture and place, turning the annual galleries coming-together from not only a sector talking shop for each others' benefit, but also a public-facing, playful pop-up exhibition in a part of Italy where art can be married with the nation's landscape, architecture, and history. The first took place in 2021 on the island of Procida, followed by Monopoli, Puglia, in 2022, before this year stopping off in L'Aquila – residents reminded of the event by an occasional punctuation of the blue sky above with Maurizio Nannucci's LET'S TALK ABOUT ART (2023) trailing behind an aeroplane.

PANORAMA ACROSS THE CITY

Only up for four days, 7-10 September, much of Panorama L'Aquila played with the city, dropping art into unexpected and non-art spaces. The whole project was curated by historian and curator Cristiana Perrella who placed works not only in grand houses, museums, and churches, but also bakeries, bookshops, and building sites.

Diego Gualandris took over the Liberia Polarville bookshop with a series of works titled Il paradiso dei Pappataci (all 2023), paintings hanging from the ceiling, each speaking to imaginaries, folklore, oral tales, and science fiction, perfectly in conversation with the literature below.

In a workshop, Jacopo Benassi's RIVOLUZIONE! (2023) lent against the wall, a tightly-strapped collection of his own photographs layered over pictures in ad hoc frames, perhaps playing to the rigid anchoring wrapping L'Aquila itself. Elsewhere, Alberto di Fabio's mosaic Enigma della Materia (2023) had been affixed to an external wall in a small town square, fractured elements also reminiscent of the 2009 quake, here reformed into astronomic beauty.

WILLIAM ZONFRA - IL RISTORANTE

One angle of the city's reimagining is through landscape and gastronomic tourism, and a number of new restaurants have been established since 2009 in line with one of the city's strategies to become a destination for food lovers. One of these is William Zonfra - Il Ristorante, which has taken over the ground floor of the 18th century Palazzo Micheletti, resplendent with ceiling frescos internally and with a sun-trap outside space.

Zonfra is from L'Aquila and previously worked in a hotel at the town before now returning to launch his first restaurant, specialising in new Abruzzo cuisine. Pulling raw materials from the local area, with fish from the Adriatic, we experienced a nuanced, unpretentious yet carefully presented tasting menu washed down with a 2017 Ferrari Trento Brut.

THE CITY STRUCTURE

While a vast amount of rebuilding has been carried out in L'Aquila and the surrounding region since the 2009 earthquake, the city is still not only bearing its scars but much of it is still wrapped in a mesh of scaffolding and structural support. It is a slow process to recover (physically and psychologically) from such trauma, and despite then-Prime Minister Silvio Berlusconi defiantly stating the city would be rebuilt within three months, works are very much ongoing fourteen years later.

This is not necessarily a bad thing. Many local residents left after the devastation, and it takes time to reimagine and rebuild not only the physical architecture, but also the culture, community, and identity. Some of the works of Panorama dialogue directly with the metal framework erected around L'Aquila, Darren Bader's performance antipodes: quartets, in which two contrasting musical quartets – here classical and rock trios – clash their sounds, here within a scaffolding structure holding together the former studio of artist Marcello Mariani.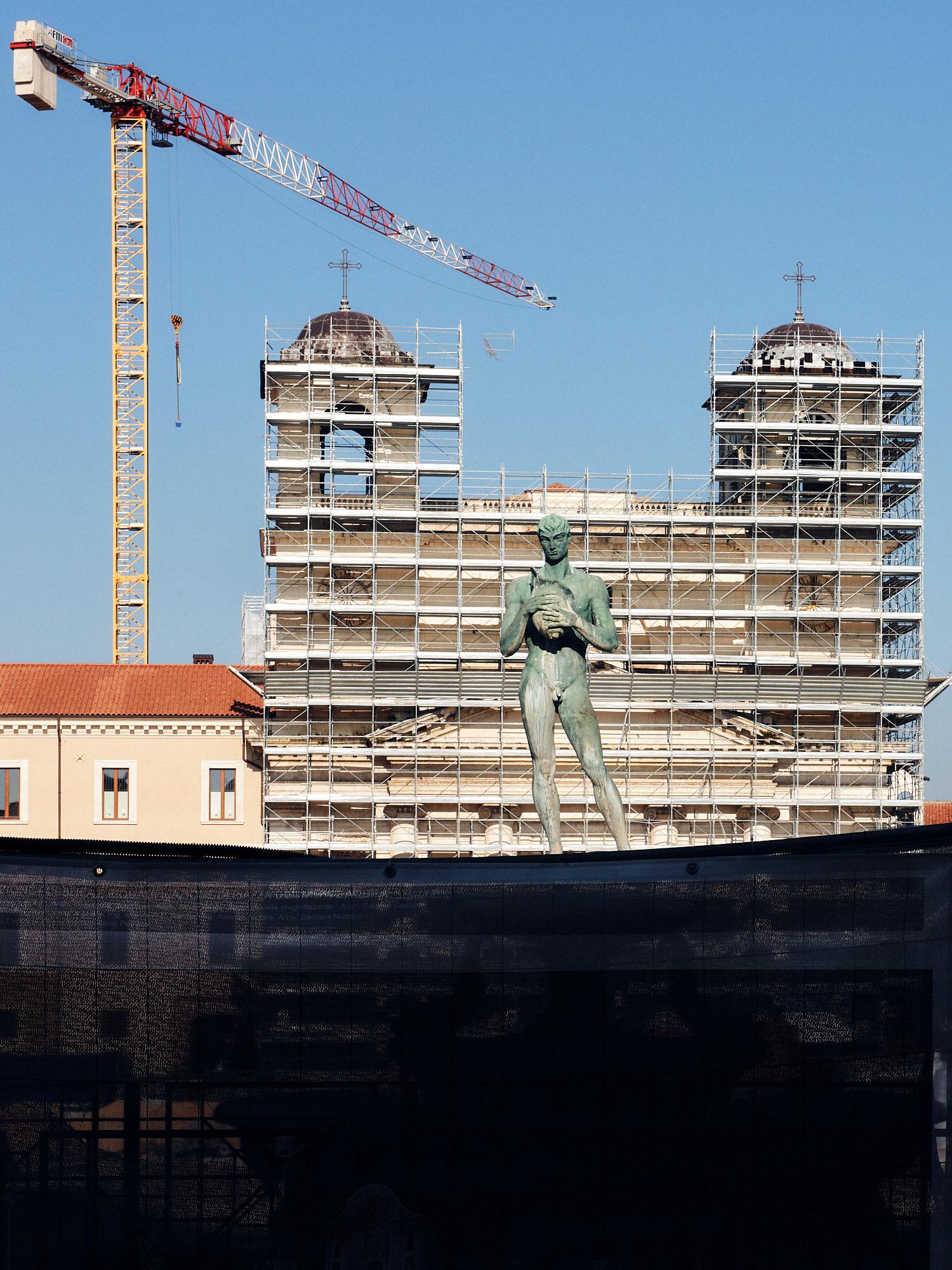 FONTANA DELLE 99 CANNELLE

Away from the art, the city's heritage is a work of art in itself, including Fontana delle 99 Cannelle (The Fountain of 99 Spouts). Dating back to the 1200s, three sides of spouting faces create a trapezoidal courtyard made of red and white stones, creating a calming, geometric space.

The true history of the fountain, and indeed who the faces represent, is unknown, but even without a deep understanding of historical context, spatially and sonically it's a fascinating space away from the tightly-packed city centre.

MAXXI L'AQUILA

While Rome is home to the Zaha Hadid-designed MAXXI Museum of 20th century art, a smaller outpost has recently been opened in L'Aquila. Planned as a space of collaboration and hub to connect the different components of modern art in Italy, it does still offer a suite of gallery spaces which while Panorama was in town were hosting an exhibition contrasting the works of Marisa Merz and Shilpa Gupta.

It has taken over the Palazzo Ardinghelli, a building which collages parts of medieval architecture with extensions and alterations from the centuries which have followed, particularly by Francesco Fontana in the mid-18th century. For Panorama, the central courtyard, which now acts as public passage, was site of Il Sogno dello Spigolo (1970-2023) by Paolo Icaro, a stainless steel corner bar running in a six metre diagonal across the space. Supported by pillows, it offered an arbitrary threshold or imaginary division, inserting modern geometry into the historic place.

THE MAIN EXHIBITIONS
As well as the works scattered across the city, two palazzos hosted the exhibitions of Panorama L'Aquila. Palazzo Rivera, built after the major 1703 earthquake by a family rich from the wool and saffron trade. Works, including a series of photographic works by Armin Linke (see
00062
) spread across the formal suite of rooms.
Palazzo de' Nardis, once the home to the most influential family of 15th century L'Aquila, is in a state of architectural undress as a semi-building site ahead of its new life and fit out into a private, modern palazzo. Here, Perrella curated a vibrant mix of works arranged across several spaces and floors, the contemporary works marrying beautifully with the paired back finish of the interiors.
RÊVER RESTAURANT

Another new restaurant which has opened in the rebuilding L'Aquila is Rêver. The building it is housed in was once the home of a silk merchant, the family living upstairs with the downstairs the commercial and selling space. As a restaurant, it has rich atmosphere across the changing levels and courtyard, with

We were served Tonno alla Cacciatora, tuna cooked in a traditional hunter method with herbs in a style usually reserved for rabbit, and Battuta di Scampi which brought the taste of the oceans into the centre of Italy. Continuing the seafood theme, chef Andrea Nepa – who specialises in starting new restaurants from scratch and has now moved on to new kitchens in New York – prepared a no-egg rintrocilo pasta with fresh clams and polpo rosticciato, crispy singed octopus with salty capers and tomato.

L'AQUILA'S CASTLE & BASILICA

At the edge of L'Aquila, with vantage across surrounding mountaintops and valleys, is Forte Spagnolo, a Renaissance castle. By the 15th century L'Aquila was a powerful city with trading networks across Europe, but this all ended during a war between the French and Spaniards when the local population sided with the losing French. The Spanish constructing the fortress at the highest spot in the city. Inside is surprisingly a mammoth skeleton, for Panorama L'Aquila presented with a work by lawyer, academic, and writer Radha D'Souza with artist Jonas Staal. Comrades Against Extinction (2022) is a filmed musical procession through Helsinki carrying images of extinct "comrade" animals.

On the other side of town is the wonderfully fronted Basilica di Santa Maria di Collemaggio, which according to tradition dates to 1294 with a commission from hermit Pietro Angeleri da Morrone, later crowned Pope Celestine V. The current architecture, however, presents an incredible Romanesque and Gothic building following a 1970s refurbishment which removed 17th and 18th century additions. The front façade is formed of polychromatic geometry of local stone, while inside cracks reveal the history of earthquakes historic and more recent earthquakes – the dome collapsed in 1461, while 2009 saw a wall and part of a dome over the transept collapse.

THE MONASTERY OF SAN DOMENICO

Another situated artwork worthy of highlighting is Pascale Marthine Tayou's glass sculpture, Il Genio dell'Aquila (2023). The Cameroonian artist, who has previously exhibited at Documenta and Venice Biennale, stands in the centre of the courtyard of the Monastery of San Domenico, remembering all the lives that have passed through the building.

A central totem of quartz crystal shimmers as the sun passes over, while surrounding meteorites of coloured crystals seem to dissipate in energy as the work reaches the boundary of the courtyard. The central totem itself seems to conjure inter-national and inter-religious rituals. Here, it sang in the Italian light, especially as the sun began to set over distant mountains.


REFORMING L'AQUILA

ITALICS and Panorama L'Aquila may have only briefly visited the city of L'Aquila, but through contemporary art and conversation it shed light on a city which is reforming and reshaping following the devastation of 2009. It is still a building site, but one from which new ideas are being revealed as much as restored architecture is once the scaffolding is dismantled.

While the art was fleeting, the sense of history, character, and resilience remain, and layered with the enticement of a growing gastronomic and cultural offer, it's a place which will become better known internationally for more than the site of destruction.

---
ITALICS promotes the culture and beauty of Italy through a national network of gallerists working together and sharing experiences, on and offline, with an international audience of collectors and art lovers. ITALICS is a consortium of more than sixty of Italy's most influential galleries of contemporary, modern and ancient art.

Panorama is the special event ITALICS periodically holds in some of the most extraordinary places in the Italian landscape. Panorama is a unique exhibition experience that brings the ancient, modern and contemporary, styles, techniques and multifaceted approaches together in art itineraries designed to reveal the more authentic but obscure aspects of our country, a live continuation of the extraordinary journey launched in 2020 on this platform.

The entire network of ITALICS includes: A arte Invernizzi, ADA, Galerie Rolando Anselmi, Apalazzogallery, Alfonso Artiaco, Bacarelli, Galleria Alessandro Bagnai, Bottegantica, Botticelli Antichità, Galerie Canesso, Cardi Gallery, Alessandro Cesati, Clima, Galleria Continua, Galleria Raffaella Cortese, Thomas Dane Gallery, Monica De Cardenas, Massimo De Carlo, Galleria Tiziana Di Caro, Alessandra Di Castro, Galleria Umberto Di Marino, Ermes Ermes, Fanta-MLN, Federica Schiavo Gallery, Galleria Fonti, Galleria Fumagalli, Gagosian, Galleria dello Scudo, Giacometti Old Master Paintings, kaufmann repetto, Laveronica Arte Contemporanea, Galleria Lia Rumma, Magazzino, Galleria d'Arte Maggiore g.a.m., Gió Marconi, Martina Simeti, Mazzoleni, London-Torino, Francesca Minini, Galleria Massimo Minini, ML Fine Art, Monitor, Maurizio Nobile Fine Art, Galleria Franco Noero, Norma Mangione Gallery, Galleria Lorcan O'Neill, Galleria Carlo Orsi, P420, Walter Padovani, Peola Simondi, Peres Projects, Giorgio Persano, Pinksummer, Porcini, Prometeo Gallery Ida Pisani, Richard Saltoun Gallery, Galleria Russo, Sant'Andrea de Scaphis, SpazioA, Studio Sales di Norberto Ruggeri, Studio Trisorio, Caterina Tognon Arte Contemporanea, Tommaso Calabro Galleria d'Arte, Tornabuoni Arte, Tucci Russo Studio per l'Arte Contemporanea, Federico Vavassori, Victoria Miro Venice, Galleria Carlo Virgilio & C., Vistamare, ZERO…
www.italics.art/en

Carlo Zambon is London-based photographer, working across fashion, art, and travel.
www.carlozambon.com

Will Jennings is a London based writer, visual artist, and educator interested in cities, architecture, and culture. He has written for the RIBA Journal, the Journal of Civic Architecture, Quietus, The Wire, the Guardian, and Icon. He teaches history and theory at UCL Bartlett and Greenwich University, and is director of UK cultural charity Hypha Studios.
www.willjennings.info