Sun & Sea: A beach holiday transformed as ecological opera
Having won the Golden Lion for best national artwork at the Venice Biennale 2019, the ecologically-rooted opera Sun & Sea has travelled across Europe & America. In Deptford, South London, it finds a theatre seemingly purpose-built for its unique audience perspective.
Deptford may not be the obvious choice when planning a summer holiday, especially if you're into chilling on a beach. Yet, here they are, twenty or so people in swimsuits reclining on the sands in south London with seemingly few cares in the world.
The beach, however, is not what it seems. It's an operatic landscape, filling The Albany performance space and acting as stage for the assorted characters and equipment of a seaside afternoon. There are children kicking a beachball around with occasional admonishment from their mother, an owner training her dog, a younger group playing badminton, studious twins reading literature, a retiree couple carefully topping up sunscreen, two young gay men idly caressing one another's hands.
Fig.i
This is
Sun & Sea
, an unexpected opera created by composer Lina Lapelytė and librettist Vaiva Grainytė with director Rugilė Barzdžiukaitė. Together, they created it as the Lithuanian work in 2019's Venice Biennale of Art, where it won the top award – the Golden Lion – leading to critical appreciation and now a tour. That tour has taken the project across the USA, Germany, Greece, Norway, Switzerland, and now into the UK.
The retired lady rolls over, turning to her husband telling him, "I bought us some new sunscreen," then fumbling for glasses, reads the instructions:
Protection for hypersensitive skin...
Schutz für überempfindliche Haut...
Захист для гіперчутливої шкіри...
Protezione per la pelle ipersensibile...
Fig.ii
One of the romantic gays recalls, in song, how he met the person in his hand:
I stayed over for a couple of days,
Until the panic and the ashes diminished.
Until airport paralysis came to an end.
My friend here introduced me to his brother.
One by one, various beachgoers intone personal stories related to where they are or how they came to be there. The one-half of the
Volcano Couple's
story relates to the 2010 Eyjafjallajökull volcanic eruption in Iceland which grounded Europe's aeroplanes, and how if it wasn't for that environmental interruption his life, totally elsewhere, wouldn't have been changed for the better.
A man reveals himself as a philosopher, and considers the impact of unseasonal, ungeographical food being shipped around the world on a whim. A woman complains about the rubbish others leave behind. A woman tells us about the tragic drowning of her ex-husband, wondering if a magnesium deficiency led to cramp and descent into the depths.
The twins lay alongside one another – one deeply reading
Ten, kur gieda vėžiai
, the Lithuanian translation of Delia Owens'
Where the Crawdads Sing
. They have the future on their minds, imagining a near-time when corals have gone, and mankind has started to 3D print a new ecology:
When my body dies, I will remain,
In an empty planet without birds, animals and corals.
Yet with the press of single button,
I will remake this world again:
- 3D corals never fade away!
- 3D animals never lose their horns!
- 3D food doesn't have a price!
- 3D me lives forever!
Fig.iii
As they reveal, all the stories connect to landscape, environment, and ecology. A wealthy mum tells us that they plan to take their sun to see the Great Barrier Reef for his 10th birthday, in a year and a half. He has already swum in the Black, Yellow, White, Red, Mediterranean, and Agean seas and two of the world's oceans, with the others on this year's itinerary.
Her child is one of the two kicking the beachball around the beach/stage. Imprinted onto the ball is the globe, on occasions he and his brother kick it with a similar abandonment as his mother does to the ecological impact of luxury travel, and with an energy almost breaking the fourth wall as the ball nearly hits the audience looking down from above.
Fig.iv
The architecture of the theatre works perfectly for
Sun & Sea
, the shallow balcony surrounding the performance space offers the experience a sense of both being immediately present in the beach dramas, yet also remaining at a floating god-like distance. This marries our relationship to the intertwined stories, here presented for our entertained gaze but also natural and global predicaments we are intrinsically involved with. We
are
the people on the beach.
The Albany, in its current form, was opened in 1982 after the more historic Albany Empire burnt down following suspected arson. Designed by John Partridge of Howell Killick Partridge & Amis – most well known for the Alton West housing estate – it was a theatre for a new age of culture, an open-plan space with circular balcony level lending itself to a variety of artforms and possible configurations.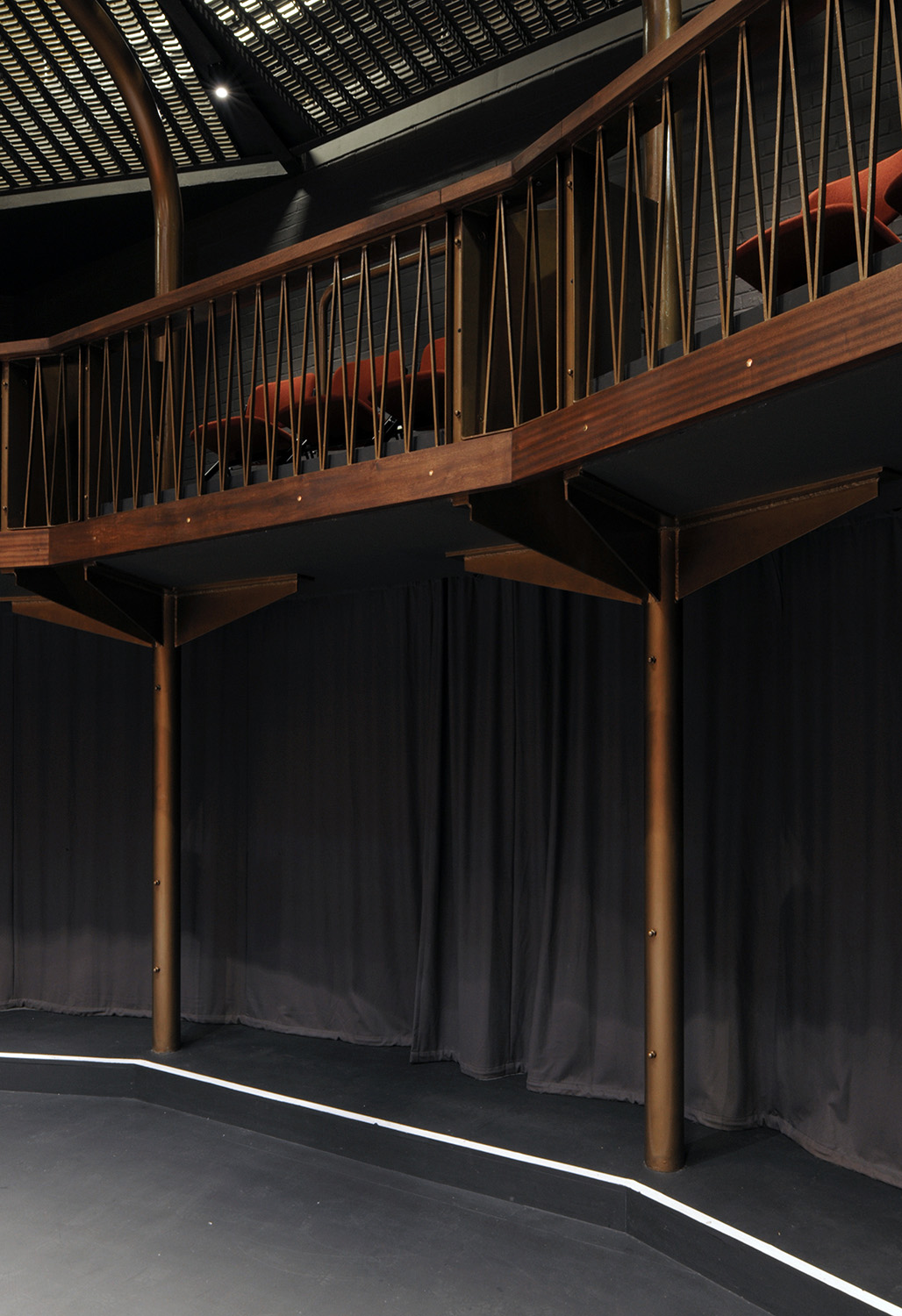 Figs.v-xi
The work was inspired by architecture, and so perhaps it's fitting that it is so situated into each space it's presented. The artists have spoken of how a visit to Frank Lloyd Wright's Guggenheim in New York started a conversation in which they imagined the audience watching a ground-level performance from the spiralling ramp. Originally presented at the Lithuanian National Museum of Art in 2017, it was translated into English for the 2019 Venice Biennale, installed within the historic Marina Militare.
Fig.xii
When presented in Los Angeles, a scaffold tower was constructed to form the top-down in-the-round vantage required, but in Deptford it almost feels as if the opera was designed to suit the theatre architecture, fitting as neatly as the Venice production – it can be a joy when an artistic production dovetails so neatly with the space it's presented within.
Recently, the Albany has been refurbished by Witherford Watson Mann Architects as part of a wider masterplan for the site (see
HERE
) which will enable the theatre to ensure a financially and culturally sustainable future (see
HERE
). Perhaps
Sun & Sea
, a work about the place as much as the beauty of the opera and importance of the ecological connectivity within the libretto, will help raise funds for the architectural project.
Fig.xiii
---
Rugilė Barzdžiukaitė (b.1983, based in Vilnius) works as a filmmaker, theatre director and visual artist. In her creative practice, Barzdžiukaitė explores the gap between objective and imagined realities, while challenging an anthropocentric way of thinking in a playful way. Her recent full-length documentary film-essay Acid Forest was awarded at the Locarno International Film Festival among others, was shown at the National Gallery of Art in Washington, Lincoln Center in NYC, American Film Institute festival in LA and many other events and venues for cinema and contemporary art. Sun & Sea is her latest collaboration in the medium of performance.

Vaiva Grainytė's (b. 1984, based in Lithuania and Canada) text-based practice shifts between genres, interdisciplinary theatre works and publications. As a writer, playwright, and poet she takes action as an observant anthropologist: challenged by Grainyte's poetic interpretation, mundane social issues take on a paradoxical and defamiliarised nature. Her book of essays Beijing Diaries (2012) and the poetry collection Gorilla's Archives (2019) were nominated for the Book of the Year awards, and included in the top twelve listings of the most creative books in Lithuania. Her oeuvre has been translated into over 10 languages. Her upcoming, bilingual, cross-genre novel, Roses and Potatoes (2022), deconstructs the contemporary enforcement of happiness.

Lina Lapelytė's (b.1984, works in Vilnius and London) performance-based practice is rooted in music and flirts with pop culture, gender stereotypes and nostalgia. Her works engage trained and untrained performers often in an act of singing through a wide range of genres such as mainstream music and opera. The singing takes the form of a collective and affective event that questions vulnerability and silencing. Her recent and upcoming shows include Cartier Foundation, Paris, Tel Aviv Museum of Art; RIBOCA2 – Riga biennale; Tai Kwun, Hong Kong; Glasgow International; Kunstenfestivaldesarts, Brussels; Kaunas Biennale, Lithuania; Pompeii Commitment and Castello di Rivoli, Italy.
LIFT, London's biennial international festival of theatre, has been bringing joyful, daring and unforgettable theatre from around the world to London for 40 years, using the whole of the city as its stage.
LIFT's mission is to create powerful, invigorating experiences that challenge artistic, political and social conventions; to champion artist advancement at home and abroad; to lead sustainable internationalism; and to celebrate and connect London to the world. We engage and create communities around ideas and projects, connect leading artists to locals, connect international artists and local artists to London, and together make incredible art happen.
www.liftfestival.com

The Albany is a performing arts centre in the heart of Deptford that exists to inspire, develop and support creativity in South East London. With year-round activities and events including award-winning programmes for young creatives and adults over 60, music, theatre, spoken word and family performance, the Albany is led by the talent and imagination of its local community.
With four performance spaces and a range of rehearsal space, meeting rooms and offices for community and creative businesses, the Albany is underpinned by a commitment to collaboration and artistic excellence. In a normal year 80,000 people attend performances or take part in projects at the Albany, and a further 100,000 attend events.
The Albany has 26 resident organisations based in the building, and manages and programmes Deptford Lounge and Canada Water Theatre on behalf of Lewisham and Southwark Councils. It is co-lead of the national Future Arts Centres network and lead partner of the Family Arts Campaign. In September 2020, the Albany was appointed Lead Delivery Partner for the Mayor's London Borough of Culture 2022 in Lewisham.
www.thealbany.org.uk
visitSun & Sea is at The Albany Theatre in Deptford until 10 July, 2022.
Information at: www.thealbany.org.uk/shows/sun-and-sea

It is presented as part of LIFT Festival in tandem with The Serpentine Gallery: www.serpentinegalleries.org/whats-on/sun-sea

Future performances will be announced on the official website: www.sunandsea.lt/en
images
fig.i Sun and Sea, Malmo November 2021. Photograph © Emmalisa Pauly
figs.ii, iii Sun and Sea, New York September 2021. Photograph © Richard Termine
fig.iv Sun_Sea (Marina), opera-performance by Rugile Barzdziukaite, Vaiva Grainyte, Lina Lapelyte at Biennale Arte 2019, Venice. Photographs © Andrej Vasilenko
fig.v-xi The Albany Theatre after Witherford Watson Mann architects'refurbishment, with theatre seating configuration. Photographs © David Grandorge
fig.xii, xiii Sun and Sea, Los Angeles October 2021. Photographs© Elon Shoenholz