Imagining architecture: Assassin's Creed & Anglo Saxon Wincestre

878 AD, a new visitor experience in Winchester, explores the Anglo Saxon city using assets and architecture from the video game Assassin's Creed Valhalla. Through a physical space and an augmented reality app, digital and analogue come together as a tool to engage families and gamers alike.

Since 2007, Ubisoft's Assassin's Creed series of video games have been conjuring up past worlds of increasingly meticulously rendered landscapes and architecture for players to explore. The first took place during the Third Crusade in 1191, with a story which weaves actual factual history with a somewhat romanticised spectacle narrative, the gamer taking control of a character who in third-person view could explore an open world Holy World environment, encompassing versions of the cities of Masyaf, Jerusalem, Acre, and Damascus.
By the time of announcing Assassin's Creed II in 2009, over 8 million copies of the first had been sold. The second was set in Renaissance Italy in the late 1400s, players able to choose their own route through unfolding stories or simply leave the quest parts of the game and freely explore Florence, Venice, San Fimagnano, Forlì, and Monteriggioni. As with the first, the digital versions of these places were often remarkable accurate, with particular attention given to rendering of specific special buildings, but the whole places throughout carefully and deliberately designed to evoke a feeling of the environment set within a fairly accurate spatial arrangement and mapping of place. If you know the real cities that Ubisoft create, it's entirely possible to navigate them with your real-world knowledge and not rely on in-game maps or directions so uncanny can the simulacra be.
The series has continued through 12 full games and 15 spinoffs, in the process creating digital twins of countless global territories and cities in the process: Kyrenia, Istanbul, Rome, London, Paris, Havanna, Charleston, Tulum, Nassau, New York, Boston, with the forthcoming game set in 9th century Baghdad. With each version of the game, both the open-world territory and finely-tuned detail and historical research has increased. While the games are in place violent and gory, designed for an 18+ audience, the developers have started releasing academic tour versions in which all the digitally rendered sites and cities can be explored as a kind of Grand Tour alongside historical research and information of the architecture, design, politics, and society which is all embedded into the video game environments and stories.
The most recent version of Assassin's Creed was Valhalla, starting in Norway in the year 873 AD before quickly moving the unfolding drama of territorialising clans into Anglo Saxon England. The playable map covers most of England, though – as with all open-world adaptions of real places – the digital rendering is somewhat compressed and in order for characters to navigate otherwise vast distances in a more sofa-suitable timeframe. It is, however, still vast, and in encompassing the various English regions creates a richly designed ever-changing landscape of nature, architecture, weather, and glimpses of a former time.
Various towns are rendered in detail – Lunden, Ledecestre, Lincoln, Jorvik, Oxenforda, Glowecestre, Folkenstand, Colcestre – while countless other historically interesting places can be visited, including Saint Albanes Abbey, Sutton Hoo, and Housesteads Fort alongside countless abbeys, fortresses, and villages. One of the rendered cities, which becomes a key site of the unfolding drama late in the game, is Wincestre, and modern-day Winchester is now home to a tourist experience which overlays the historic city as rendered by Ubisoft into the place of today.
878 AD is a visitor attraction developed through collaboration involving Ubisoft, local arts charity Hampshire Cultural Trust, Sugar Creative, and historical experts. It is formed of two parts – an in-person immersive experience and an app of augmented reality (AR) which overlays digital history and story over geo-located places in Winchester.
The augmented reality of Wincestre digitally supplanted into Winchester is a curious place. The 878 AD app reveals a circular route through modern-day Winchester, with a series of staging posts along the way in which the imagined Anglo-Saxon city can be interacted with. Some are parts of an ancient map to be discovered, slowly pieced together to reveal a rendering of the ancient city once you have finished the path through today's Winchester. In other places the AR-tourist may be invited to hold up their phone to discover a 3D render of an historic scene has been overlaid into the location.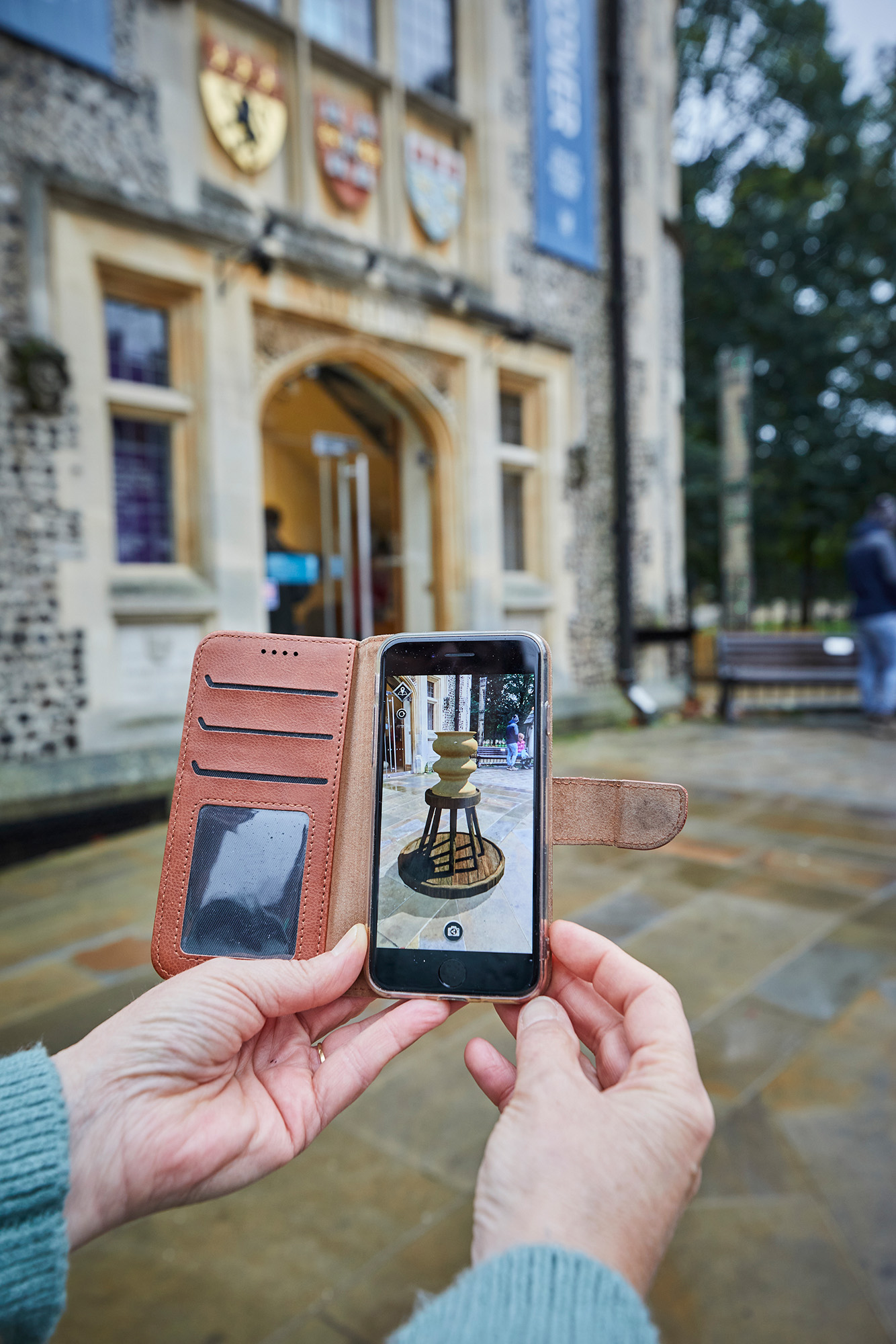 There are of course also games. At some points on the path there are micro games which invite interaction with the imagined historic environment, all simple tasks requiring swipes and buttons on the phone screen, all the while looking through the phone's screen and an augmented reality overlay: throwing sacks of grain onto a digital boat moored in a stretch of the real River Itchen; shooting arrows at targets across the façade of the city's Westgate, a 12th century rebuild of an Anglo-Saxon gateway which was once part of the city walls; crafting medicine in a superimposed reed-weave shack on St Clements Street; digitally form a pottery vessel then cast it into the public square on Minster Street.
These are not taxing tasks, and if you fail it doesn't stop progression or further experiences, but it is a playful way for a younger generation to not only engage virtually with the world around them, but to see in the everyday fabric of place glimpses into how others once lived, how buildings were once placed, and how the city has shifted in tone and form over time.
878 AD is not only experienced virtually through an app, there is also a physical venue with historic artefacts, playful architectural reconstruction, performances, and deeper information on how Ubisoft's virtual worlds are constructed. Sitting in a vitrine is the Winchester Reliquary, a smartphone-sized 9th century devotional object and portable altar made of gilt copper. Next to the real object is a video showing an extract of the Discovery Tour version of Assassin's Creed Valhalla in which we observe a male character lift up and carry the reliquary out of a church on his shoulder, the simulacra of the object being over three times the size of the real object in order to support the game mechanics, visibility, and drama.
Ryan Lavelle, a Professor in Early Medieval History at the University of Winchester, was brought on board by Ubisoft early in their process of creating Anglo Saxon England and offer support alongside their in-house team of historians. "My initial reaction, from a historian's point of view was that it's not that size – but when I thought about it, if it's this small object, how is that really going to be, you know, be something that that has that sense of drama in the game?
That recalibration of reality, changing dimensions and exaggerating aesthetics to add playful joy to the game version of England is also evident in landscape as well as objects. The creative team go to deep levels of research and reconstruction, but the gameworld is evidently a distorted, romanticised, overtly picturesque, caricature of real England. Not only are places closer together, but mountains are more soaring, the snow is deeper, the sun more sublime, and the rivers more roaring. It is a cartoon, but one in which historical accuracies and architectural details can be found – even if it is formed of a coming together of historical truth and creative imagination.
"It was hard for us to find information of the Anglo Saxon period," says Thierry Noel, Senior Inspirational Content Manager for Ubisoft, adding that there is little architectural or written record in Winchester from the period to help with detailed design. "We know more or less what was the land of the city was like from maps, but we don't know what the buildings were like," he adds, explaining that his team work with what was known in terms of building materials and vernacular before the creative team get to work into the landscape and architecture to ensure the game world is playable.
The Assassin's Creed series is known for the entire world being a parkour playground, with every building and natural formation open to being climbed, but this tweaking of an object or place's form or character is not a huge issue to Professor Lavelle, who speaks of the churches in the game's Wincestre: "Ubisoft added verticality to the buildings in order to help the gameplay mechanics so your character can actually climb up – sure, you could have climbed up the 9th century… but it would have been less exciting!"
Inside the AD 878 venue video projections present choreographed extracts of the Assassin's Creed world to discuss the architecture, commerce, nature, and politics of the era while smaller interactive screens offer deeper information. Occasionally, actors come in with characters which speak to unfolding political and personal events in Wincestre, adding play and drama to a tourist attraction which is very much aimed at a family audience but is also interesting to gamers or those interested in how digital and analogue arts can cross over.
A room in the venue is dedicated to showing how the games are created, including this video showing the immense detail of research and design that goes into the flora and fauna of Anglo Saxon England:
There are a lot of interesting elements at play in 878 AD: the conflating of a game world into a physical one, the AR app as a tool to notice or reimagine the surrounding urban environment, a glimpse into how academic research and creative imagining combine in the blue chip games sector, and how historical architecture and objects can be presented to engage a younger audience.
It's this last point that most interests Professor Lavelle: "21st century Winchester can transform into 10th, 11th, or 12th century Winchester – if you're thinking about the possibilities of augmented reality as a medium, really this is a small glimpse of what is what is possible for the representation of a city's heritage … and hopefully this venue and the app will give people that little keyhole into historical facts."
---
Hampshire Cultural Trust was established in 2014 to promote Hampshire as a great cultural county. They manage & support 23 arts & museum attractions across Hampshire, deliver county-wide outreach programmes that bring culture to local communities & care for 2.5 million objects relating to Hampshire's rich & internationally important heritage. They also deliver a diverse range of social impact initiatives targeted at those who are most vulnerable or disadvantaged & who would not usually have access to arts and culture.
www.hampshireculture.org.uk

Ubisoft is a leading creator, publisher & distributor of interactive entertainment & services, with a rich portfolio of world-renowned brands, including Assassin's Creed, Far Cry, For Honor, Just Dance, Watch Dogs & Tom Clancy's video game series including Ghost Recon®, Rainbow Six & The Division.
www.ubisoft.com

Sugar Creative delivers wonder through innovation. Bringing imagination to life, with inspirational & incredible outcomes for everything from entertainment to marketing and science. Based in the UK and serving international partners including Aardman, Toyota, Allianz, Dr.Seuss, Kingspan, BBC & OSMO they are regarded as one of the UK's leading creative innovators. Current flagship projects include partnerships with National Museum Wales to give voice to underrepresented interpretation of the museum collections & an inclusion & innovation project that will develop the ability to effectively incorporate BSL into VR as an equal language. In the last year, the studio has received awards & accolades including a QLD XR Best in World award, shortlisting for two Cannes Lions, a BIMA10, UK App Award & selection as a Createch 100 Ones to Watch.
www.sugar.agency