Beneath the golden veneer: an interview with photographer Mimi Plumb
Mimi Plumb is a photographer born in & deeply studying the landscapes of California. Her camera searches out how life impacts place, in both subtle & impactful ways. Her new book, Megalith Still, intimately observes wild horses living in the Kings Canyon National Park over the 1990s, while last year's The Golden City presents her 1980s photographs documenting social inequality within the architecture & nature of San Francisco. Mimi Plumb spoke to Will Jennings between the publication of both books.

The Golden City is an urban study from a person who deeply knows the subject. To photographer Mimi Plumb, the glistening gold veneer of San Francisco had been chipped off and a rotten core was revealed. The images which make up The Golden City were largely shot in the 1980s, a time when the idealistic 1960s Beatnik romance had faded, leaving a de-industrialised city in search of a meaning. Now a place synonymous with the technological revolution, the 1989 Loma Prieta earthquake would shake the city before the internet boom of the 90s fuelled a neoliberal reimagining.
Any visitors to California, and especially San Francisco, today will be faced with the impacts of inequality. Underneath shining towers to some of the world's richest corporations are citizens living in tents, while huge increases in land and property values have forced any semblance of affordability – even for middle classes, let alone the most economically under pressure – to the peripheries.
"Even back in the 80s there was a real feel of the rich living in certain neighbourhoods and people without means living elsewhere. And you could really see what was happening in the landscape, there was a real disrespect – you could really see the effects of our manmade environment around the edges of the city, you know, the bad effects."
Plumb's camera sought ruptures and edgelands of the city which speak to these
bad effects
. Sometimes it is visceral: derelict industrial hulks, a semi-demolished concrete block, and abandoned capitalist objects and fragments of advertising billboards are scattered over a wasteland of rubbish. Other times, it's more subtle, as with an image of an industrial storage area with billboard featuring Grant Wood's painting
American Gothic
, but a timber telegraph pole runs vertically between the two figures as if suggesting a break in the nostalgia of place, or a haemorrhaging of heritage.
"It is such a beautiful city – that landscape surrounded by the bay. But the bay I was photographing was a sewer outlet filled with tyres and abandoned cars. It's the part of the city that a tourist wouldn't see – then or now. San Francisco in terms of how it is physically, has been cleaned up a lot, but that the chasm between the rich and the poor, which my work speaks about, is just much more intense today. It's hard to take, and it's hard to take in the fact that this is happening – and there seems to be so little anybody can do about it."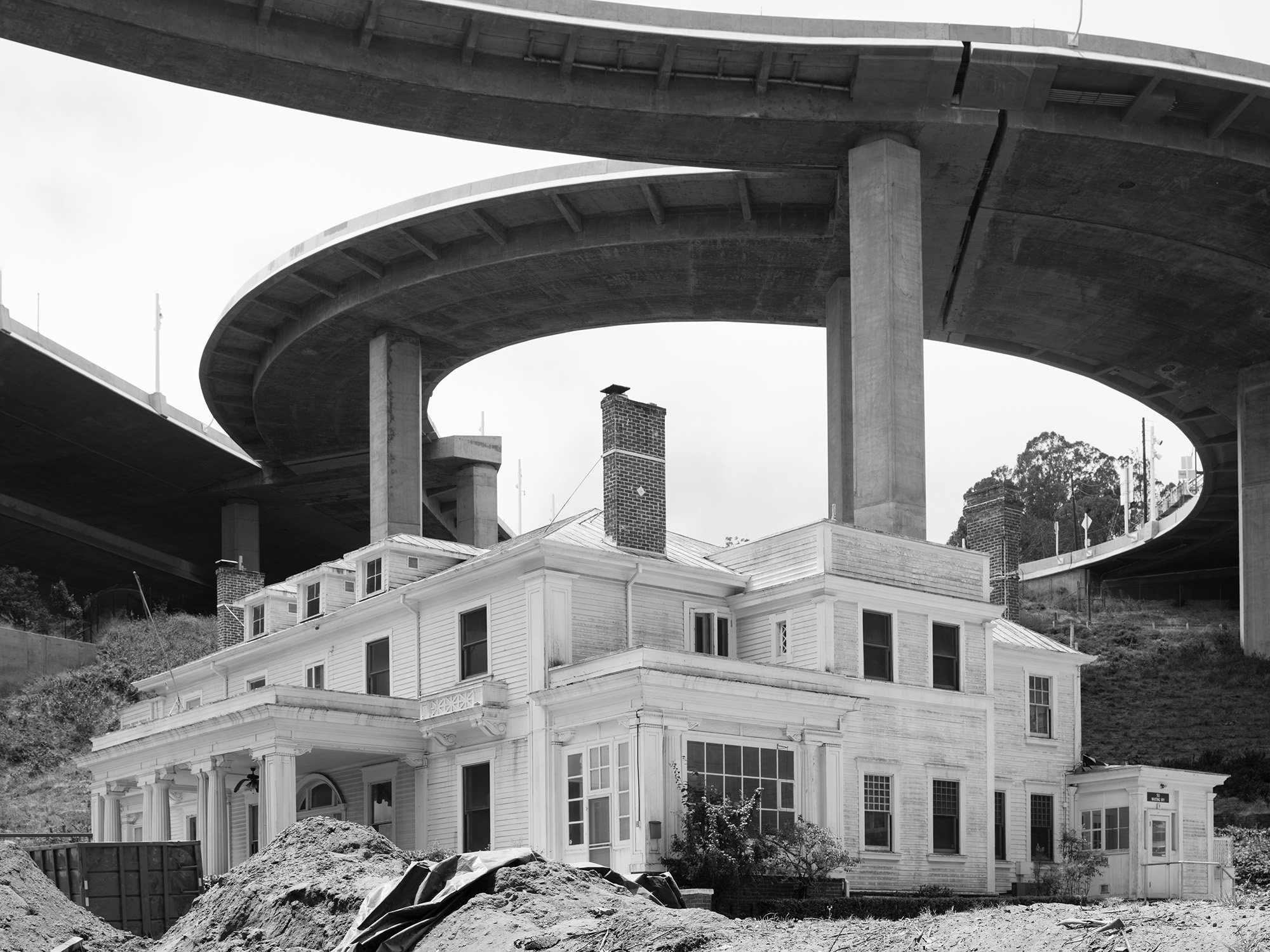 Images of freeways suggest mobility and ease of opportunity, but so eerily empty the question over who has agency and means to move comes into mind. Another photograph shows the circular form of a freeway connection hovering as a halo over a grand but run-down mansion from another age. There is an idea of progress here, but as the skyline is it is distant and always progress for somebody else, not those in the foreground of Plumb's images and thoughts.
Amongst all the landscape studies, photographs of the people who populate 1980s San Francisco help illuminate many of these not included within a certain idea of progress. The photographic project began as a landscape study, devoid of people, but slowly images of the population became central:
"I was very interested in photographing the landscape and speaking about that. But I didn't find it to be visceral in the way that I wanted the work to be, it seemed distant. So that's when I decided to add people – mostly people in my community, people that I knew, but many I didn't."
It is this relationship between people and place, and how the photographs act as portraits of both, which brings a richness to The Golden City. The layout of Plumb's images was led by Stanley/Barker which the artist says achieves
"a playfulness in their sequencing.
" Photography is a curious language which can be both truthful and oblique in the same frame, and which can contain manifold of narratives and meanings within new orders and structures.
"When I started photographing, I was 16 or 17, I'd been taking creative writing classes but it was torturous. I'd spend two hours trying to write a sentence, I was blocked. I still feel the same way about writing, words are very, very hard for me – while the camera, I just picked it up and it was really fun, intuitive, and easy and I've just always loved using it. Even if my work is dark. But I don't want it to be too directive. I want people to take away their various thoughts and reactions. John Berger talks about seeing coming before words, and there is a way in which we understand things through seeing that I just think we need to respect more. I just think it's a really rich language."

Anxiety
,
fear
,
threat
,
escape
,
nervousnes
,
compress
,
oppress
,
trauma
, and
schism
would perhaps be some of the words used if Plumb was exploring her subject through writing and not camera. But as images they are more oblique than the firmness of text. The play of aesthetics, and the use of camera, lighting, and dark room can shift meanings and add psychological nuance.
"Some of the Golden City images speak more to what we're doing to the environment, and then the ones of people with the flash are just kind of... I don't even know how to analyse what they are, except that it psychologically gets at some of the angst that I feel, and fear."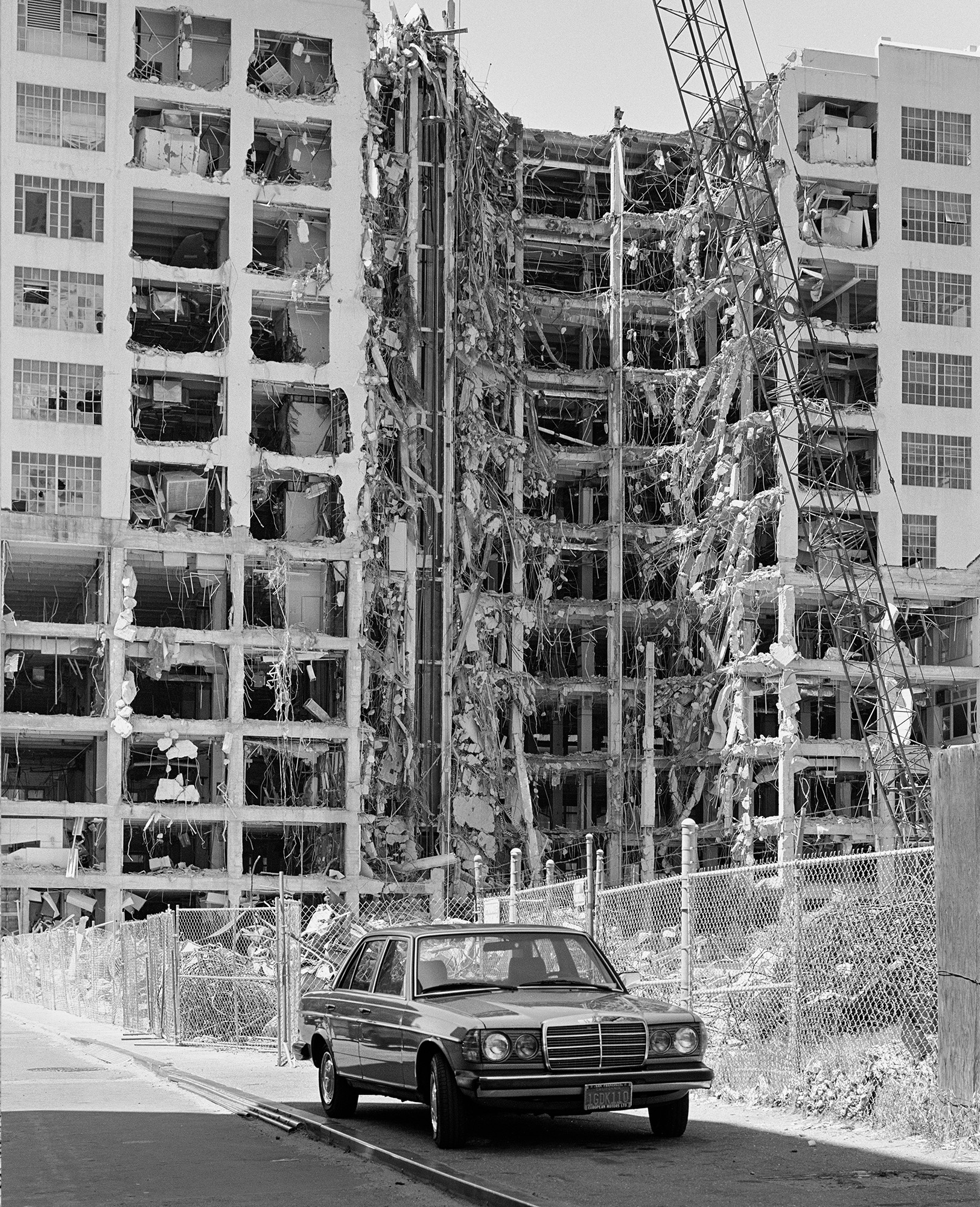 There is a darkness to the Golden City images, both in tonal range and content, but there are glimpses of gold which shine through. These are not from the architecture or landscape, but more from the characters who inhabit the scenes with a sense of camaraderie, coping, and at moments pleasure in all its guises. For a photographer deeply committed to analysing place, her camera often locks onto the lives within, something which carried through to the series of images immediately following Golden City.
"In the 90s and 2000s I challenged myself. I wanted to photograph something that I loved, rather than something that I was critiquing – I needed to do that psychologically to exist in the world. 'What is it that I embrace? What do I care about? What do I really have heart for?' I ended up photographing horses, which was really challenging because it can be such a cliché to photograph animals. I don't know if I succeeded - I think I did. I have some pictures that I think work, particularly in juxtaposition with this Golden City."
Those photographs can now be read in relation to Plumb's urban studies in new book
Megalith Still
, also published by Stanley/Barker. The portraits of a herd of horses residing in Kings Canyon National Park observe animals at one with landscape. Relaxed in nature, majestically framed by romantic mountains, camouflaging into the overgrowth, or even only present through recently compressed grasses within which they had been lying. Here, though in search of a oneness and calmness less present in the San Francisco photographs, there is still a search for that coming together of life and landscape – for good and bad.
Though the subject is markedly different, the relationship of life to land is a continuation from Golden City. There is a search for something less violent than man's imposition and impact within San Francisco, and the romantic American notion of escape into the protected National Parks in search of something more honest and sacrosanct – landscapes arguably forged by the camera of Ansel Adams, himself searching for something deeper than his childhood of the 1906 San Francisco earthquake and financial crash of the following year.
Though taken in the 1980s, the fear Plumb speaks of has only grown. Over recent years the artist has considered the Californian landscape of the Anthropocene, struggling with the impact of wildfires and mega-droughts:
"I've gone back to photographing something that is really frightening, and it kind of works in the same way some of my 80s work did. I'm trying my best to photograph the mega-drought in a way that feels true to how I'm experiencing it."
Golden City also carries this notion of personal experience expanded into collective truth, with the images operating somewhere between documentation of an end and rallying-call for change.
Hope
, however, is even harder to find at the moment than in the 1980s.
"It's hard to come by,"
Plumb says and while Golden City observes how people exist and live within post-industrial ruins and social inequality, by comparison such struggle was only a warmup for the climate crises faced.
"I feel like through my depiction of the city, it's getting at a real truth about what's going on in our society and the world, and in the city - but it's not specifically about the city, it's more about how I'm thinking about what's going on in the world. I just I just don't know how we're going to inhabit this place – California, the Golden State – given the trajectory of what people are forecasting."
---
Mimi Plumb was born in Berkeley, and raised in the suburb of Walnut Creek, receiving her Master of Fine Arts from the San Francisco Art Institute in 1986. She has taught photography nationally and regionally, including the School of the Art Institute of Chicago, the San Francisco Art Institute, Stanford University, and San Jose State University. Over the years, Mimi Plumb has explored a wide range of subjects, from her suburban roots in The White Sky to the United Farmworkers as they organized for union elections in the fields. Other series, Landfall and The Golden City, photographs from the 1980s, picture an American dystopia.

In 2018 TBW Books published Landfall, a seminal monograph of Plumb's work from the 1980's that was selected by a number of critical sources as one of the best photography books of 2018, including publisher Michael Mack. Her second monograph, The White Sky, was published in 2021 by Stanley/Barker, and was also a critical success, once again being named one of the best photography books of the year by a number of critics and photography world heavyweights. The Golden City, was published in 2021 by Stanley/Barker as is her latest monograph, Megalith-Still, a meditation on the sublime within the untamed American landscape through photographs of a wild band of horses in Kings Canyon, California.

Mimi Plumb's photographs are held in the collections of the San Francisco Museum of Modern Art; the Los Angeles County Museum of Art; the Museum of Fine Arts, Houston; the Museum of Fine Arts, Boston; Pier 24 Photography; the Deutsche Börse Foundation; the Daum Museum of Contemporary Art; and the Yale University Art Gallery, among others. Her various projects have received grants and fellowships from the John Gutmann Photography Fellowship (2017), the California Humanities (2015), the California Arts Council (1989-90), the James D. Phelan Art Award in Photography (1985-86), and the Marin Arts Council (1999-2000). In 2022 Mimi Plumb was awarded a John Simon Guggenheim Foundation Fellowship. Mimi Plumb is represented by Robert Koch Gallery in San Francisco.
www.kochgallery.com/artists/mimi-plumb