Leonor Antunes: a frisson of form from the modernist archive

Portuguese artist Leonor Antunes has taken over the expansive galleries of Edinburgh's Fruitmarket to explore the materiality & form of celebrated women designers important to the history of modernism. Lottie Whalen visited to find out which creatives had been conjured through this sculptural takeover.
In
Touching Feeling
, American scholar Eve Kosofsky Sedgwick notes that "to perceive texture is never only to ask or know 'What is it like?' ... Textural perception always explores two other questions as well:
How did it get that way?
And
What could I do with it?
".
[1]
In fact, Sedgwick is describing
texxture,
a term borrowed from Renu Bora that describes "the kind of texture that is dense with offered information about how, substantively, historically, materially, it came into being"; texture as a form of sensory knowledge, of disruption, of collaborative process.
In
the apparent length of a floor area
, Portuguese artist Leonor Antunes enacts her own style of
texxtural
play, with a sculptural and carefully crafted body of work that explores the possibilities of materials and form, while questioning the modernist design canon. Her exhibition stages a living, material archive that engages viewer and object, historic designers and present-day artist in a collaborative, collective process.
Figs.i,ii
As in past exhibitions, Antunes draws on lineages of modernist design that have been glossed over (citing Bora, Sedgwick defined gloss as a
texture
– one x – that "insists on the polarity between substance and surface … that signifies the willed erasure of history");
the apparent length of a floor area
is part of Antunes' ongoing dialogue with women architects and designers, a dialogue that not only draws attention to overlooked figures, but also expands our understanding of modernist ambitions to radically reimagine spaces of everyday life through art and design.
Allusions to modernist women designers are woven through every aspect of this exhibition: beaded patterns draw influence from Sophie Taeuber-Arp; a 3D weaving is a direct reference to weaver and Black Mountain College tutor Trude Guermonprez's work; a wooden structure that supports hanging sculptural work in the main gallery echoes the form of Charlotte Perriand's iconic
chaise longue
. By naming certain works after these designers (
Charlotte
,
Sophie
– first names only), Antunes discretely draws attention to these connections and emphasises her position in an intimate collaborative network.
Antunes' unfolding conversation with women designers continues at floor level. For Fruitmarket, she has created two new floors, both of which incorporate modernist design schemes for rugs by Marian Pepler, a British architect and designer. Antunes switches wool for cork, partly as a nod to Sadie Speight, a leading proponent of the Modern Movement in Britain, and the house Speight designed with Leslie Martin for textile designer and artist Alastair Morton.
The warmth that the floor brings to the gallery space and its softness underfoot gives this piece immediate impact; it works as a unifying presence that draws the viewer into the gallery's play of forms. Juxtaposed with other eclectic materials and textures (including bamboo, silk, pineapple leather, and the imprint of Mexican rush mats on ceramic tabletops), Antunes use of cork also makes visible the global flow of forms, materials, and philosophies of design between South America, Japan, Vietnam, North Africa, and Europe that were so essential to the Bauhaus and other modernist movements.
By transposing her aesthetic vision onto the entire gallery space, Antunes transforms it into something akin to a modernist domestic interior, but she firmly forestalls any sense of homeliness by ensuring that the scale and form of her work are slightly off. The exhibition's curator Briony Fer describes the structure on the ground floor (
the homemaker and her domain II
, 2022) as temporary shelters, but they are not substantial enough to offer a sense of envelopment or protection.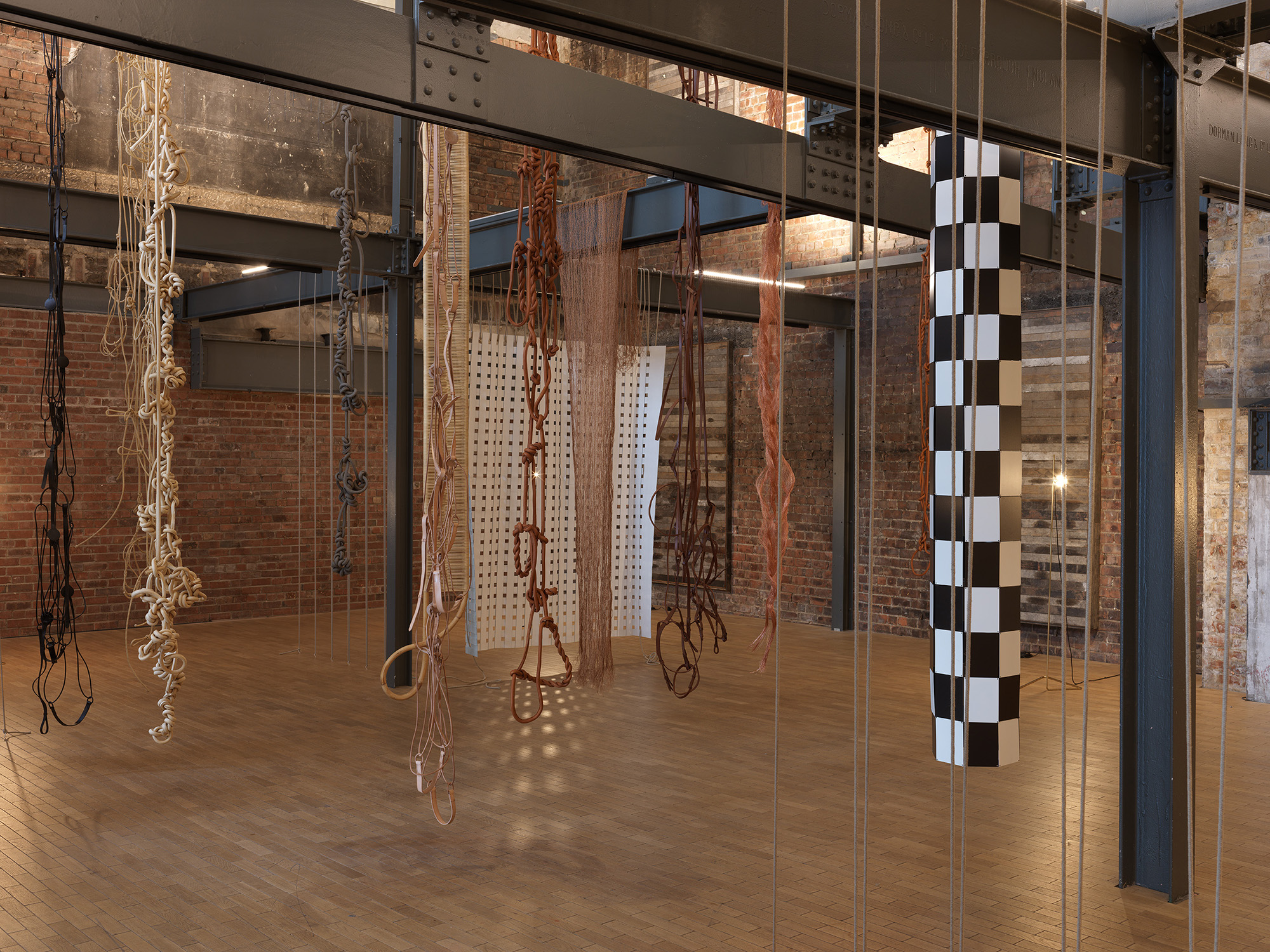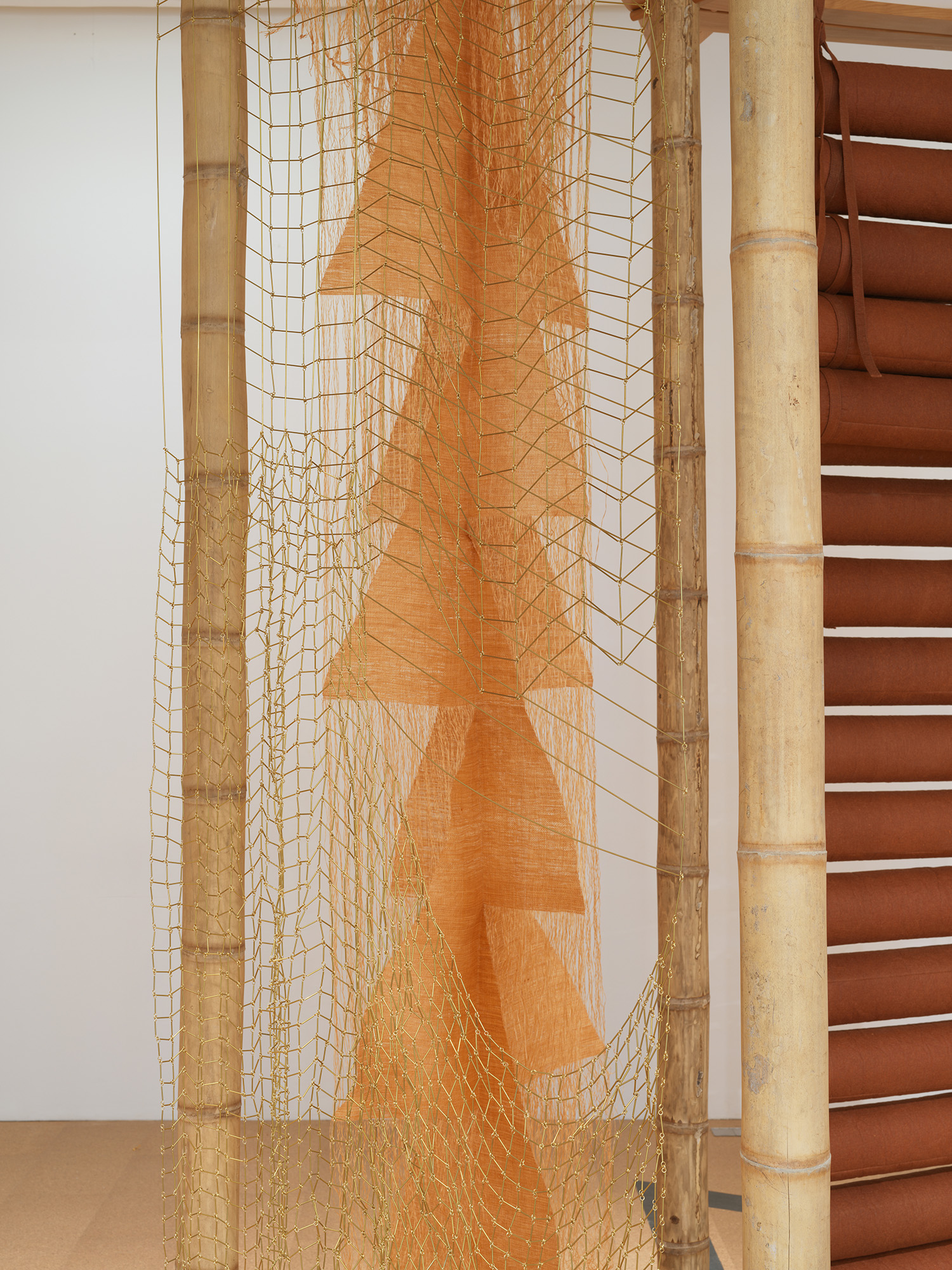 Figs.iii,iv

Upstairs,
Charlotte
(2021) – a series of squat ceramic and wood tables, too short to be functional – sets up a strangely disruptive presence, more obstacle than useful object. The viewer is made aware of their own position in relation to these sculptural objects and prompted to consider the shifts in use and value that crafted objects undergo in transition between domestic and gallery spaces.
The exhibition's title (the
apparent
length) suggests a slippage between the rational and the sensuous, or the measurable and the intuitive. Elsewhere, a length of cascading leather rope work that forms part of
the homemaker and her domain II
corresponds to the measurements of a window in the house of Swedish designer Greta Grossman, and the sculpture
Sadie &
Sophie
(2023) incorporates wooden rails that combine to total the length of a handrail in a studio designed by Taeuber-Arp; in both works, the precision of measurement is lost in a tangle of rope or a fragmented length of wood. Antunes' critical approach to measurement gestures to the edges of modernist design, where women designers working with luxurious, soft, or textured materials (such as architect Eileen Grey, another of Antunes' references) created designs for living based on different assumptions and experiences than those of their more celebrated male peers.
By interrogating measurement in this way, Antunes also invokes forms of knowledge that cannot be contained. In the glare of minimalist brass floor lamps that illuminate the gallery, Antunes' sculptures cast long shadows on the cork floor, conjuring ghosts of makers, journeys, and modernist legacies from the archive.
In Fruitmarket's lofty Warehouse gallery, Antunes suspends knotted ropes, tangled gossamer veils, a cane panel, and a woven leather grid from its girders. These hanging sculptural forms conduct the body of the viewer in a rhythmical weaving motion through the Warehouse gallery. In this section of the exhibition, form becomes dynamic, shifts in texture are most apparent and – heightened by the darkness of this space – the viewer is immersed in Antunes sensuous process. The possibilities of Sedgwick's
texxtural
perception emerge among Antunes' draped, enmeshed sculptures, asking of modernist traditions of design, art, and architecture:
How did it get that way?
And
What could I do with it?
[1] Kosofsky Sedgwick, E. (2003) Touch Feeling: Affect, Pedagogy, Performativity. Durham & London: Duke University Press
Fig.v
---
Leonor Antunes was born in 1972 in Lisbon and currently lives and works in Berlin. Antunes' practice provides a unique contemplation on modern art, architecture & design through a reinterpretation of sculpture in a given space. Recent solo exhibitions have been shown at Serralves Foundation, Portugal (2022); MUDAM, Luxembourg (2020); MASP, São Paulo Museum of Art, Brazil (2019); Museo Tamayo, Mexico City, Mexico (2018); Hangar Bicocca, Milan, Italy (2018); Whitechapel Gallery, London (2017); San Francisco Museum of Modern Art, California (2016); CAPC Bordeaux, France (2015); New Museum, New York (2015); Kunsthalle Basel, Switzerland (2013); & the Museo Reina Sofia, Madrid, Spain, (2011). Antunes represented the Portuguese Pavilion at the Venice Biennale, Italy in 2019 & has participated in the 58th and 57th Venice Biennale (2019 & 2017); the 12th Sharjah Biennial, UAE (2015); & the 8th Berlin Biennale (2014).
www.url.com

Lottie Whalen is a writer and researcher, interested in intersections between feminism, urban studies & the creative arts. She co-manages Decorating Dissidence, an interdisciplinary arts project that explores social, political & aesthetic uses of craft & making from modernism to the contemporary. Her first book Radicals and Rogues: the Women Who Made New York Modern will be published by Reaktion in September 2023.
www.lottiewhalen.com

visit
Leonor Antunes, the apparent length of a floor area, is exhibited at Fruitmarket, Edinburgh, until 08 October 2023.
The exhibition is part of Edinburgh Art Festival which takes place from 11–27 August 2023.
Full details available at:
www.fruitmarket.co.uk/leonor-antunes

images
fig.i Leonor Antunes installation view, the apparent length of a floor area, Fruitmarket, Edinburgh, 2023. Courtesy the artist, kurimanzutto, Mexico City/New York and Marian Goodman Gallery. Photo Nick Ash.
fig.ii Leonor Antunes, Discrepancies with M.S. #5 (detail) (2020). Courtesy the artist, kurimanzutto, Mexico City/New York. Photo: Nick Ash.
fig.iii Leonor Antunes The homemaker and her domain II (2022). Installation view, Fruitmarket, Edinburgh, 2023. Courtesy the artist, kurimanzutto, Mexico City/New York and Marian Goodman Gallery. Photo Nick Ash.
fig.iv Leonor Antunes installation view, the apparent length of a floor area, Fruitmarket Warehouse, Edinburgh, 2023. Courtesy the artist, kurimanzutto, Mexico City/New York and Marian Goodman Gallery. Photo Nick Ash.
fig.v Leonor Antunes at Fruitmarket, Edinburgh for the opening of her exhibition, Leonor Antunes: the apparent length of a floor area. Photo: Neil Hanna.

publication date
02 August 2023

tags
Leonor Antunes, Archive, Bamboo, Bauhaus, Renu Bora, Cork, Briony Fer, Fruitmarket, Gossamer, Eileen Grey, Greta Grossman, Trude Guermonprez, Leslie Martin, Modernism, Alastair Morton, Marian Pepler, Charlotte Perriand, Pineapple leather, Rope, Rush, Sculpture, Eve Kosofsky Sedgwick, Silk, Sophie Taeuber-Arp, Sadie Speight, Texxture, Lottie Whalen, Women