Leighton House rediscovered: Evelyn De Morgan, Shahrzad Ghaffari & Nour Hage
Leighton House, the former home & studio of Victorian artist Frederic Leighton, has recently undergone restoration & expansion by BDP architects. Its inaugural exhibitions, displayed in new galleries & around the house, presents diverse work from artists Evelyn De Morgan, Shahrzad Ghaffari & Nour Hage, creating connection & distance between global geographies, as discovered by Jelena Sofronijevic.
Women's contributions – and women themselves – are often overlooked in the history of art movements. Arts and Crafts are no exception. But a new exhibition at Leighton House,
Evelyn De Morgan: The Gold Drawings
, quietly challenges the double marginalisation of both drawings, often perceived as "preparatory studies" for a final, more finished work, and women themselves.
Its respectfully and subtly curated, in the new gallery designed by BDP as part of the buildings conservation and expansion, a space which recently
exhibited
the drawings of the House's first owner, Lord Frederic Leighton. The curation of Evelyn De Morgan's work reflects the artist; we follow her moves in attitudes and practices through to drawings created as artworks in their own right, evident even in her early works, such as the sensitive, captivating portrait of Saint Francis, a rendering never intended for display.
Figs. i-iii
De Morgan's "meticulous working method" is clear in her early works. Ankles serve as evidence of a detailed anatomical study – and privilege of access to models – at the Slade School of Fine Art. It's a stark contrast from the warm, scrawly signature which adorns each of these sketches. We also follow De Morgan's study of inspirations, including Old Masters encountered at the National Gallery and Italian frescos.
These traditional influences translate into her more modern works using custom-made paints and crayons formed from "cakes of gold" pigments, a process which was difficult and demanded precise application. A catalogue from her 1919 commemorative exhibition implies the artist's certainty: "No erasures could ever be made."
Though her luminous works stand out against the dark walls of Leighton House's new gallery, they're dulled by the lighting. Save for
The Soul's Prison House
(1889) – with a striking silver where St Augustine holds open a scroll – such details are obscured until later, larger works.
Figs.iv-vi
When De Morgan died in 1919, the commemorative exhibition was organised by Lord Leighton's biographer Emilie Barrington, who also gifted the final work of
The Gold Drawings
. Curator Sarah Hardy of the De Morgan Foundation comes full circle for this exhibition, similarly reading into the artist's biography and how a religious devotion shaped her decorative practice. Perhaps De Morgan's
Opes
(c.1900), a fertility goddess painted in "brilliant gold," might have been "a private devotional piece," an expression of her "unfulfilled wish to have a family."
It's an interesting context and another layer to the artist's history, but ultimately, De Morgan's contributions in her use of brilliant colour and symbolism speak loudly for themselves. With the De Morgan Collection now decentralised – though a wealth of
videos
can be found online –
The Gold Drawings
is one small glimmer of hope for a future where the artist is (again) as well-known as her husband, ceramicist William De Morgan.
Lord Leighton likely knew of William De Morgan through his work with Morris & Co. in the 1860s. A specialist in lustreware, De Morgan was similarly interested in Islamic and
Oriental
motifs, and was commissioned to install and repair Leighton House's infamous Arab Hall extension.
Figs.vii-ix
Leighton House has commissioned contemporary, often South West Asian / North African based artists, to respond to this collection and collaboratively – or perhaps on behalf of the host – navigate its ethical labyrinth. Iranian-born, Canada-based artist Shahrzad Ghaffari was invited to create the inaugural contemporary commission to mark the museum's redevelopment and renovation. Her mural,
Oneness
, wraps a new staircase across three floors.
The recent BDP works to Leighton House recovered and restored parts of the building lost to changes made over the 20th century, reinstating other parts to as they would have been read in Leighton's day. They also added a new wing with a café, the new exhibition spaces, a Learning Centre, and collections store. Step free access now makes the whole building accessible for the first time, while a statement helical staircase connects the three floors – additions and careful historic repair which saw Leighton House shortlisted for the 2023 Museum of the Year Award.
Figs.x-xii
Ghaffari's helical mural now informs a new exhibition of the artist's practice,
Journey to Oneness
. Along with Leighton, Ghaffari shares an interest in poetry and mysticism, and along with Evelyn De Morgan, an attraction to gold. The artist speaks about relating between East and West, perhaps
reinforcing
a geographic binary, rather than breaking from it.
Drawing from the artist's personal collection, we see two-dimensional works and her only non-abstract painting – which the artist uses to articulate contemporary Iranian politics and protests, as she discussed on the recent
EMPIRE LINES podcast
. Save for
Sama (Dervish Dance)
(2010), these flat works are abstracted from their transcendental potential. In the gallery, her flowing forms are still and stilted. But when presented in dynamic spaces, such as the staircase, the works seem to reflect the artist's dynamic, physical practice – a practice she carries out in overalls and with a spade, perhaps bearing more resemblance to a plasterer, presenting as a construction worker of visual art.
Figs.xiii-xv
Like Ghaffari, Lebanese artist Nour Hage draws inspiration from the Arab Hall, as well as Leighton's collection of antique textiles. Named after the Arabic word for thread, her installation
Kheit
references the use of braiding and embroidery in West Asian cultures to lock-in the evil eye and bad energy. In her work, she speaks to the same geographic binary as Ghaffari.
Similar symbols also recur. Her sun, woven on a circular loom, draws as much from Walter Crane's mosaic frieze in the house as it does from Arabic design. Its companion moon, a cool greyish purple, is dyed in an iron bath made from rusty nails found in the artist's new home in Dubai. This work is the only time we break from the geographic binary, connecting the two different homes in differing territories.
Figs.xvi-xviii
Kheit
blends perfectly into this interior environment. Installed without caption, it could even be easy to miss it altogether. Textiles from the Middle East and North Africa were once plentifully draped over Leighton's chairs, screens and walls, some of which were purchased on his travels, with many more Syrian silks and Turkish towels purchased from Liberty in London.
Leighton's entire collection was sold and dispersed on his death on 1896. In collaboration with the Arab British Centre, the House has sourced twenty similar textiles, pieces which have inspired Hage's works.
Along with their upcoming event schedules, and community engagement, these three subtle interventions and exhibitions, slotted into the new BDP extension and around the resonantly restored historic home, embed the importance of collaboration within Leighton House's future.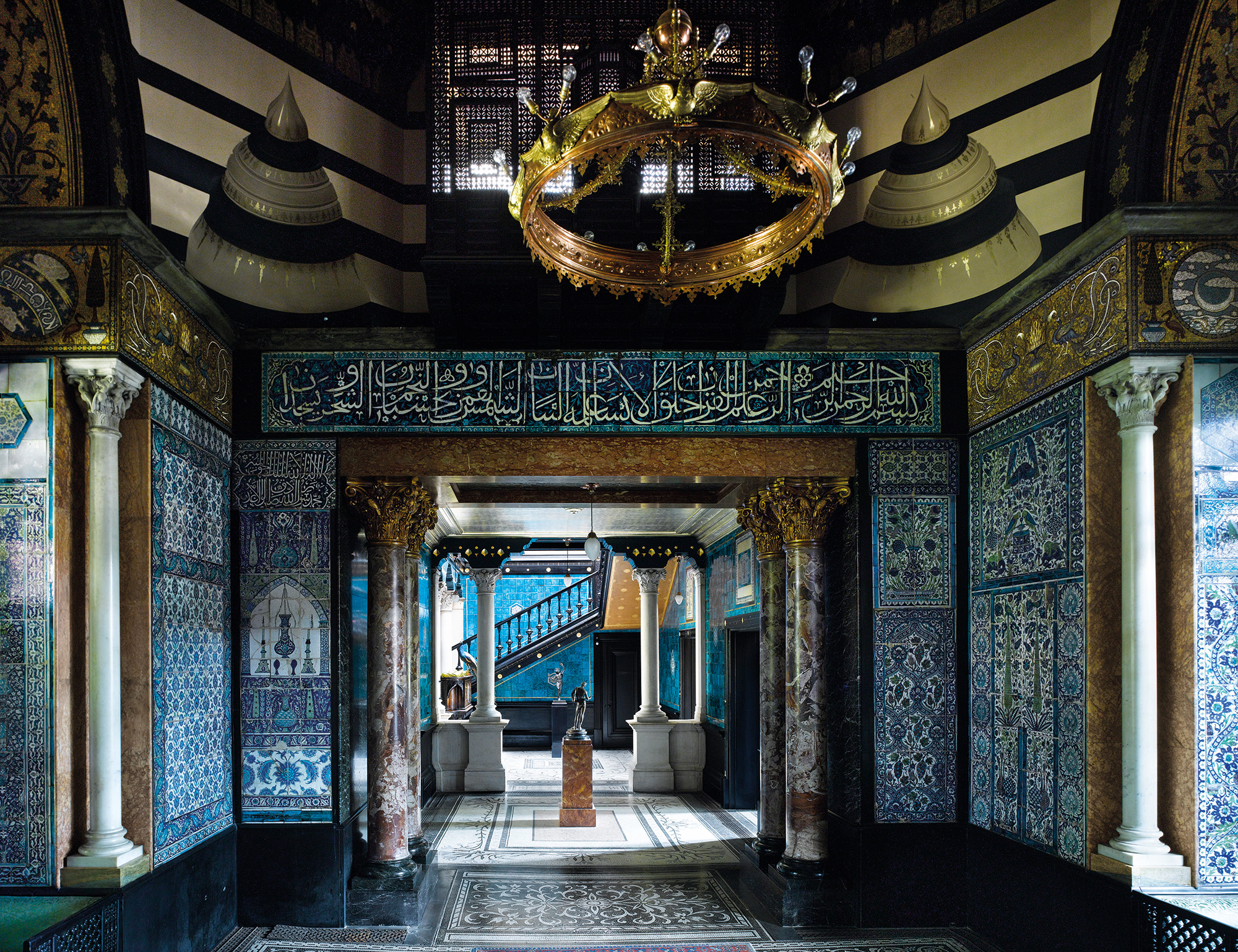 Figs.xix-xxi
---
Evelyn De Morgan (1855–1919) was an accomplished professional artist across a range of media. She trained at the Slade School of Art, becoming one of the first women to be awarded a prestigious scholarship by the school in 1874. Her paintings were well received in exhibitions at the avant-garde Grosvenor Gallery in London and critics praised her skill and talent.
Throughout her career, De Morgan made sketches and studies on paper. The vast majority were working drawings; tools to help her prepare for her paintings. However, her series of gold drawings on dark paper are different, created as artworks in their own right. She exhibited seven of these at the Fine Art Society in 1889 where critics commented on their 'imaginative design' and 'peculiar effect'.

Shahrzad Ghaffari was born in Tehran, Iran, and began painting at an early age. Coming from a family of renowned painters such as Sani-ol-Molk Ghaffari (1814-1866) and Kamal-ol-Molk Ghaffari (1848-1940), she studied graphic design for three years at Azad University, Tehran then returned to painting. Her early interest in painting, was matched by a fascination with poetry, in particular the work of Persian poet Jalal ad-Din Muhammad Rumi (1207-1273). In Ghaffari's own words 'poems became my inspiration and allowed me to express feelings and show a deeper self in my paintings.' The coming together of her two passions inspired many of the paintings in this exhibition.
www.shahrzadghaffari.com

Nour Hage is an award-winning British-Lebanese artist and designer, working across textile and digital. Her practice is centered on the exploration of West Asian identities, culture, history & storytelling with a particular focus on the role of women, the supernatural and mental wellbeing.
She was the inaugural Jameel Fellow at the V&A Museum in 2021-22 and was awarded the Boghossian Foundation Prize in 2014. She graduated from Parsons School of Design (Paris) with a BFA in Fashion Design.
She has exhibited at Dr Johnson's House (London), The Albany/Haramacy Residency (London), Nowhere (NYC), Foundation (digital) and has an upcoming solo exhibition at Leighton House (London) in 2023.
www.nourhage.com



Leighton House is the former home and studio of the leading Victorian artist, Frederic, Lord Leighton (1830-1896). It is unique among the capital's museums in combining an exceptional collection of Victorian art with the intimacy of a private home. The house was designed by his great friend, the architect George Aitchison RA as a showcase for artistic taste and to entertain and impress the foremost artists, collectors and celebrities of the day. The highlight of any visit is the extraordinary Arab Hall which reflects Leighton's fascination with the Middle East and presents an extraordinary collection of Islamic tiles and mosaic floors. The Museum has recently completed a major redevelopment which has provided additional gallery space, a new café, improved facilities and a dedicated learning centre. Both the restored wing and the historic house are now step-free access and interconnected thanks to a lift and a spectacular helical staircase, decorated with a hand-painted contemporary mural.
www.rbkc.gov.uk/museums

Jelena Sofronijevic is an audio producer & freelance journalist who creates content at the intersections of cultural and political history. They are the producer of EMPIRE LINES, a podcast which uncovers the unexpected flows of empires through art, and historicity, a new series of audio walking tours, exploring how cities got to be the way they are.
www.jelsofron.com
EMPIRE LINES
historicity
visit
Nour Hage, Kheit runs until 16 July 2023
Shahrzad Ghaffari: Journey runs until 1 October 2023
Entry to both exhibitions is included with a ticket to Leighton House

Evelyn De Morgan: The Gold Drawings runs until 1 October 2023 and entrance is free.

More information available at:

www.rbkc.gov.uk/museums




hear more

This article is published in parallel with EMPIRE LINES, a podcast series by Jelena Sofronijevic. Listen to the artist Shahrzad Ghaffari

discuss

her work here:


www.pod.link/1533637675/episode/a8cb557e566005623d9ad59e8e0a3340




images

fig.i Evelyn De Morgan, The Valley of Shadows (1899). ©RBKC. Image Jaron James.
fig.ii,iv Exhibition Gallery. Evelyn De Morgan, The Gold Drawings at Leighton House. ©RBKC. Image Jaron James.
fig.iii Evelyn De Morgan, Victoria Dolorosa (1900). ©RBKC. Image Jaron James.
fig.iv Evelyn De Morgan, Gloria in Excelsis (1893). ©RBKC. Image Jaron James.
fig.vi Evelyn De Morgan, Opes (detail) (c.1900). ©RBKC. Image Jaron James.
fig.vii Shahrzad Ghaffari, Oneness at Leighton House. ©RBKC. Image Dirk Linder.
fig.viii Winter Studio, Leighton House. ©RBKC. Image Dirk Lindner.
fig.ix Frederic Leighton, Athlete wrestling a Python in the wing. © Leighton House. Image courtesy Dirk Lindner.
fig.x Leighton's studio and view into Winter Studio, Leighton House ©RBKC. Image Dirk Lindner.
fig.xi Leighton House exterior ©RBKC. Image Jaron James.
fig.xii Silk Room, Leighton House ©RBKC. Image Dirk Lindner.
fig.xiii,xv Shahrzad Ghaffari, Journey to Oneness at Leighton House. ©RBKC. Image Jaron James.
fig.xiv Oneness by Shahrzad Ghaffari. ©Nick Caville, BDP.
fig.xvi Nour Hage, Sukun (detail). Kheit at Leighton House ©RBKC. Image Jaron James.
fig.xvii Nour Hage, Kheit at Leighton House ©RBKC. Image Jaron James.
fig.xviii Nour Hage, Our Garden (detail). Kheit at Leighton House ©RBKC. Image Jaron James.
fig.xii The Arab Hall looking into the Narcissus Hall © Leighton House, RBKC. Image courtesy of Will Pryce.
fig.xx Leighton House exterior ©RBKC. Image Dirk Lindner.
fig.xxi New reception with view into the De Morgan cafe and garden . © Leighton House. Image courtesy Dirk Lindner.

publication date
14 July 2023

tags
Abstract, Anatomy, Arab British Centre, Arabic, Emilie Barrington, BDP, Walter Crane, Domestic, Drawing, Empire Lines, Evelyn De Morgan, William De Morgan, Fabric, Shahrzad Ghaffari, Geography, Gold, Nour Hage, Painting, Post colonial, Sarah Hardy, Frederick Leighton, Leighton House, Liberty, Morris & Co, Mural, Museum, Museum of the Year, Jelena Sofronijevic, Textile