Radical rooms & hidden histories at the RIBA
An exhibition at the Royal Institute of British Architects gives presence to concealed stories of women in architecture. Using three key protagonists across 500 years, stories of how women have been silenced and hidden from history come out through a genuinely multimedia installation.
This is an exhibition about architecture, but employing the mediums of dance, costume …. and carpets. It's actually an exhibition about more than architecture, but speaks to issues of gender, power, and popular representation. There is no single path through the multitude of artefacts on display, instead it's up to visitors to discover moments of history by drawing curtains to reveal concealed stories and architectural ideas.
Created as a partnership between architect Charles Holland and artist Di Mainstone, it employs various approaches to reveal overlooked stories which emerge from the plans of three domestic buildings. The stories hinge on the history of women's representation in architecture, and in the search for narratives there is a repeated return to the architectural plan. Now, an exhibition solely based upon the drawn plans of buildings may be a bit boring (to most non-architects, anyway), but Holland and Mainstone fill the gallery of the Royal Institute of British Architects [RIBA] with plan-induced pattern, motifs across the specially produced carpets and curtains hung from undulating tracks.
figs.i-iv
Upon entering, the room is dominated by patterns, and the visitor may wonder what they mean. The other overtly present element, video works by Mainstone interrupting the space, also don't give much away at first glance either. It's only once the visitor takes the brave step of interacting with the curtains that the historic stories and characters are revealed. Drawings and prints Holland and Mainstone extracted from the vast RIBA archive are hung on the walls, and it's fitting that the works were hidden from sight at first entrance into the gallery, as it is the suppression and lack of discussion around such stories of women who hugely impacted architecture as client, commissioner or designer (or sometimes all three) which underpins the exhibition. Slowly, as the stories are uncovered from the shadows, all the elements of the installation begin to come together and speak as one.
figs.v-vii

The three main female protagonists cover 500 years: from the 16th century, Bess of Hardwick who had a more-than-strong hand in the layout of Hardwick Hall; 200 years later, Jane and Mary Parminter designed A la Ronde, a sixteen-sided cottage in Devon in which rooms were designated by time of the day rather than pure function; and, Patty Hopkins in the 1970s, with her work on the hi-tech Hopkins House, designed with her husband Michael Hopkins.
The power in architecture, as across most of society and history, is one which obscures or minimises the role and voice of women. Architecture is historically overwhelmingly male, and so Holland has explored the RIBA archive to unearth drawings which speak to female power as client, commissioner, or designer (and sometimes all three), then inferring ideas of how that has impacted design and spatial idea.
The works on display cover a variety of projects, but it's the three buildings related to those three main characters which recur and flow throughout. One example is Bess's Hardwick Hall, a design normally attributed to Robert Smythson. However, the exhibition points out that this was an age prior to today's demarcation of the roles of client and architect, with Bess having a an important role in the layout of the building, adapting Smythson's plans throughout construction and amending layout and design.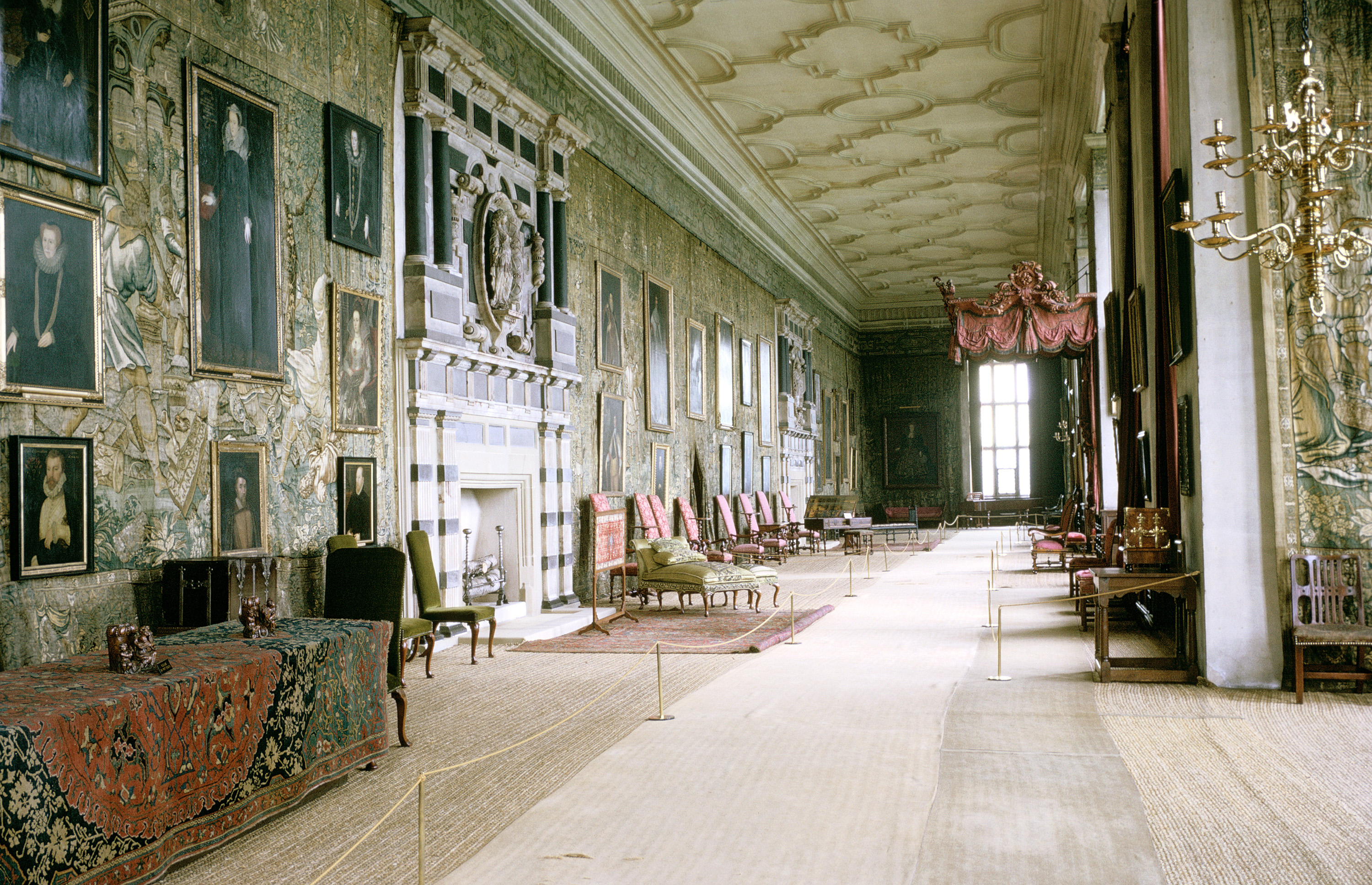 figs.viii,ix

Holland describes the exhibition as "a collaboration between art and architecture as a multimedia exploration of place and power," and it is in Mainstone's projected video performances that the characters are explored most obliquely. Embodied versions of the main protagonists – Hopkins, the Parminters, and Bess of Hardwick – are projected, and Mainstone rejects performing them as period drama, instead through passionate research of their personalities and passions reconsiders them afresh. So Bess becomes a grime MC, the Parminters are punks, and Hopkins is reborn as a minimalist electronic composer. "I used sound to engage you to move through the space of the exhibition," Mainstone explains, the musically-related soundtracks to each film alternating as the exhibition's mood music.
figs.x-xiv
There's a lot going on in this small space, and it's largely up to the visitor to decide how they navigate and read into the various materials across various media. One could traverse the hang as a straight journey through architectural drawings, others may treat it more as an experiential hide and seek, randomly encountering unexpected drawings secreted within curtained spaces, others may find Mainstone's video works linger longer. Altogether, it's a curious mix, but all speaking to a central, and important, conceit of raising awareness of female voices and agents in the history of design and architecture.
fig.iv

---
Charles Holland is director of Charles Holland Architects, an international architecture and design studio. The studio's work is multi-disciplinary in scope and includes buildings, exhibitions, public art and urban design as well as teaching and research. They work at a variety of scales from that of the city masterplan to the domestic interior and for public, private and residential clients. CHA have worked for clients including the National Trust, the British Council, the Victoria and Albert Museum and the London Borough of Croydon. Current projects include a major new public space in south London, a number of new houses, a public artwork on the North Downs Way and a forthcoming exhibition at the RIBA. Before forming CHA, Charles was a founding director of Ordinary Architecture and a director of FAT. Whilst at FAT he was the director in charge of a number of key projects including A House For Essex, the practice's collaboration with Grayson Perry.
www.charleshollandarchitects.co.uk/

Di Mainstone is a multi-disciplinary artist. Fascinated with the human form, she creates body-centric devices and work ranging in scale, from wearable musical instruments to large-scale audio-visual installations and interactive sculptures within the public realm. Working collaboratively across disciplines, Di explores how digital technologies and physical materials can inspire us to move expressively and connect with our environment through a multi-sensory lens. Di's most acclaimed works are the Human Harp, a digital musical device that transformed Brooklyn Bridge into a giant harp, and an audio-visual environment called Soundpit which was a sellout success at Southbank Centre. Di is also a multi-award-winning filmmaker. She writes and directs films that feature her inventions, sculptures, and costumes and focus on topics such as climate justice, re-wilding, and forgotten women's histories. Di's climate inspired art-film Time Bascule, commissioned by London's Tower Bridge, has won multiple international awards. Her films have been funded by the City of London Corporation, WITCiH, ACE, British Council, BFI. Di's work has been exhibited and performed at Southbank Centre, Tower Bridge, Roundhouse, National Portrait Gallery, Swedish National Touring Theatre, Barbican, The Sage, V&A, and more.
www.dimainstone.com

visit
images
figs.i-vii Radical Rooms: Power of the plan. Installation photographs, © Gareth Gardner
fig.viii Hardwick Hall, Derbyshire: the long gallery. © Architectural Press Archive/RIBA Collections
fig.ix Hopkins' House, Downshire Hill, Hampstead, London: detail of spiral staircase. © Joe Low / RIBA Collections
figs.x-xiv Bess of Hardwick, Jane and Mary Parminter & Patty Hopkins costumes. © Di Mainstone
fig.xv Radical Rooms: Power of the plan. Installation photograph, © Gareth Gardner

publication date
29 June 2022

tags
Bess of Hardwick, Carpet, Costume, Curtains, Design, Floorplan, Gender, Hardwick Hall, Charles Holland, Hopkins House, Mary Hopkins, Michael Hopkins, Di Mainstone, Multimedia, Jane and Mary Parminter, Performance, Plan, RIBA, Royal Institute of British Architects, Robert Smythson, Sound, Video, Women