ABBA's endless now in a STUFISH spaceship
ABBA have made a triumphant return to performance - of a kind - with their Voyage residency in a purpose built timber & steel arena designed by entertainment architects STUFISH. After seeing the show which tightly wraps art, artifice & architecture together into a beguiling but curious experience, Laura Yuile and Jill Kennedy-McNeill have a conversation about what it all means.
Jill Kennedy-McNeill:
In July I saw ABBA on stage for the first time. I say I
saw
ABBA, but in fact I felt like I
witnessed
something. I stood with my mouth open for the first three songs, my mind repeating on a loop "this is great, but something's wrong… what's wrong?" I felt complicit in a way that I don't (and may never) understand… maybe engaging in an act of mass joy after the past few years of Covid is enough to evoke a feeling of complicity. And after all, the band wasn't even there.
Laura Yuile:
The mass joy was pervasive, even before setting foot in the building. Having a studio by the Olympic Park, I had started seeing people dressed as members of ABBA infiltrating the area over the summer. The return of flares suddenly had a purpose, and retro glimmers of commercial camp permeated Stratford. Visitors from out of town wandered around looking lost, in groups and in garish clothing.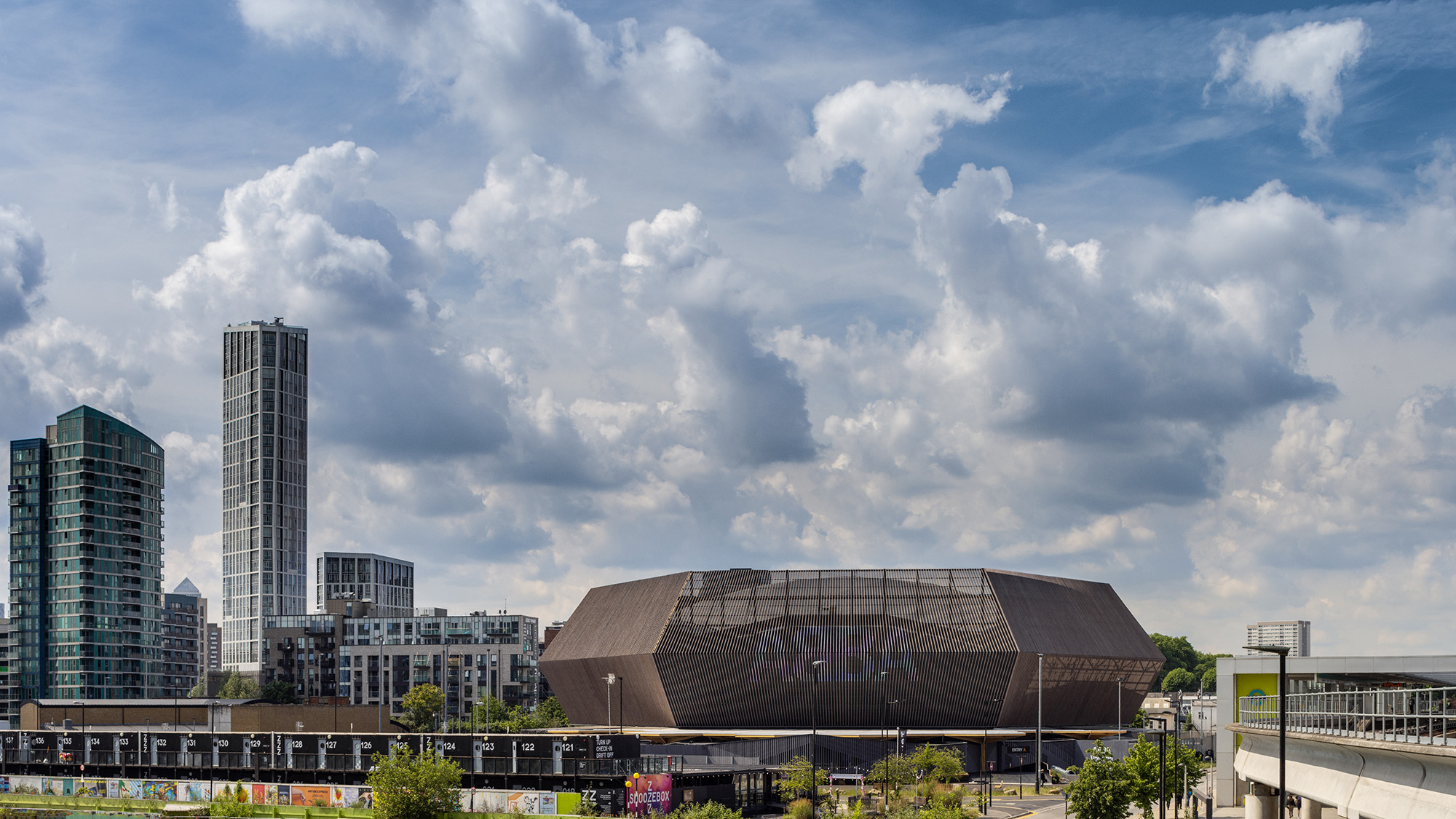 figs.i,ii

The choice of the word "voyage" is interesting. A voyage typically takes place with the help of a ship or plane – but in this case, it's a building. A steel and timber building that provides a clean and fresh setting for a celebration of nostalgia. Its architecture was guided by the nature of the show, and the need to create a 360-degree immersive experience.

So the ABBA voyage is one which sits still, geographically speaking, but uses lights, technology and music to journey across time. By designing the building from the inside out, the voyage could be made as smooth as possible: an uninterrupted journey from entrance to exit. The ABBA arena is said to be the largest "demountable venue" in the world. So, in this sense, the voyage does actually have the potential to physically travel at some point in the future – whether this will actually happen or not is yet unknown.


JKM:

The tunnels and the enveloping arena area definitely helped to foster this sense of being disjointed or suspended in time. It goes beyond the typical immersive experience, I distinctly remember feeling like I had entered
Somewhere Else
when I emerged from the feeder tunnel, birthed into another place and time.
There's something sort of poetic about the contrast between the decade ABBA came to prevalence, when one third of the population resided in social housing, and the building hosting the show being an expensive but ultimately transient structure. Another reminder of how far we've voyaged, and not in a
forwards
direction - yet more regression masquerading as progress.
figs.iii,iv

LY:
And it's 5 minute walk from the Carpenter's Estate, which has famously been largely empty for around a decade now. The redevelopment that has been repeatedly planned for this estate has never materialised, despite the neighbouring Olympic Park. My studio was beside it, in an ex-office building that has similarly been scheduled for redevelopment for many years. We were waiting for notice that the development would commence, a perpetual feeling of temporariness was in the air, poised to pack up and leave at any moment.

The ABBA arena presents this kind of urban temporariness that encapsulates much of the surrounding area as a novelty and a luxury. Like me after I am forced to leave my studio, I am left wondering where this ship might travel next. There are currently permissions for the ABBA Arena to remain in place for five years, but my gut feeling is that the building won't be going anywhere. Built-in temporariness doesn't always materialise as such – buildings are left to fall out of function, but stay in place.

JKM:

I think, mostly, we accept that ideas, when put into practice, exist in reality. For me, ABBA Voyage was a strange kind of inversion of that premise, because it felt like I was experiencing something in reality that still felt like an idea.
When he built on Derrida's temporal disjunction theory of
Hauntology
, the academic Mark Fisher told us this was coming. He said there wasn't any future. In the many centuries that have passed since he died in 2017, it's hard to look back at that time without both marvelling at his prescience and feeling a world-weary derision that anyone could have ever have thought that
THEN
was a Real Bad Time. Voyage is sort of bleak, in spite of (because of?) the dazzling excitement, as it seems to propose that we lean into the loss of our alternate timelines. It feels like it's asking "who really needs a future anyway?".
LY:
The Voyage essentially severs ABBA from the context that framed them when they were the age that is depicted through their ABBAtars. New technology is promised to offer a uniquely new experience, and this is framed within the brand-new, bespoke building which was designed by London practice STUFISH Entertainment Architects. This - in theory - reusable arena promises an endless repetition of the past.

It's also the most permanent-looking pop-up construction I've ever seen, yet the flatpack nature suggests movement. It is non-committal, ready to move on when the interest and therefore money start to lag. Whilst flesh-and-bone performers require only to move themselves, their equipment and their entourage, the ABBA Voyage requires an entire building. A thing that alludes to permanence that's been built to house things that don't exist.

figs.v,vi

JKM:
Voyage seems to propose that time can move forwards and backwards all at once as, as Mark Fisher noted, "nostalgia mode subordinate(s) technology to the task of refurbishing the old". Time only exists in our perception of it, the way we perceive it is all that it is (or at least all that we're capable of understanding it to be). And it used to behave itself, plodding along in a more or less satisfactory way, but now it staggers and leaps. It's fair to say we are having a real problem with time at the moment, and the more I think about it, the more of a problem that problem seems to be.
Perhaps time doesn't owe us unending forward motion any more than forward motion is synonymous with
progress
, and the assumption that we deserve new and better admittedly feels uncomfortably close to buying into the liberal myth that perpetually increasing stability and growth should be taken as a given.
LY:
It's interesting the way they are trying to preserve the newness of the voyage experience by stopping people from taking photographs. They wouldn't guard the image of real ABBA in this way, so it marks it out as an experience different from a human concert, despite the striving to make the ABBAtars as realistic as possible. This puts the emphasis on novelty, as if the only reason to go on the voyage is newness itself. Well, the newness of the past presented as such…

Will the Voyage continue in different versions as technologies develop? Despite this potential for an endless remaking of the past as we arrive in the future, the ABBA Voyage feels to me more like a monument than a journey.

JKM:
That's interesting because a monument can only ever serve the interests of something from the past - it's the antithesis of newness.
fig.vii

LY:
Does that mean the CGI, lights, and motion-capture technology does not feel new enough to transport us somewhere new? They can only transport us so far, a bit like buying a new smartphone and feeling excited for five minutes before realising it's essentially the same as the last, with a slightly better camera. What do we expect from promises of the new, particularly when it's just a representation of the past up-to-date cameras and computers? The endless remaking of films and TV series also feeds into this game.

JKM:
It's like there's something, after the years we've lived through, that felt symbolic, important – brave even – about putting on some silly outfit and some glittery eyeshadow and screeching tearfully at a bunch of holograms, but I don't really think that's it. I think Voyage felt more like seeing people (finally/tentatively) embracing the endless now. About a society that is starting to really wake up to the idea that there is no guarantee of a better future. That the past is no longer a foreign country, it's just where we live now.
figs.viii,ix

---
Laura Yuile is an artist, writer, and educator from Glasgow and is currently based in Manchester. Her multidisciplinary practice explores the entanglements between domestic and urban space through issues of community, sustainability, obsolescence, and the effects of globalisation and technological development. She recently completed a PhD at Northumbria University titled Ungating Community: Opening the enclosures of financialised housing. Recent exhibitions include the Chengdu Museum of Contemporary Art (for Chengdu Biennale 2021-22); Out_Sight (Seoul); Kunstraum Kreuzberg (for Transmediale 2021, Berlin); Science Gallery (London); nGbK (Berlin); and TACO! (London). Alongside gallery-based exhibitions and events, she organises projects that filter into everyday, commercial spaces. These have included Comfort Zones- a series of symposia on the subject of comfort zones held in the showrooms of various IKEA stores through the UK and China (2013-14), and ASSET ARREST- an ongoing project and podcast series that addresses issues of real estate and its impact upon communities; ways of living and urban space. Each episode of the podcast revolves around viewing a different residential property with a different invited guest each time.
www.laurayuile.com

Jill Kennedy-McNeill is a Scottish artist living and working in London. She trained in Fashion and Textile Design and Production, skills which she mostly alienates from their intended purpose, preferring instead to retaliate by creating objects and installations that infrequently pay any attention to wearability. Working across various media, she produces work that questions power structures by exploring ideas of access, labour expenditure and participation. She usually anchors this work in the mundane and often communicates ideas with the aid of perversity. At times, her practice involves collaboration with community and charity groups, and works have been exhibited in solo and group shows across the UK. She also teaches in Further and Higher Education.
www.jillkennedy-mcneill.com

STUFISH have over 30 years' experience conceiving stage designs for the likes of Beyonce, Madonna, Lady Gaga and The Rolling Stones, and have brought their magic once again to help bring ABBA's show to life, under the direction of producers Svana Gisla and Ludvig Andersson and director Baillie Walsh. Founded by the late architect Mark Fisher, STUFISH Entertainment Architects have become world leaders in permanent and semi-permanent architecture. STUFISH designs unique and innovative entertainment architecture to create inspirational memories for a global audience, from live musical experiences to theatrical shows, exhibitions, and bespoke buildings. Along with their new ABBA Arena in East London, STUFISH have designed theatres across the globe including the Chimelong Theatre, Han Show Theatre, and the Dai Show Theatre.
www.stufish.com

visit
ABBA Voyage is presented within the ABBA Arena, created by STUFISH, a 3,000 capacity demountable steel & timber venue designed around the technical requirements of the show, staging & seating geometry.
ABBA Voyage is currently booking through until November 2023, tickets and further information can be found on the official website:
www.abbavoyage.com

images
fig.i Photograph © Dirk Lindner. Courtesy Stufish.
fig.ii Hole in Your Soul, ABBA Voyage. Photo © Johan-Persson.
figs.iii,iv Photographs © Dirk Lindner. Courtesy Stufish.
fig.v Gimme Gimme Gimme, ABBA Voyage. Photo©Johan-Persson.
fig.vi The Visitors, ABBA Voyage. Photo©Johan-Persson.
fig.vii Photograph© Dirk Lindner. Courtesy Stufish.
fig.viii ABBA Voyage. Photo©Johan-Persson.
fig.ix Photograph© Dirk Lindner. Courtesy Stufish.

publication date
11 January 2022

tags
ABBA, Carpenters Estate, Jacques Derrida, Digital, Mark Fisher, Hauntology, Hologram, Jill Kennedy-McNeill, London, Music, Nostalgia, STUFISH, Technology, Theatre, Laura Yuile