Weaving old with new at Thomas Gainsborough's House
Architects ZMMA have created a new museum campus dedicated to Thomas Gainsborough in the the market town if his birth, Sudbury in Suffolk. A vast new gallery & community space building allows the historic house to breath & be seen with new eyes, while views across the landscape Gainsborough painted are opened up.
From the outside, Gainsborough's House in the small Suffolk market town of Sudbury doesn't reveal much. Its symmetrical and near Georgian façade, white window frames more pronounced by the pulled-down blinds, offer little indication of what lies within, and only plaques and information boards indicate the historic importance of the building.
fig.i
It was the home that Thomas Gainsborough (1727-1788), one of Britain's most celebrated artists, lived in as a child before moving to London aged 13 to develop his artistic practice. The house remained in his family's ownership and Gainsborough retained strong links to the town and county through the ups and downs of his career. In the mid-twentieth century a campaign led to the purchase of the property as a museum to the artist, with the creaking and tight rooms holding various exhibitions in the decades since, and contained a growing collection of work covering his career. Now, the cultural offer of the museum has increased hugely through a new ZMMA designed building which offers a suite of new gallery and event spaces to relieve the burden upon the historic house and open up potential for new curatorial and community projects.
Sudbury has strong historic connections to weaving and the silk industries, developing from the 1300s and growing to provide wealth and reputation for the town. Silk and weaving can still be found in the town, with local firm Humphries Weaving providing the rich green wall silks of the Gainsborough Gallery, sat behind a rich curation of twenty of the artist's portraits and landscapes – a bespoke space which not only presents the works in an immaculate space of contemplation, but also relieves the intense pressure upon historic house. Previously, the museum's collection of not only paintings but objects from the artist's life were crammed into three floors of romantic but tight domestic architecture, far from ideal for presenting and viewing works which in some cases barely squeezed into the low floor to ceiling heights.
figs.ii-iv
As with many historic buildings, the historic house is an amalgamation of various periods of architecture. That Georgian façade was added by Gainsborough's parents after purchasing the property in 1722, concealing a structure behind which originally dates from 1490 with later restructuring and additions over the 17th and 18th century, and it has hugely benefited from removing the weight and strain of holding an entire museum within its timber frames and is now able to breath again. It also means it can be used more creatively, to explore Gainsborough's life and relationship to the property as well as offer up spaces to bespoke curations: a temporary exhibition explores the story of Ignatius Sancho (c.1729-1780), an enslaved man who became the first black man in Britain to vote and was painted by Gainsborough; a wonderful display of paintings by Cedric Morris (1889-1982) donated by Maggi Hambling and Robert Davey; and a room was dedicated to the artist's relationship with fellow Suffolk painter John Constable (1776-1837).
figs.v-ix
Constable may be credited as being the prime landscape painter of his generation, and though Gainsborough may be more recognised as a portrait artist his landscapes – whether as subject or within the receding backdrop of his character studies – set the agenda for a new landscape art movement Constable inherited. It was the topology and nature of the Suffolk countryside surrounding Sudbury where as a youngster Gainsborough honed his craft, then to which he repeatedly returned as an established artist.
It is fitting, then, that the new ZMMA gallery building is tightly interrelated with those fields, woods, and soil it is centred within. A vast picture window within the Landscape Studio – a space for events, making art, and learning – offers views across the tiled rooftops of the town and into the very landscapes Gainsborough rendered over two centuries ago.
figs.x,xi

The earth of Suffolk is even more embedded within the project than as a view, however, with bricks supplied from The Bulmer Brick and Tile Company, a handmade manufacturer concealed within a copse near Sudbury, a site which has been producing bricks since the Middle Ages. Those bricks not only create the shell of the new gallery building with a silk weave inspired rhythm alongside a Suffolk-vernacular knapped flint walls, but also within a garden wall which also presents a local architectural typology. Crinkle crankle walls – a sinuous form so designed as it offers engineering support with a single-brick width – can be found all over the county, and Gainsborough House offers the newest of its type incorporating bricks with carved messages and drawings created through an outreach project with HMP Hollesley Bay.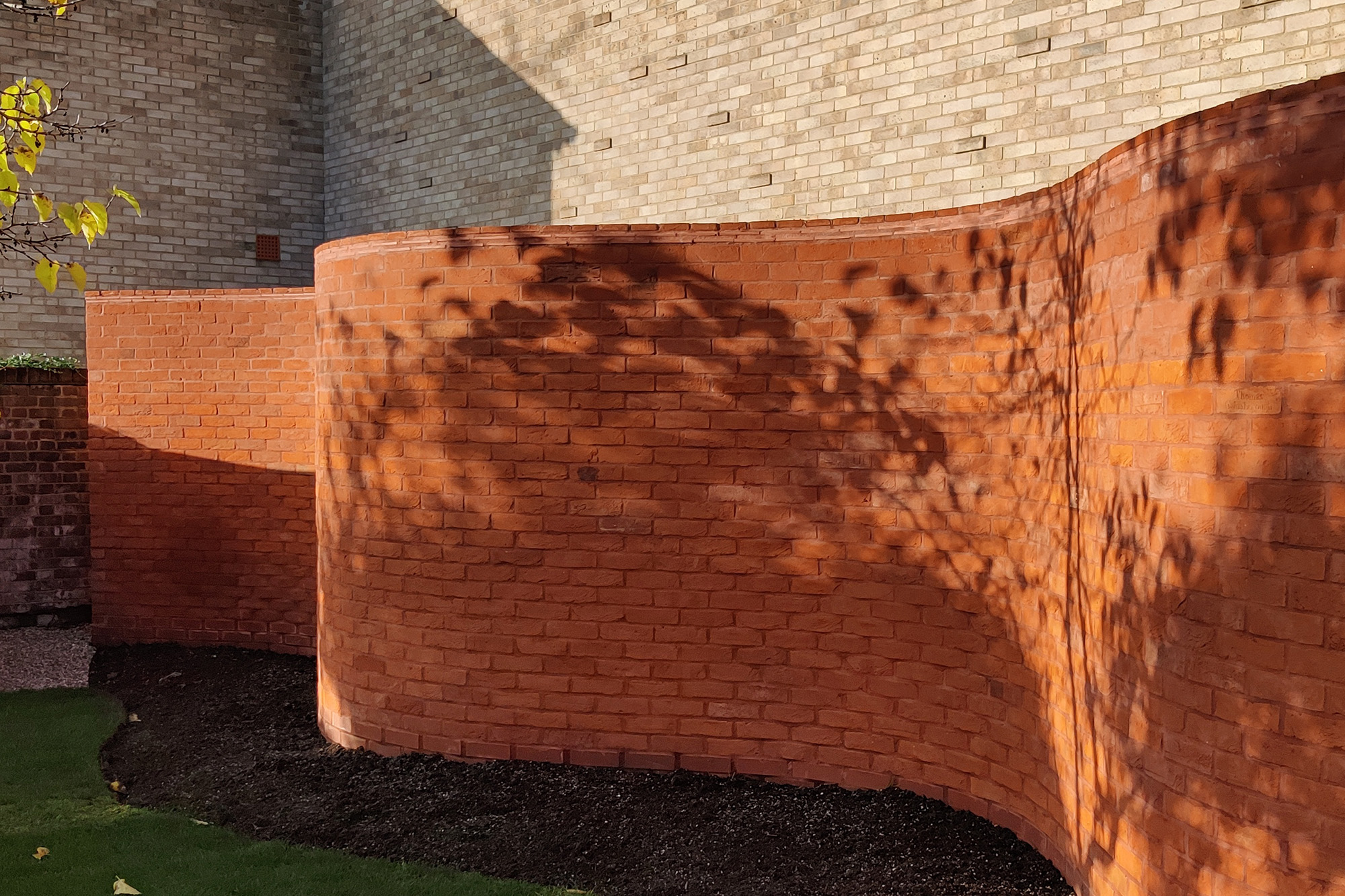 figs.xii,xiii
Other new spaces within the new gallery building, which is both unashamedly contemporary but also sympathetic to the material, scale, and massing of the historic surroundings, offers two further immaculate and versatile exhibiting spaces. The Timothy & Mary Clode Gallery, currently showinga Phoebus Foundation supported installation of Flemish art from 1880-1914, offers a large, sofly lit and robust space to present travelling and in-house curated exhibitions. The smaller Sudbury Gallery offers a more compact space, offering room to expand the main gallery hang or for more discreet and focused hangs.
figs.xiv-xvi

Other spaces around the block offer study, library, and community spaces, all interconnected via a central concrete stairwell lit through a large rooflight – offering a James Turrell-esque opportunity to frame the Suffolk sky as both Constable and Gainsborough once did in paint – with a weave-inspired balustrade winding its way through the three levels. Historic buildings connecting the new gallery block and the original house have been sympathetically restored to provide a new garden-side café, shop, and printing workshop to create what is now a museum-campus.
Altogether, ZMMA have overseen a meticulous stitching of historic and contemporary which not only takes the historic house and its collection as context, but the wider town, the vernacular of the locality, and even the material and palette of the place it sits within. For a museum and town so rooted in a rich heritage, Gainsborough House offers a rare moment of contemporary architectural play, albeit one derived from history.
fig.xvii
---
Gainsborough's House is the birthplace of artist Thomas Gainsborough (1727-88), who was born in Sudbury and baptised at the Independent Meeting-House in Friars Street on 14 May 1727, the fifth son and ninth child of John and Mary Gainsborough. In 1958, Gainsborough's House Society was formed to purchase the house and establish it as a centre for Thomas Gainsborough. The Museum opened to the public in 1961 and has remained open for over 50 years. The beautiful historic garden at the heart of Gainsborough's House is maintained by a devoted body of volunteers, who garden exclusively with plants that were available in Gainsborough's lifetime.
www.gainsborough.org

ZMMA are a multiple award-winning architects and exhibition designers who have completed numerous museum, gallery, and heritage projects.
Projects opened recently include new galleries at the Museum of the Home, London; the new Royal College of Music Museum; the new William Heath Robinson Museum; the Scottish Design Galleries at V&A Dundee and the Ancient Egypt and East Asian Galleries at the National Museum of Scotland. Other completed projects include the Europe 1600-1815 (Baroque, Rococo & Neoclassical) Galleries at the V&A in South Kensington; and the transformation and restoration of Watts Gallery, and also of G F and Mary Watts' studios in Surrey.
Current projects include new Maritime galleries and major remodelling of the historic site at Poole Museum; the Ragged School Museum in East London; an Interpretation Centre at Hainault Ancient Forest, special exhibition projects at St Paul's Cathedral and at the National Archive; and a new Aston Martin Museum.
www.zmma.com

visit
Gainsborough's House museum and visitor shop are open from 10am until 5pm every day. Full ticketing and visiting information is available at:
www.gainsborough.org/your-visit/opening-hours-tickets

images
fig.i View of Gainsborough's House ©Hufton+Crow
fig.ii View of the new building designed by ZMMA
at Gainsborough's House ©Hufton+Crow
fig.iii Visitors explore the Gainsborough Gallery at the newly redeveloped Gainsborough's House in Sudbury © Jeff Spicer, PA Wire
fig.iv View of the new Gainsborough Gallery at Gainsborough's House ©Hufton+Crow
fig.v View of the Finnish Scott Painting Room at
Gainsborough's House ©Hufton+Crow
fig.vi View of the Early Gainsborough gallery at Gainsborough's House ©Hufton+Crow
fig.vii View of the Print Stairwell in Gainsborough's House ©Hufton+Crow
fig.viii View of the Cedric Morris gallery at Gainsborough's
House ©Hufton+Crow
fig.ix Thomas Gainsborough (1727-1788) Ignatius Sancho, unknown artist after Gainsborough, c.1802-1820. ©National Portrait Gallery, London
fig.x Arial view of the new building designed by ZMMA at Gainsborough's House ©Hufton+Crow
fig.xi Thomas Gainsborough (1727-1788) Mrs Mary Cobbold and Miss Cobbold with a Lamb and a Ewe, c.1752. Oil on canvas. ©Gainsborough's House, Sudbury, Suffolk
fig.xii New gallery building, printing workshop and cafe at Gainsborough's House. © Will Jennings
fig.xiii Crinkle crankle wall at Gainsborough's House. © Will Jennings
fig.xiv View of the cascading staircase in the new building designed by ZMMA at Gainsborough's House ©Hufton+Crow
figs.xv,xvi View of the temporary exhibition Painting
Flanders: Flemish Art 1880 – 1914 at Gainsborough's House ©Hufton+Crow
fig.xvii View of the new building designed by
ZMMA at Gainsborough's House ©Hufton+Crow

publication date
30 January 2022

tags
Brick, Crinkle crankle wall, John Constable, Robert Davey, Flint, Thomas Gainsborough, Gallery, Georgian, Maggi Hambling, Will Jennings, Landscape, Cedric Morris, Museum, Phoebus Foundation, Portrait, Ignatius Sancho, Silk, Sudbury, Suffolk, Weaving, ZMMA