Ricardo Alcaide's forecast: Overcast with spells of sunny modernism

For his current exhibition at Von Bartha gallery, Copenhagen, Venezuelan artist Ricardo Alcaide constructs modernist geometry & colour out of industrial material. Coloured brightly, he seeks to not dwell in nostalgia so much as inspire a progressive hope, despite the forming clouds.
Ricardo Alcaide is under the weather. But he has a strategy to feel brighter – about not only the storm clouds in the sky, but also those thundering in politics. As an artist interested in tropical modernism, after recently moving to central Europe from Latin America – he was born in Venezuela and was living in Sao Paolo before his recent relocation – he has realised that it isn't just the culture and aesthetic of his homelands in his being, but also the climate and weather. It led to the title of his new exhibition at Von Bartha gallery in Copenhagen,
Sunny Spells
.
"I just moved from Brazil to Antwerp, it's been kind of funny – I mean, it hasn't been easy. I've realised probably more than ever that I'm a tropical creature. But it came to me, this idea of sunny spells, which is something that I heard so many times when living in England, it's an expression I relate to my years in the UK."
fig.i
In 2019 he showed in the same space with an arrangement of gridded boxes changing in colour around the white-walled space. Akin to the transition of a sunset, passing through pastels on its passage, it appeared bright and positive in form, but carried an idea of decline and deterioration within it's calm harmony. Three years later, post-pandemic and with a global political situation perhaps reflecting that decline,
Sunny Spells
speaks to a different order.
"My approach to this show was to create pieces that do not harmonise, even if they are family to each other – and to previous works I've made – I wanted to be a little more playful, have more vitality and play with sizes and colours. Like diagonal pieces, then other ones with bricks inserted, then some that they more of a plain bold colour. I wanted to have a fiery variation in the room."
The variation is sometimes violent, even when concealed in beauty. Diagonal forms cut against one another with the anxiety of dazzle camouflage, corners are cut out of otherwise-perfect uniform box frames, and while there's a precise neatness and clarity to Alcaide's geometry and distribution, the edges of his materials reveal a roughness, cheapness of material, and coarse truth.
"Materiality is it has become more important in my work over recent years. Yeah, the beginning it was a little more in a naive way, but now I just see that the weight of it, and the weight of the materiality."
fig.ii
These works are made of medium density fibreboard, or MDF, a cheap engineered product formed of broken down softwood and hardwood residuals formed into panels with wax, resin and heat. When it is cut, it releases tiny dust particles which are a danger to workers' health and the glue which holds it together is toxic for months after manufacture. But it's ubiquitous in architectural and interior design – and it is that everydayness which draws the artist to it.
"MDF has become a very important material for me because it is a very poor material, it is very simple, and very cheap. It has no pedigree, it is not glamorous – that's why I think MDF represents so much."
The disorder of form and cheapness of material is disguised by the choices of romantic, glowing colours. Though, this is also acknowledged as coming from a nasty, dirty chemical material – industrial paint. The artist calls it
"a very unfriendly paint,"
referring to the process of its application and the chemicals within such polyurethane paints and catalysers needed to deliver such calming colours:
"In a way it's also talking metaphorically, about the conflicts and beauty in Latin American culture."
fig.iii
Over the last few years violence also brewed in Brazil, where the artist had been living and working. Bolsonaro had been elected shortly before his Von Bartha exhibition, a period in the presidency which culminated recently in attacks upon the country's democracy and the modernist architecture of Brasilia in which it was housed. Previous works by Alcaida celebrated the capital's architecture by Oscar Niemeyer in large-format black and white photography, images which he then painted geometric forms over in acrylic, at once both obliterating elements of the architecture but also forcing attention towards it. He did the same with images of Lina Bo Bardi's Glass House in Sao Paolo as well as Carlos Raúl Villanueva's University City and Gio Ponti's Villa Planchart, both in Caracas.
"I was making interventions on top, which are very aesthetic interventions but also very obstructive and an invasive thing to do to a photograph,"
the artist explains, then expressing anger at the assault upon architecture and artworks by Bolsonaro supporters who invaded on 7 September, adding that:
"What happened in Brasilia was a bunch of people followed an idiot who is completely anti-culture, who is completely ignorant. These guys, his followers, go there and destroy the heritage, putting knives into paintings. People don't have feelings for it, they don't know what it is."
fig.iv
This lack of awareness of a modernist culture riles Alcaide, who suggests that what happened in Brasilia's parliament only continues a deeper cultural distrust and misunderstanding of mid-century design and aesthetic across the continent:
"In Sao Paulo they will knock down a completely wonderful piece of work just because it's from the 1960s or 50s, then build completely rubbish architecture on top of it."
"When I moved to Sao Paulo, I remember it was funny that people were not willing to buy apartments designed in the 1950s, they'd prefer to buy a completely new one – a completely rubbish one with small and pokey spaces. They would prefer that to an older one that is half price and larger – because it's from the 1950s. This is not just Brazil, this is probably worldwide. A lot of people don't have information about these structures, and in many places they are knocked down."

In abstract form and specific colour,
Sunny Spells
celebrates not only modernist aesthetic but also ambition. Alcaide unashamedly celebrates modernism:
"For me it was a very important, interesting moment, a whole lot of looking into the future. Everything was so much hope, so much like was going to come, it was so positive. I have to say, I grew up in these years and so much of what was coming was the future, and it was bright."
That brightness hits a visitor as soon as they enter the Von Bertha space into a domestically scaled anteroom before the larger gallery space. Here, the artist has flooded the walls in a neon yellow diagonal, inspired by a ceiling in Gio Ponte's Villa Planchart, referenced in earlier works,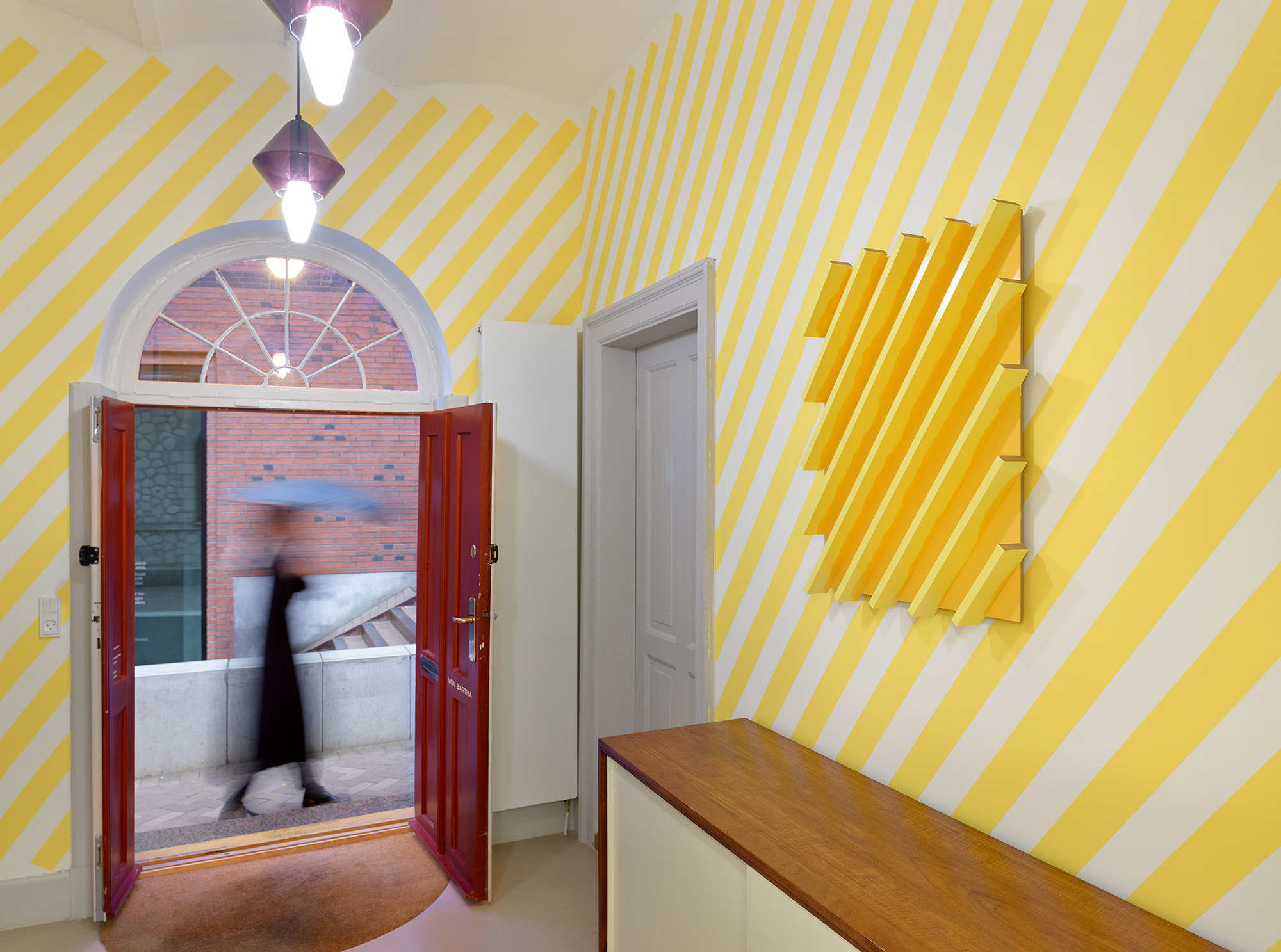 figs.v,vi

He is resolute, however, that the works should always contain that residue of turmoil and violence, as represented by the rough MDF edges and industrial qualities, and not linger in nostalgia or romantic memory, and not to use lost modernist ideals as a shorthand for failure:
"I wanted to make sure I speak differently to other artists who address modernism as a failure – something I don't agree with and don't relate to. A few years ago it started to be a trend: the failure of the system, the failure of modernism, everything is a failure. But I celebrate, though I know modernism did involve social problems, and right now we are living with the results – including in Venezuela."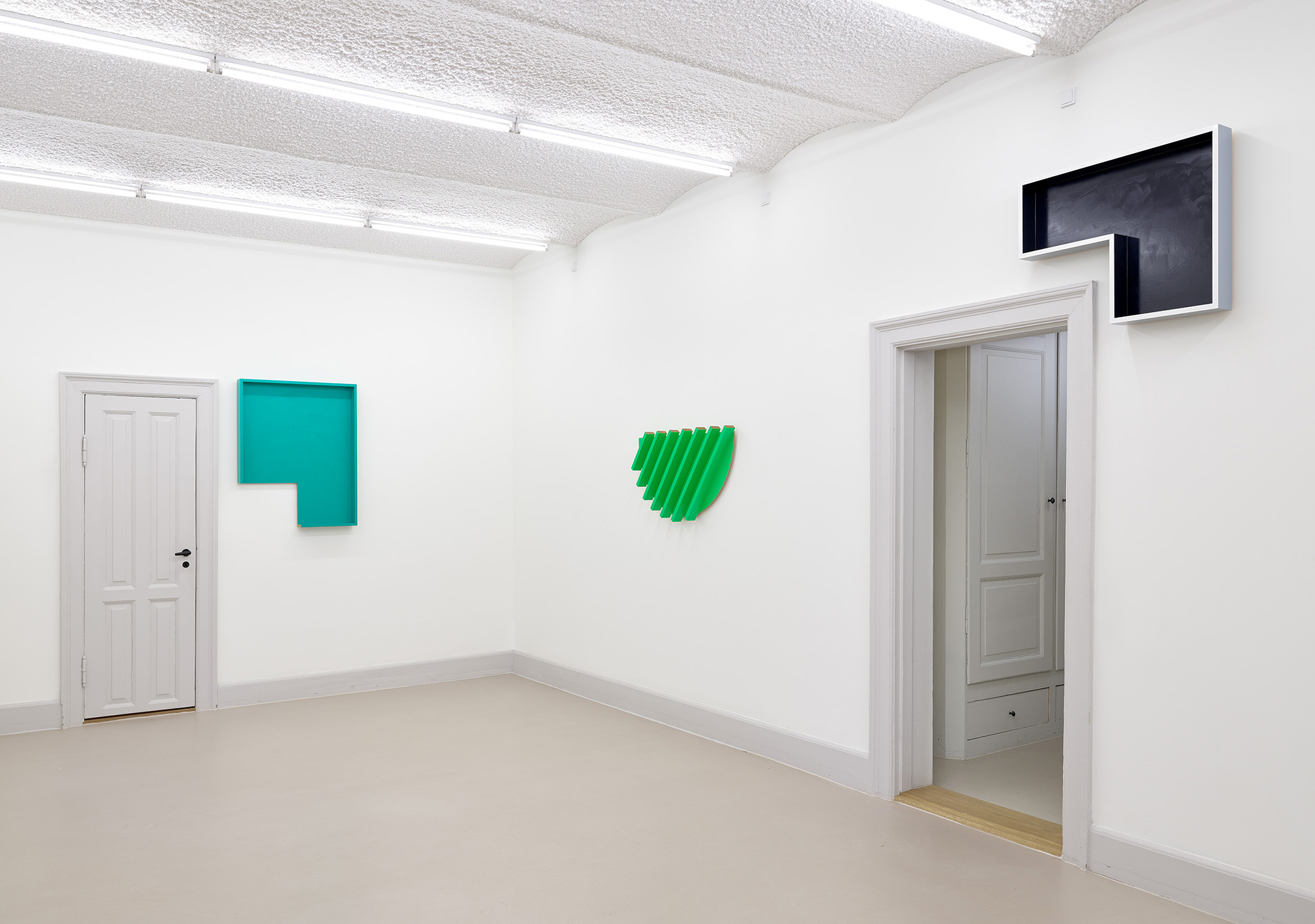 fig.vii
---
Ricardo Alcaide (b. 1967, Venezuela) examines constructed lived-in environments. His minimal aesthetic is influenced by modernist architecture and his site specific works reflect on the social implications of urban planning and ghettoisation. The artist currently lives and works in Brazil and has exhibited internationally, including participation in solo shows Displacement at Alejandra Von Hartz Gallery, Miami (2015), One Phenomena Among Others at Baró Galeria, Sao Paolo (2015) and Incidental Geometry at Project Room-Josee Bienvenu Gallery, New York (2014).
www.ricardoalcaide.com

visit
Sunny Spells, by Ricardo Alcaide, is showing at Von Bartha, Copenghagen, until 11 March 2023. For more information, visit:
www.vonbartha.com/exhibitions/ricardo-alcaide-3

images
All works Courtesy of the artist and von Bartha, Basel/Copenhagen
fig.i Ricardo Alcaide, exhibition view, Sunny Spells, von Bartha, Copenhagen, 2023, view f. l. t. r. on, Reflection, Midnight Space, and Adaptation, all 2022. Photo: Malle Madsen
fig.ii Ricardo Alcaide, São Paulo, 2022. Photo: Malle Madsen
fig.iii Ricardo Alcaide, exhibition view, Sunny Spells, von Bartha, Copenhagen, 2023, view f. l. t. r. on, Tropical Order and São Paulo, both 2022. Photo: Malle Madsen
fig.iv Ricardo Alcaide, Reflection, 2022. Photo: Malle Madsen
fig.v,vi Ricardo Alcaide, exhibition view, Sunny Spells, von Bartha, Copenhagen, 2023, view on, Sunny Spells, 2022. Photo: Malle Madsen
fig.vii Ricardo Alcaide, exhibition view, Sunny Spells, von Bartha, Copenhagen, 2023, view f. l. t. r. on, Ayahuasca, Reflection, and Midnight Space, all 2022. Photo: Malle Madsen

publication date
15 February 2023

tags
Ricardo Alcaide, Antwerp, Von Bartha, Lina Bo Bardi, Brasilia, Brazil, Diagonal, Geometry, Industrial, Will Jennings, MDF, Modernism, Oscar Niemeyer, Paint, Sao Paolo, Sun, Sunny spells, Venezuela, Carlos Raul Villanueva, Violence