12 top picks from Milan's miart art fair
A selection of 12 artists showing at miart 2023, Milan's annual art fair. Each selected artist explores architectural ideas in rich ways through material & aesthetic, with works spanning the 20th & 21st centuries.
There is a vast range of art in miart, spread over sections from emerging galleries, through to masters, collectible design, contemporary practices, and a decades section which explores the 20th century sequentially through themes and periods.
Several of the works selected by participating galleries intersect with architecture and landscape in interesting ways. Here is a selection of 12 of the artists showing this year as the recessed.space highlights from miart 2023:
Andrea Francolino |
Mazzoleni, London & Torino
Figs.i

With a tryptich of carefully broken then reformed concrete squares, Francoloni explores the notion of the crack. Here the artist uses a kintsugi method to celebrate fracture, while nearby a slideshow of found cracks in the urben environment are presented on a screen, itself shattered. The works celebrate the accident and unpredictable patterns, a moment of chaos contained within a frame.
Find out more at: www.mazzoleniart.com
Emilia Kina |
eastcontemporary, Milan
Figs.ii
Presenting in the emerging gallery section of miart, local gallery eastcontemporary - with specific interest in promoting Eastern European artists. On show with a display of paintings presented on a timber framework, Emilia Kina presents trompe l'oeil effect images of curtains transfixed in moment of movement. A renaissance motif, the hang allows a glimpse behind, to see not only the shallowness of the deceitful trick, but also the canvases stretched onto irregular shaped frames, carried out by the artist.
Find out more at:
www.east-contemporary.org
Margherita Moscardini |
Gian Marco Casini Gallery, Livorno
Figs.iii
Showing with another young gallery in miart's emerging section, Margherita Moscardini is interested in urban transformational processes, and how those shifts affect people, culture and community. Though with a wider practice including installation and video, Moscardini was showing photographs at miart, including images of the WW2 Atlantic Wall French coast ruined defences, as written about by Paul Virilio, as a compression of architeture, landscape, culture, and nature. The violence of urban form, and the processes which lead to its creation and destruction, are nearby, reminding that such violence is present and not an historic memory.
Find out more at:
www.gmcg.it
Olivia Hill |
Bel Ami, Los Angeles
Figs.iv
The vast breadth and depth of Los Angeles' valleys is compressed in Olivia Hill's birdseye view showing no life but only traces of tyres doughnutting the dirt. Sandcastles recur as a motif, perhaps childish recollection, perhaps comment upon the instability of California - whether that's geology, culture, or economy. A mock-castle looms over a collapsed green bungalow in Glendale, itself collapsing into the landsliding sand. California, Hill's subject area, is rich with context, fakery, imagination, and limitless possibilities, but the artist instead forms tight frames, careful compositions of place which speak carefully through extracted detail.
Find out more at:
www.belami.info
Marcus Cope |
Darren Flook Gallery, London
Figs.v
Marcus Cope paints memories, imaginaries, and dreams. Forms overlap, frequently with an architectural or urban setting at the core, but overlayed with a tapestry of psychological happening. What is real or imagined is never quite clear, what might be memory of an event and what is a fear bubbling to the surface overlap. The space created is one between reality and personal rendering, the kind of place we all exist in, always, but perhaps with the psychological overlay repressed, and not made as present as the physical as Cope creates.
Find out more at:
www.freehouse54.com
Duilo Cambellotti |
Galleria Russo, Rome
Figs.vi
As an artist working across media - from illustration, furniture design, opera staging, illustration, and more - Duilo Cambellotti (1876-1960) was also a political force as a humanitarian socialist. With an anti-hierarchical approach, he folded natural and rural motifs within emerging industrial design across the early 20th century, he was a proponant of William Morris' ideas, with Galleria Russo showing a wide selection of Cambellotti's drawings alongside product and set designs as illustrations and maquettes.
Find out more at:
www.galleriarusso.com
Dušan Džamonja |
Copetti Antiquari, Udine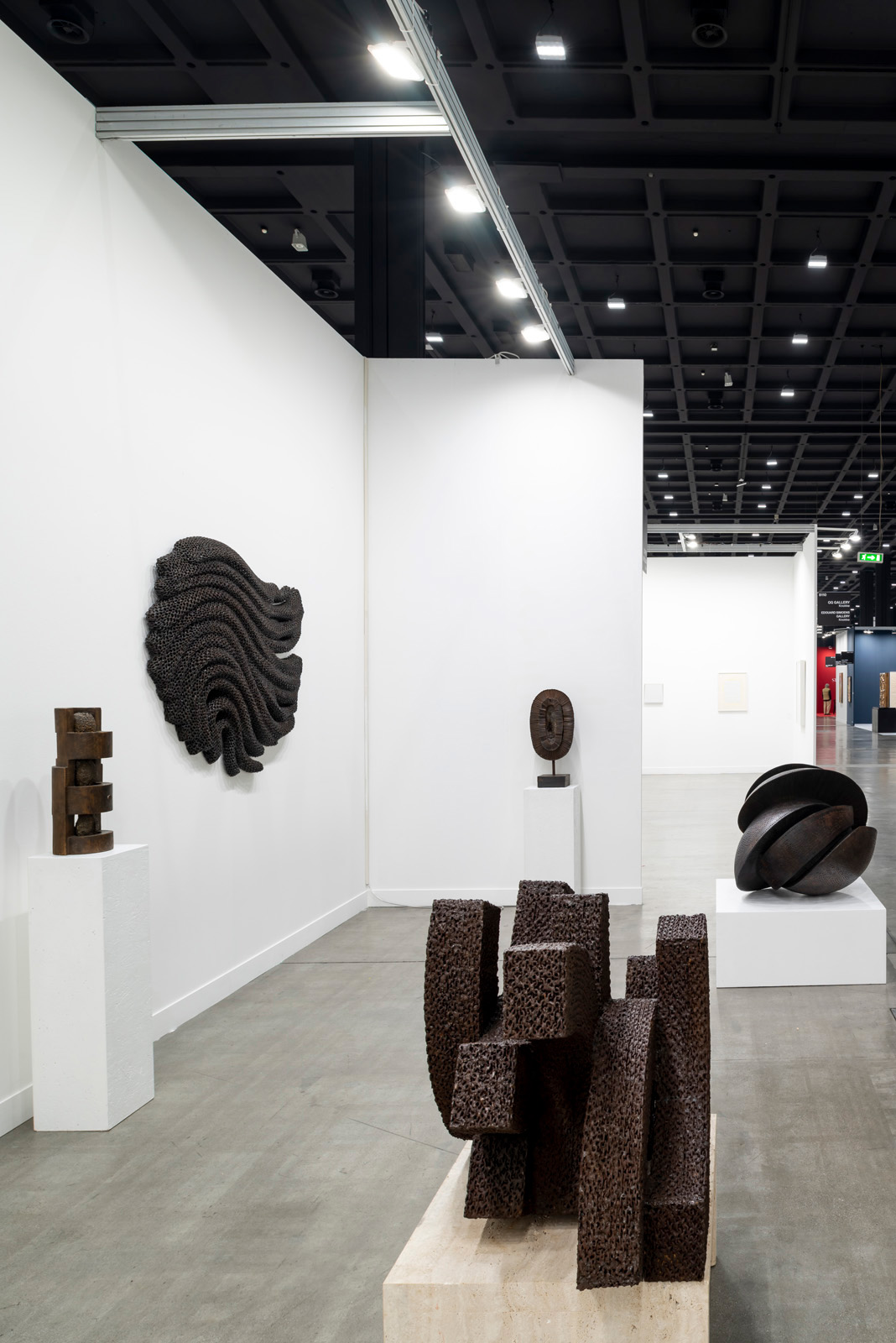 Figs.vii
Born in 1928 in the Kingdom of Yugoslavia, Dušan Džamonja is perhaps best well known for his monumental concrete memorials though worked at various scales using a variety of materials from wood, iron, and concrete. Showing in Copetta Antiquari's display is a grand wooden maquette which reads as abstract sculpture but is model of a design for a mosque in Rijeka, a project that was completed by architects Darko Vlahović and Branko Vučinović four years after the artist's death in 2009.
Find out more at:
www.copettiantiquari.com
Yuri Ancarani |
ZERO, Milan & showing at PAC Padiglione d'Arte Contemporanea, Milan
Figs.viii
It is a minimal hang of Yuri Ancarani's work at the ZERO stand at miart, just a poster hanging loosely from the wall, a symmetrical and graphic composition which reads as part-architecture part-machine. It is a still from his film San Siro, one of a series of works in which the artist explores through art documentary the workings of architectures, places, and scientific projects, and how each relates to the humans who inhabit them. San Siro and many of Ancarani's other works are showing at Padiglione d'Arte Contemporanea, Milan, until 11 June 2023. For an iconic building with distinctive spiral corners and its great red girder roof, always looming in the distance, the stadium itself is only seen at oblique angles in a film which focuses on the build up to a match day through the experiences of the security, maintenance, groundsmen, technicians, and other behind-the-scenes workers who transform the shell of a building into live stadium.
Find out more at:
www.galleriazero.it
and
www.pacmilano.it
Anne and Patrick Poirier |
Galleria Fumagalli, Milan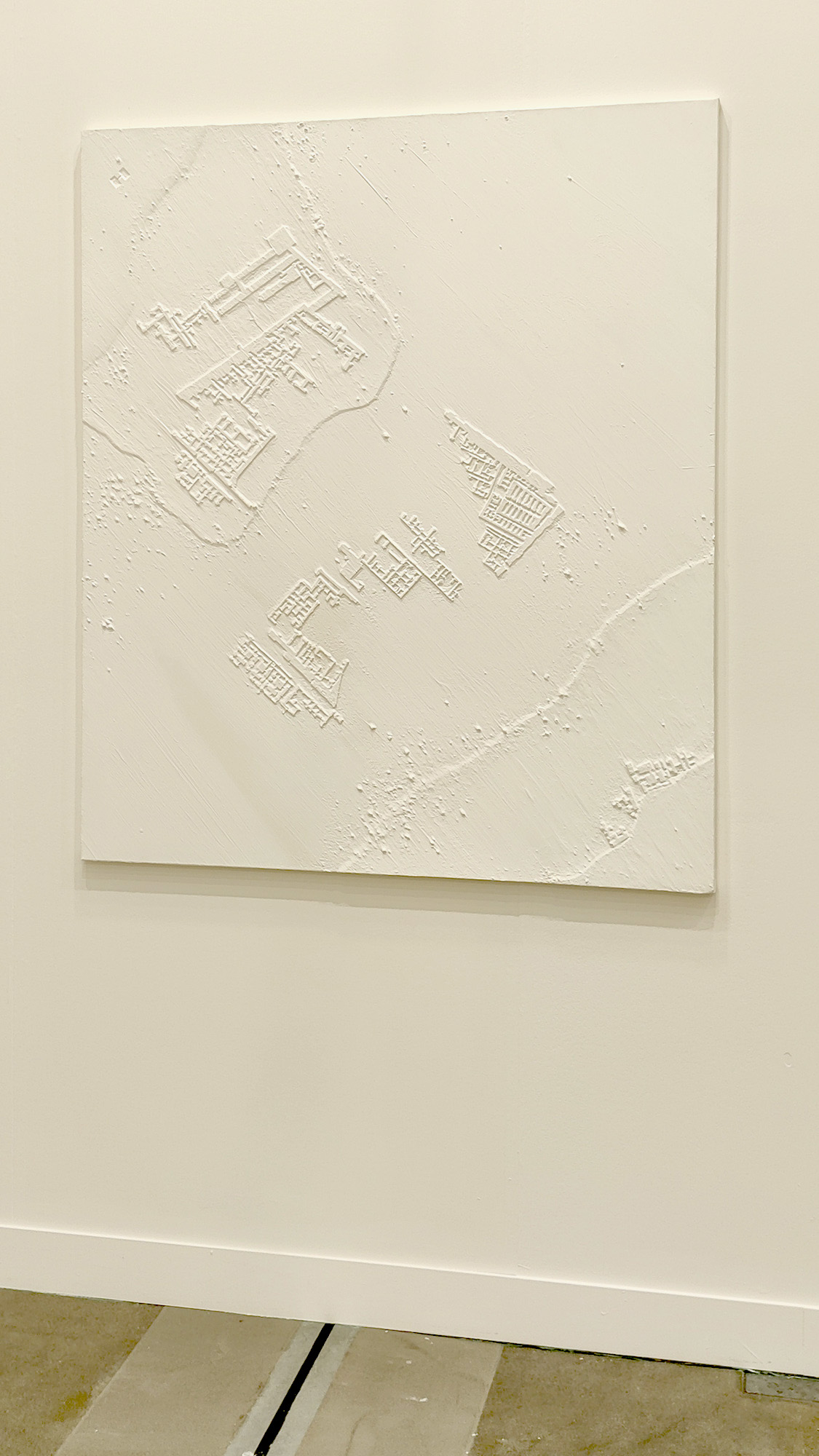 Figs.ix
French art duo Anne and Patrick Poirier are celebrated at Galleria Fumagalli's miart stand, with drawings, sculpture, and tapestry all revolving around their five decade long interest in nature, ruin, disintegration, and archeology. Their works delve into natural and constructed histories, but with an experimental eye upon the future, as comfortable creating a conceptual art installation as an intricate series of paintings.
Find out more at:
www.galleriafumagalli.com
He Wei |
Primo Marrella Gallery, Milan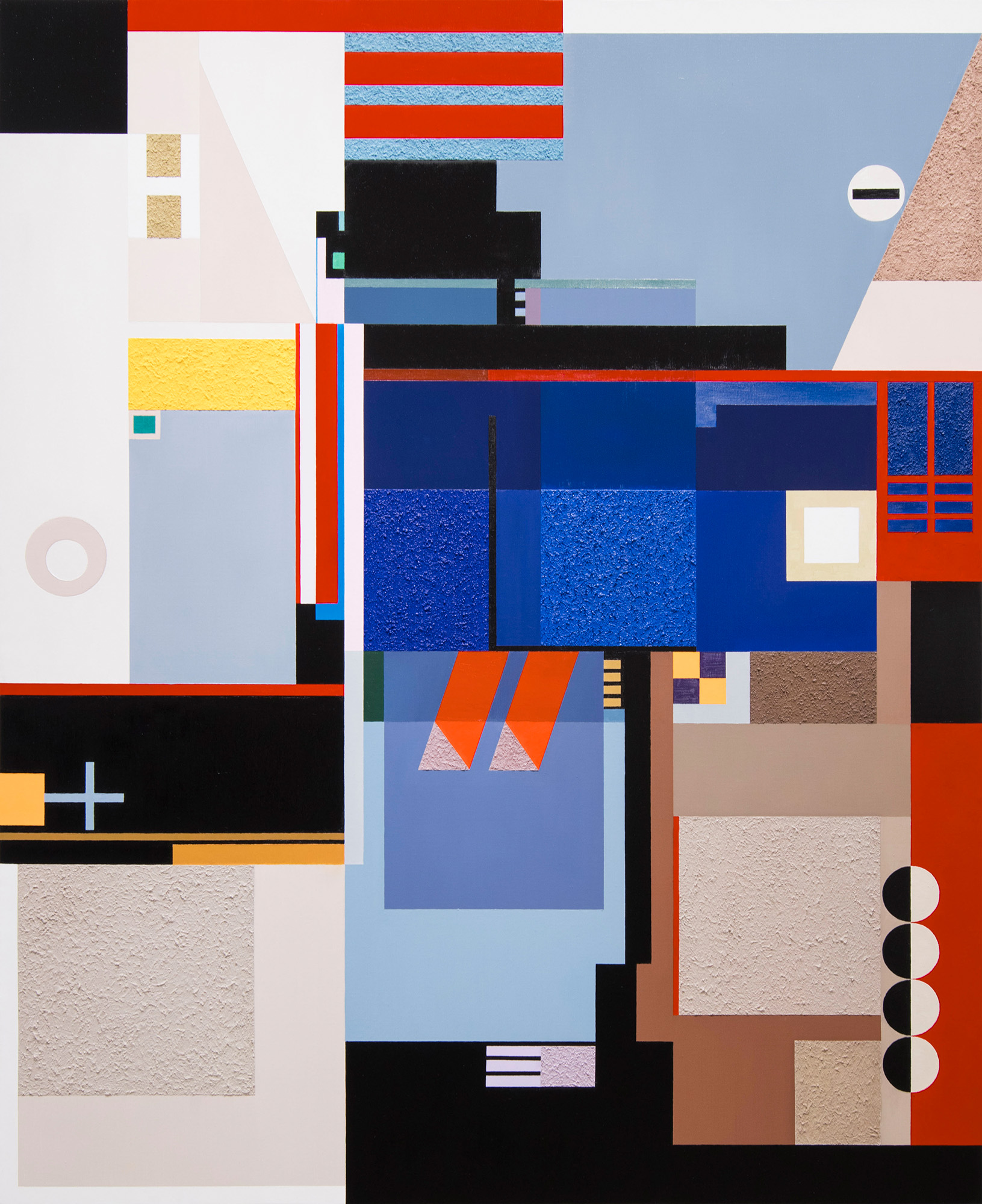 Figs.x
Two works by emerging Chinese artist He Wei are shown by Primo Marrella, both abstract compositions which play with architectural structures and motifs in both form and physicality. Both are painted with oil over a structure paste base, built to a plaster-like finish of varying textures and depths. The arrangements have an rigour and geometry, but are interrupted by irregular forms, elements that break against the seemingly flat vantage into a three-dimensional or isometric shadow, and moments which fight against the order.
Find out more at:
www.primomarellagallery.com
Pedro Cabrita Reis |
Mai 36 Galleri, Zurich
Fig.xi
Large scale works by celebrated Portuguese sculptor Pedro Cabrita Reis have graced the Tuileries in Paris, Venice Biennale, Documenta, and outside MAAT in Lisbon. They are always architectural in form, appearing as chaotic stacks of material or arrangements of doors and other architectural details. Here, smaller pieces similarly montage elements of buildings to form uncanny and unnerving assemblages. A haywire amalgamation of window and door details, as if a compression formed of architectural collapse, looks down from the wall onto what looks like an animal trap formed of seemingly discarded construction materials.
Find out more at:
www.mai36.com
Ruth Beraha |
Ncontemporary, Milan & London
Fig.xii
In a search for finding the "evil and strange" through the everyday, Ruth Beraha presents two stained glass works, as if fragments extracted from an imaginary and unknown church to a strange religion. The glass pieces which make up each have in them building details, but more is missing than present, leaving the viewer to imagine what scene was once planned for the irregular absences. In fact, in the circular frame the missing image hints at a similar stained glass made for the iridescent Church of Santa Maria dei Miracoli, Venice, damaged and with missing panels, now ensconed in the Gallerie dell'Accademia. Beraha's re-making removing even more, simplifying form and colour, leaving more to the imagination.
Find out more at:
www.ncontemporary.com

---


visit
miart will return to Milan in April 2024.
For more information visit: www.miart.it/en

images
figs.i Galleria Mazzoleni at MIART 2023 (Artist Andrea Francolino), Photo: Renato Ghiazza. Courtesy Mazzoleni, London - Torino.
Andrea Francolino b. 1979.m² (2023). Signed and dated (on the reverse). Concrete, wood and 22ct gold leaf. 106.5 x 106.5 x 8 cm. (FRA139)
figs.ii Courtesy of the artist and eastcontemporary, Milan. Installation photos: Tiziano Ercoli i. Artwork photos: Szymon Sokolowski.
fig.iii Margherita Moscardini Metropolitan Voids Agency, Bordeaux (2018-2023). Istanbul (2013-2023). Seoul (2014-2023). All works print on paper, framed. 40x60 cm courtesy GMCG Livorno and the artist.
fig.iv Olivia Hill, Oceanfront Property, 3bd 2ba, Needs TLC (2022), oil and acrylic on canvas, 50.8 x 40.6 cm.
Olivia Hill, No Snow, No Problem #2, 34°21'25.0″N 117°40'50.9″W (2023), oil on canvas, 76.2 x 101.6 cm.
Olivia Hill, Oceanfront Property, Steps From the Shore and Awash With Light (2023), oil and spray paint on canvas, 76.2 x 61 cm.
Olivia Hill, Drift, Turnout on Angeles Crest Highway, 34°15'33.4″N 118°11'47.6″W (2023), oil on canvas, 76.2 x 101.6 cm.
Olivia Hill, Landslide on Sleepy Hollow Drive, 34°08'58.9″N 118°12'38.6″W (2023), oil on canvas, 76.2 x 61 cm.
Installation images courtesy Bel Ami.
figs.v All works by Marcus Cope, images courtesy of Darren Flook Gallery.
fig.vi All images courtesy of Galleria Russo, Rome.
figs.vii Copetti Antiquari stand at MIART 2023, courtesy of the gallery.
fig.viii Poster of San Siro (2014) by Yuri Ancarani courtesy of the artist and ZERO. image courtesy of
fig.ix Installation images courtesy Galleria Fumagalli
fig.x He Wei, No. 9 (2023), Oil and structure paste on canvas, 160 × 130 cm, HWA180
He Wei, No. 10 (2023), Oil and structure paste on canvas, 160 × 130 cm, HWA181
Both images courtesy the artist & Primo Marella Gallery.
fig.xi Pedro Cabrita Reis, Shipwreck (2023), mixed media, 59 x 228 x 140 cm,
(PCR.21300.O)
Pedro Cabrita Reis, Dismantled (2023), mixed media, 168 x 262 x 34 cm, (PCR.21301.O)
Both images courtesy of Mai 36 Gallerie.
fig.xii Installation views, courtesy of Ncontemporary.

publication date
02 May 2023

tags
Yuri Ancarani, Archeology, Art fair, Bel Ami, Ruth Beraha, Pedro Cabrita Reis, Duilo Cambellotti, Concrete, Marcus Cope, Copetti Antiquari, Crack, Curtain, Destruction, Dreams, Dušan Džamonja, eastcontemporary, Film, Darren Flook Gallery, Andrea Francolino, Galleria Fumagalli, Gian Marco Casini Gallery, Glass, Glendale, Olivia Hill, Illustration, Installation, Emilia Kina, Landscape, Los Angeles, Mai 36 Galleri, Mazzoleni, miart, Milan, Margherita Moscardini, Model, William Morris, Mosque, Nature, Ncontemporary, Opera, PAC, Padiglione d'Arte Contemporanea, Painting, Photography, Anne and Patrick Poirier, Primo Marrella Gallery, Psychology, Ruin, Sand, Sandcastle, San Siro, Sculpture, Stadium, Stage, Stained glass, Urban, Paul Virilio, He Wei, Window, Wood, ZERO